TV On DVD: 'ER: The Final Season'
This week, Warner Home Video brought you the fifteenth and final season of NBC's long-running medical drama ER in a twenty-two episode, five-disc set. Here's my review.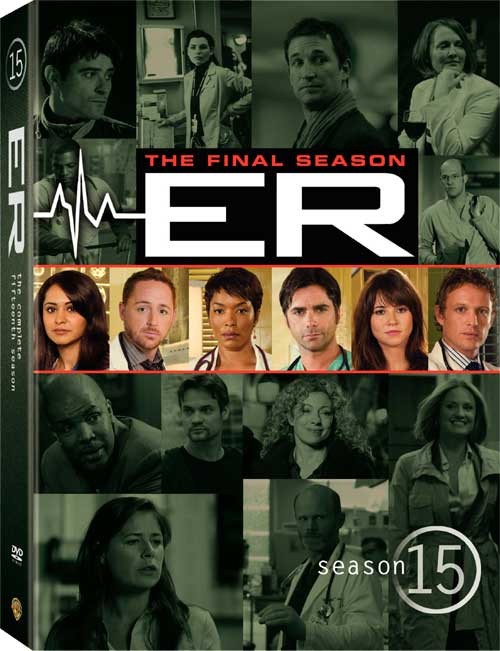 The Show
As I talked about in my previous review of the fourteenth season set, ER began to show its age in its later seasons. Season fifteen is helped by the return of many familiar faces (really, what final run would it be if the series didn't try to bring some beloved characters back?) but it's clear that at this point, it's time for the series to end. The plots occasionally stretch a little too far, with one episode that blurs lines between a character's dreams and reality, and another that involves hallucinations that set the ER back a few decades. The writing is running out of steam.
The regular ensemble that remains this season isn't shabby, but it's hard not to miss the people that have come before them, or on occasion wish that they had better material. I'm happy to see another year of Scott Grimes as a series regular; I've always felt that he was underrated. But we're saddled with a love triangle between Neela (Parminder Nagra), Gates (John Stamos) and the returning Ray (Shane West). On one hand, it's great to see Ray return, but on the other, it's just not the most interesting subplot. Some characters, like Maura Tierney's Abby, are out the door early on.
I'm torn on the comebacks of many past characters. It's great to see the actors willing to come back to send off the show, including Julianna Margulies and George Clooney, but at times it feels like the writers are trying to write around the returns, rather than fit them in naturally. The focus seems to pull away from the content and to the cameos. Even the box reflects this: the credits list returning stars like Margulies, Clooney and Anthony Edwards in front of season regulars like Grimes, Nagra and Stamos, as if the old faces are much more prominent in the season than they really are.
This isn't ER's finest hour, but the show does get a full season to come to a conclusion, and longtime fans of the show at least get to see some of their most beloved faces one last time. If nothing else, it's bound to evoke some fond memories.
The DVDs
Warner has continued to stick with the uniform packaging that's been a hallmark of the entire series. You'll get a cardboard slipcover that contains the plastic hard case inside, and that case has the five discs arranged amaray-style, except for the last one which is attached to the inside rear of the case itself. Box and disc art is uniform, typical of previous seasons.
The real prize here is that WHV has, like with the earlier years, included a brief booklet that gives you episode titles, air dates, credits, summaries and information on which episodes boast deleted scenes (referred to as "outpatient outtakes"). It's really all the information that you could ask for with a TV on DVD set - a clear and easily accessible reference.
The menus are basic, but that also makes them easily navigable; there's episode selection but no chapter selection. The episodes themselves look and sound pretty good - not the best transfer I've ever seen, and the colors aren't as sharp as some other shows, but I'd say it's a step above what you might have recorded on your DVR.
ER is presented in widescreen, with an English Dolby Digital 5.1 audio track and English SDH/French subtitles. There's no additional language support. With a show that's so beloved, I'm surprised that the title isn't more accessible.
The Special Features
Like the last release, ER: The Final Season is plagued by the scant selection of special features that's come to pass for standard with the season sets. I own everything from season nine forward, and I'm always disappointed that WHV couldn't find more bonuses for a show that has a place in TV history, especially since the early season sets had a lot more on them. (Check out the bonus features that came with season one, which my friend Gord Lacey referred to as "Warner's best set.") It's just that tad bit more annoying this time because this is the last season - one would think they could go out with a bit more of a bang.
Alas, no. You get the usual batch of deleted scenes, and then a retrospective featurette entitled "Previously on ER." The featurette is pretty thorough (it's over 40 minutes long!) and it's shot beautifully. You hear from all sorts of people, from major players like Anthony Edwards and Julianna Margulies to those with smaller parts like Jorja Fox - and even Steven Spielberg! Everyone has interesting stuff to say; this isn't just everyone clapping each other on the back. Also, Scott Grimes jokingly calls Noah Wyle a "douchebag." Be warned that it does contain spoilers for the season, as well as major points throughout the entire series.
As great as that is, though, it would have been lovely to see a gag reel, or some commentaries - especially on the series finale.
The Bottom Line
This is an average DVD release, not one that I can recommend at a nearly $50 MSRP for an fairly standard season with only one significant extra. Fans will no doubt want it to complete their collection, but casual viewers are better off waiting until the price comes down to something more in line with its meager bonus features. (One word of warning, however: now that all the season sets are out, there's always the possibility that WHV will double-dip with ER: The Complete Series...)