TV On DVD: 'ER: The Complete Fourteenth Season'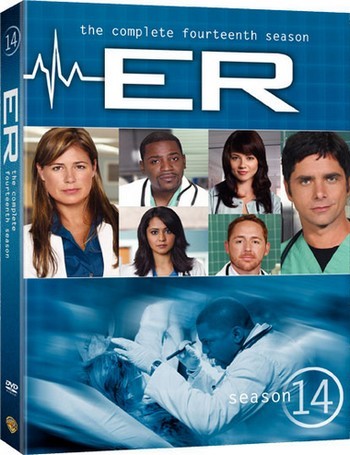 Today sees the release of ER: The Complete Fourteenth Season from Warner Home Video. It's the longrunning medical drama's next-to-last season, presented in a five-disc, nineteen-episode set (this is the year that was abbreviated by the Writers Guild of America strike). Take a look with me inside the latest volume of cases and complications at Chicago's County General.
The Show
When ER was on, I was never a fan; I much preferred its competition, Chicago Hope. However, much like that series did an abrupt crash and burn in its final season, the fourteenth season of ER is not its finest - both because of the WGA strike (a common problem with many shows that season), and because the series is showing its age. Characters continue to come and go fairly quickly, with few of them connecting with the audience, let alone living up to the standards left by the people they replaced. I'm a little biased because of my appreciation for Shane West, whose Dr. Ray Barnett left the show at the end of season thirteen; still, it's hard to shed many tears when Busy Philipps departs. This is also the last season for Mekhi Phifer, Maura Tierney, and Goran Visnijc, the latter of whom is only in seven episodes.
The writing also seems to flag, or maybe just expose weaknesses that have gone unnoticed. The similarly revolving door of who's sleeping with whom has always been what I dislike most about the show, but it feels particularly annoying this season. John Stamos's character, Dr. Tony Gates, has gone from having a thing for Neela (Parminder Nagra) last season to getting intimate with the new hospital chaplain, and later starting a relationship with Sam (Linda Cardellini) by season's end. I've never been a fan of shows where characters change partners enough times for me to need a flowchart. However, it's not a new issue for ER; it's more that there's not enough interesting plot to make up for the weakness. Who's going to be ER Chief? Does it matter? Abby's fighting her drinking problem...again. Morris does something he shouldn't...again. I can't blame the writers for running out of story ideas after fourteen seasons (that amounts to practically seven series runs in today's broadcast environment), but it's obvious by season's end that the series needs to wrap things up.
Even as it draws to a close, the show never fails to pull in the guest stars, however. The Cape's David Lyons arrives as Dr. Simon Brenner, and becomes a regular the following season. Stanley Tucci returns as ER chief Dr. Kevin Moretti. Reiko Aylesworth (24), Kari Matchett (Leverage), and Sam Jones III (Smallville) also play sizeable roles. You'll also see Charles Esten (we called him "Chip" when he was on Whose Line Is It Anyway?), Deborah Ann Woll (True Blood), Hal Holbrook, Steve Buscemi, and a special appearance by Gloria Reuben, reprising her role as Jeanie Boulet. Buscemi's performance in the season finale, as a drunken patient out of control, may be the best of the entire season.
The DVDs
It's trivial, but as a DVD collector, one of the things I enjoy about the ER series is that WHV settled on a uniform box art design for the show beginning with season three. It means I can display all of the seasons and they look good together, rather than many shows which change box art with every release and make things look mismatched. It's just one of those small things us DVD geeks appreciate.
The packaging itself is likewise the same as we've come to expect from the series releases. The plastic case slides out from the cardboard cover backwards - so that you're looking at the back case art when you pull it out. This is an approach WHV has used with other series, like the recent releases of V and Human Target, and it's a nice trick. The set comes with a pamphlet that has the same handy information Warner has always been good about providing: titles, airdates, episode summaries, key production credits and noting which episodes have special features.
There's amaray-style disc holders here, with the final disc being attached to the back of the case. Strangely, if you remove the pamphlet from the inside front of the case, you'll see markings - almost as if they thought about putting the first disc there, started to alter the case to do so and then changed their mind.
Technical specs are pretty standard: a widescreen video presentation, with a Dolby stereo audio track, and English SDH and French subtitles. The menus are workmanlike, but not great; then again, how much time do you really spend looking at the menus anyway, right? The transfer's what's most important, and that's as reliable as the previous releases. No complaints here.
The Special Features
There's been criticism of these releases for being pretty bare-bones, and this set gets better...but not by much.
Back again are the standard deleted scenes, but they're joined this time by a gag reel, which is fun to watch but not necessarily one of those ones I'd make a point of rewatching. Once you've seen it, I don't think you'd play it more than another time or two.
The big addition to this set is "ER at 300," which is selections from the 300th episode tribute that was held at the Paley Center for Media. I'm all for including Paley events on TV series box sets, but it's a downer that we get what someone else thinks are the "highlights," and while they're not bad, I would have preferred to see the entire program. I can only imagine the decision has something to do with how the complete panel is being sold by the Paley Center, if you want to dish out an additional $19.95.
The Bottom Line
There's a bit of a price quandary with this box set. Even at the discounted price offered through Amazon (see below), with a strike-shortened episode count, you're paying about $1.84 per episode - not much less than you would if you bought individual episodes through iTunes - and not gaining much in the way of features. Unless you really want all the episodes, or are like me and prefer having a hard DVD in your hand, you could save some money by simply buying your favorite episodes digitally.
There's really nothing that distinguishes this ER set from the previous ones, and it's not the show's best season. I can only recommend it to fans of the show who want to complete their collection.