TV On DVD: 'Discovering Hamlet'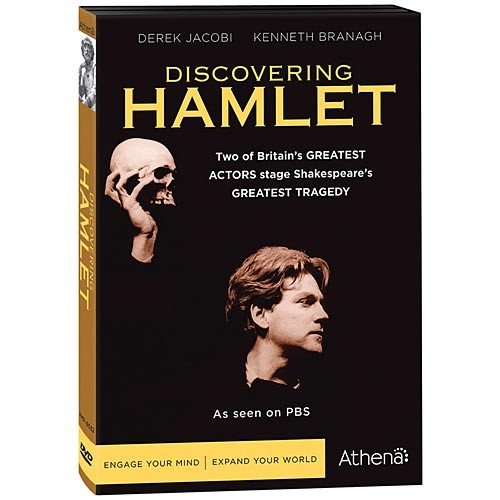 Acorn Media's Athena imprint has released Discovering Hamlet on DVD today. As you may have seen on PBS, this is a unique documentary tracking Kenneth Branagh's 1988 debut as the title character in Shakespeare's historic play. If you missed it, however, Athena now has it in a two-disc set so you can step back more than twenty years to see Branagh and legendary actor Derek Jacobi (Cadfael) on the English stage. Here's an inside look at the release.
The Show
Discovering Hamlet is, and I say this with love, a program for nerds. This is not Shakespeare for those with a short attention span or trying to look cool. It is, for lack of a better word, "hardcore" Bard, narrated by Patrick Stewart and probed with great insight by Branagh and Jacobi over the four weeks before their production opens. It's the kind of program your college professors would force you to watch, but unlike most of those types of shows, you'll actually come away having enjoyed it if you're at all interested in the subject matter.
I'm not a Shakespeare fan myself (if I'm honest, the only Shakespeare I really enjoyed was, ironically, Branagh's 1993 film adaptation of Much Ado About Nothing with Emma Thompson, Denzel Washington, Robert Sean Leonard, Michael Keaton and Kate Beckinsale), but I love this feature. I think that's because it reminds me of Looking For Richard, Al Pacino's fascinating film probing another Shakespeare play, Richard III. I fell in love with that doc when I saw it, because it was less about the play itself and more about what made the characters and actors tick, and how the material endured in the modern world. I might not have been a fan of the text, but I certainly understood and was interested in the issues surrounding it. Discovering Hamlet falls into the same category for me. It's not so much about the play as it is about Jacobi's direction, the actors' interpretation of the text, how the set is designed. All that is fascinating, even 23 years later.
Whether you're a die-hard lover of The Bard's works, a casual reader, or someone who just wants to know more about the theatrical process, you'll find something to love in this documentary. It's no surprise to me that it's endured for more than twenty years, as it's really that good.
The DVDs
Discovering Hamlet comes in one simple plastic case with a cardboard slipcover. The packaging for Discovering Hamlet suffers from the same defect as today's Blue Murder release: in an attempt to remind us that the plastic case is recyclable, the recycling symbol is actually cut out of the case itself and therefore makes the case easier to damage. Package and disc art is simple and uniform.
There's a forced trailer on this set for Athena's Playing Shakespeare, which features Judi Dench and Ian McKellen among others (and wow, it's such an 80's trailer), and then some additional releases. You can skip this by hitting the "menu" button on your remote.
As the program is more than 20 years old, the transfer reflects its age. This is a 4:3 full screen presentation (except for the bonus Jacobi interview, which as it was shot last year, is in widescreen). Although it's limited by the source material, the video is still pretty sharp and bright for something filmed so long ago. I actually saw more grain in Blue Murder, which ended in 2009, than I did in this release. There are SDH subtitles (but not on the bonus features), but no additional language support. Don't worry, Patrick Stewart's voice still sounds as booming as ever.
The Special Features
I made the college comparison earlier in this review for a reason: Discovering Hamlet's DVD release is perfectly packaged for use in higher education. It comes with a bevy of thorough special features. They start with a twelve-page "viewer's guide" enclosed inside which contains an introduction, a history of the Renaissance Theater Company (which put on this production), critical reactions to this version of Hamlet, and a brief article on the challenges of the text.
There's a 34-minute interview with Derek Jacobi on the first disc which is the most recent feature - it's in widescreen because it was conducted only last year. It's a really good watch, although the CGI backdrop is obvious and somewhat distracting, as it makes Jacobi and the film's director Mark Olshaker look sometimes like they're floating. It's joined by a photo gallery, biographies of the cast of this staging as well as narrator Patrick Stewart, and profiles of several Hamlets through the ages, including Jacobi and Branagh.
On the bonus disc, there's yet another interview with Jacobi that took place during the film's production, as well as interviews with members of the cast and crew, and more behind the scenes footage. There's almost three hours of material here (162 minutes, or two hours and 42 minutes, or three timest the length of the feature itself). Basically, this is everything that Olshaker left on the cutting room floor or that didn't fit into someplace else. I don't think they could have brought out anything else.
The Bottom Line
No matter what the level of your interest in Shakespeare, this is a fascinating and informative film with checking out, and it's a DVD release with a ton of special features. It comes highly recommended.
For more TV on DVD reviews, check out my review column at my blog, DigitalAirwaves.net.