TV on DVD: "Cougar Town: The Complete Second Season"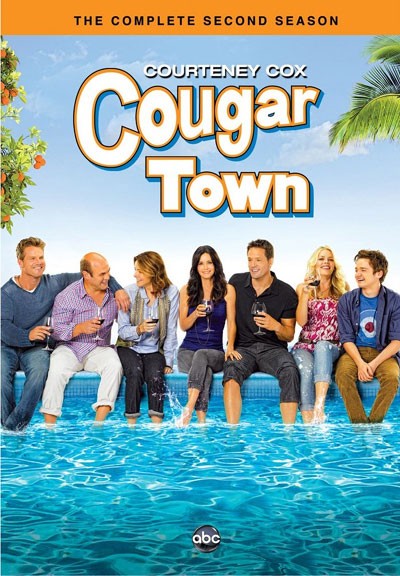 Recently, ABC Studios released Cougar Town: The Complete Second Season on DVD. Here's a look inside of the three-disc, twenty-two episode set.
The Show
I'm going to be honest: I don't like sitcoms.
Yet Cougar Town doesn't feel like your average sitcom to me. It feels like going back to an old neighborhood, with all the familiar faces amongst its troupe. The whole thing is like one big "Hey, it's that guy/gal" moment. I'm not just talking about Courteney Cox. There's Josh Hopkins (Ally McBeal), Brian Van Holt (S.W.A.T.), and Christa Miller and Ian Gomez (The Drew Carey Show) in the cast. And it's co-created by Bill Lawrence, who gave us Scrubs and before that, Spin City.
There's charm here. Particularly, I'm fond of Miller, whom I've liked since she played Kate on The Drew Carey Show. I think she's not given enough credit for her comedic chops.  All the way around, though, as someone who grew up on the sitcoms of the 90's, it's hard not to watch this show with some fondness. I also admit that I laugh perhaps a little too much at the series' irreverent title cards, which remind me of similar gags on shows like the British classic Fawlty Towers.
With such a solid cast, though, I'm biting my tongue when it comes to the writing, which I think just doesn't mix with my particular sense of humor. Granted, maybe I miss some of it because I'm not in the demographic the show is centered on, but it seems almost too neurotic. For example, in the season premiere, main character Jules flips out because her boyfriend Grayson wants a day to himself after they've spent an entire week together. I don't think it's as huge a deal as she makes it out to be, and maybe we're supposed to laugh at how much she freaks out over it, but to me she just came off as insecure and annoying.
There's a talented bunch here, and there are some good moments - I'm convinced Ian Gomez can play deadpan humor in his sleep. Yet I have to admit that I don't see what's garnered Cougar Town its favorable reviews, either. This is the kind of sitcom I might put on if it was on, but I don't think it's one I'd watch regularly.
The DVDs
Cougar Town: The Complete Second Season has the same packaging and therefore, the same packaging problems as earlier ABC release Brothers & Sisters: The Fifth and Final Season. The cardboard sleeve for Cougar Town stayed intact, but was already showing some wear by the time it arrived. As it doesn't have anything unique on it (the same front and back as the hard case inside), I'll repeat my earlier recommendation that you throw it out and just store this set with the plastic hard case inside.
I love the bright colors of the case, which has great pictures of the cast inside. My one complaint is a major one, though - that the third disc is attached to the rear of the case, so to read the episode listing, you'll have to take it out. This seems to be a common miscue among many DVD sets; I wish that if studios were going to print their episode listings inside the cases, they'd avoid putting the discs where they obscure text. It can't be that difficult to add another panel to the flipbook-style holder for the other two discs, can it?
There are four forced (but skippable) trailers on this set, including one for Grey's Anatomy. These will lead you into a map-style menu not unlike the show's main title card. You have episode selection but no scene selection, and a separate audio setup menu. You have only English audio, but English, Spanish and French subtitles...unfortunately, only for the episodes and not guaranteed for the special features. Episodes are presented in widescreen, and colors are crisp and clear.
The Special Features
Not a lot of special features here, unfortunately. You get one major featurette, (Still Called) Cougar Town, which covers season two and the show's evolution. It's an interesting feature with the participation of cast and crew; personally, as a writer, I enjoyed the discussion of how the show changed between seasons, which is something we fans often speculate on but don't get to see as far as the actual process of making alterations. I usually recommend watching any "making of" featurette only after you've seen the entire season, though admittedly it's much less damaging when it's a sitcom.
Then there's Andy's Dream, six webisodes with Ian Gomez. These are fun, but I can't see watching them repeatedly. (The Cougar Town-Pedia that was mentioned when the title was first released is absent, as are those Portuguese subtitles.) Rounding out the set is the usual assortment of Deleted Scenes and Outtakes, and there's nothing particularly groundbreaking in either set, though the outtakes are good for a few chuckles.
I'm not sure that one substantive special feature is enough for an entire season box set; with so many alternative ways to get our hands on the actual episodes now (via things like DVR or iTunes or Hulu), I feel like DVD's can't just offer a good transfer of the season anymore. They have to give us something else that we haven't already seen, and one featurette - as good as it is - doesn't seem worth the wait.
The Bottom Line
As with most comedies, it's hard for me to recommend this one because the genre is so subjective. It's not in my wheelhouse, but for those of you who have fond memories of 90's sitcoms, you might get a kick out of seeing this cast together if nothing else.
(c)2011 Brittany Frederick/Digital Airwaves. All rights reserved.