TV on DVD: 'Chuck: The Complete Fourth Season' [Blu-Ray]
In case you missed it, NBC's Chuck is moving to Fridays for its final season beginning October 28. To prepare you for the end of one of TV's cult hits, Warner Home Video recently released the complete fourth season on Blu-Ray and DVD. Here's an evaluation of the Blu-Ray edition.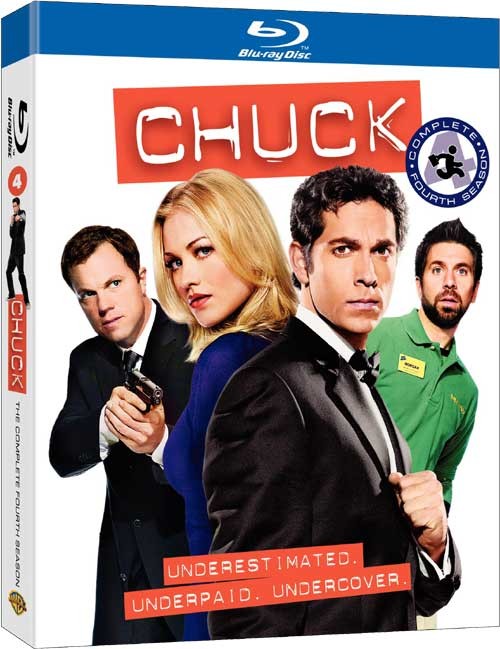 The Show
I reviewed Chuck throughout the fourth season, and on second glance, my opinions haven't changed all that much. There are a lot of things that work, and some that just don't - which makes it pretty much like every other TV series out there. I have yet to see any show have a perfect season. What makes Chuck better than most shows is that it's just ridiculously endearing. There's something about it that's just so darn loveable.
In specific regard to this particular season, there's some great guest casting - namely Linda Hamilton as Chuck's enigmatic mom, Mary Elizabeth Bartowski, and Timothy Dalton as Alexei Volkoff. Dalton, in particular, seems like he's having the time of his life in the role of "big bad" Volkoff. The two actors are really spot on, and I couldn't imagine anyone else playing the roles, which is a good thing as they're both around for a good chunk of the season.
Lauren Cohan (Supernatural) does a pretty good job in her guest role as well (to elaborate would be a spoiler). You'll also see Nicole Richie, Summer Glau, Stacy Keibler, Isaiah Mustafa, and Robin Givens, among other guest stars.
The main cast is still as reliable as ever. The real secret weapon for me is Adam Baldwin. I think I'm always going to call him "that guy who scared the crap out of me when he was on The X-Files," but I really believe that he gets shortchanged as an actor because people don't necessarily look past how physically intimidating he is. Season four of Chuck really allows Baldwin to show off his considerable acting chops in a few episodes. I still think he could snap my neck (I've sat next to him - I know how big his forearms are), but I also believe he's an incredibly underrated actor in both the comedic and dramatic genres.
There are some weaknesses in this season, though. Over the run, the writing falls into repetitive patterns egarding certain aspects (again, spoilers!) that make you feel like it's the same stuff, just in a different episode. It might be a fun episode, but it still feels like deja vu. It probably has something to do with the writers having to write for a certain number of episodes in the season, and then getting a back order that they then have to fill.
And there's a cliffhanger (why do shows all think they need to end on cliffhangers now?) that could be either a good idea or a really, really bad one - not that we'll know for sure until October 28th's season premiere. While season four is still pretty good overall, parts of it feel like the show is spinning its wheels.
Still, there's nothing else really like Chuck on television. I suppose the best thing I can say about it is that my whole family enjoys it - and that's a family with vastly differing opinions on what good entertainment is.
If you want to know more about season four, you can read my episode reviews, but be advised that they do contain spoilers.
The Blu-Rays
First things first, one spot of good news not to be underestimated: since this is a Blu-Ray release, there aren't packaging issues to deal with. A cardboard slipcover holds your Blu-Ray case, and inside Warner has provided that rare but much beloved accessory: an episode guide, which contains summaries, credits and information on special features. It is the Holy Grail for us DVD nerds who can't remember every episode title and don't want to look across five discs for specific bonuses. Warner is a studio that seems to include these consistently, and for that I thank them.
You have all 24 episodes on four discs, along with a pretty neat array of bonus features; there aren't a ton, but what is here is quality stuff, not filler. The Blu-Ray exclusive is the "Chuckipedia," which I liken to a Chuck version of VH1's Pop-Up Video. It allows you to watch the episode "Chuck Versus The First Fight" with all sorts of add-ons, like video commentary. It's really neat, and I'm glad that I have it, but since it's only on that one episode I wouldn't say that you're missing out if you pick this up on DVD instead.
Which brings me to an important point. The first two Blu-Ray releases for Chuck were pretty iffy; good friends of mine, who are experts in the technical aspects of these kinds of reviews, actually recommended that I buy seasons one and two on DVD because the video and audio were actually better than Blu. So how does season four fare? At least to my eye, pretty well. I wouldn't say that it's the best transfer I've ever seen, but as a fan and not a videophile, I'm happy with it. This is a title where what's on Blu is nice, but having the DVD version would be just fine.
The special features common to both editions are pretty fun. There's the usual deleted scenes and a gag reel (and Chuck gag reels are always fun). You'll get the Jeff and Lester webisodes that you might have missed when they were released previously. There's a feature called Spying On The Cast where Joshua Gomez (Morgan) tries to be all James Bond and fails, but it's fun watching him not be quite as cool as he thinks he is. The real treat, for me, is the featurette about Zachary Levi's directing debut. I always enjoy watching actors direct, so I found this both fun and insightful. In total, you get basically two featurettes, webisodes, deleted scenes and a gag reel - not a haul of special features, but certainly worth buying the set for.
There's only one audio track (English) but you have subtitles in three languages (English, French and Spanish). I'm surprised that there isn't at least one more audio track, but hopefully the subtitles make up for that.
The Verdict
Recommended. Chuck is that rare thing that we don't see all too often on TV - a genuinely unique idea for a show. It also has a great cast, whose charisma helps in getting through some of the speed bumps caused by the writing. If you haven't checked into Chuck yet, please do. You'll understand what all the hype is about.
Chuck: The Complete Fourth Season can be purchased at Amazon. Chuck returns to NBC on October 28 at 8 PM ET/PT.
(c)2011 Brittany Frederick/Digital Airwaves. All rights reserved. No reproduction permitted.