TV on DVD: 'Brothers & Sisters: The Fifth and Final Season'
This week, ABC Home Entertainment released the fifth and final season of the award-winning Brothers & Sisters. Here's my review of the five-disc DVD set.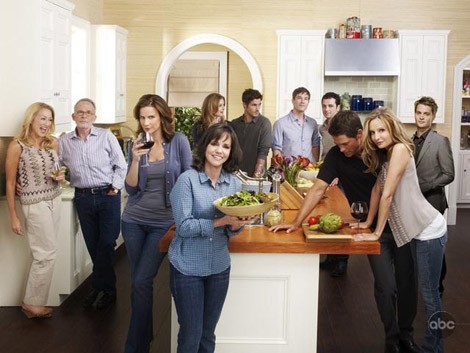 The Show
Brothers & Sisters (not to be confused with the late ABC series Sons & Daughters) feels familiar, because its cast is composed of many people who have had previous defining roles on television. Sally Field had her acclaimed guest stint on ER. Calista Flockhart will always be the title character from Ally McBeal to many people. Rachel Griffiths previously had a major role on Six Feet Under. These are people you've probably seen and loved before. Whether or not that's a good thing depends on how you look at it; personally, I love seeing a familiar face.
Having said that, this isn't a show that made me want to go back and watch the previous five seasons. I can see where it has its appeal, but it just didn't arrest me - at times, it even bordered on melodramatic. Of the entire Walker clan, I never really attached to anyone - although being that this was the last season, I'll allow that I might have if I wasn't coming in at the end of their story. There just wasn't anything here that kept me wanting to watch.
Check out guest appearances by Beau Bridges (White Collar), Peter Coyote (Law & Order: Los Angeles), and star Dave Annable's real-life spouse Odette Yustman, though. There's definitely an ensemble with plenty of TV experience here, and on that alone, the show's worth a peek. Whether or not you stick around will depend on if this is your kind of TV family.
The DVDs
There's one big packaging issue with this set - the cardboard slipcover. The glue that holds it together...doesn't. In transit alone, mine came almost nearly undone; when I picked up the set, it collapsed entirely. You don't need to have the slipcover to safely store the DVD set, but it's still a surprising disappointment.
Making up for it, though, is what's inside - a plastic case with a flipbook arrangement for the five discs. The case and disc art is beautiful; it's much more colorful than most DVD sets, and the discs have some neat pictures of the cast. On the inside front, there's a list of episode titles, and on the inside rear, there's a list of special features. Both are easily readable. My only qualm is that these don't show which special features are on which disc. Otherwise, I really like this case setup.
There's no included episode guide, but you do get a booklet which includes a coupon for other ABC TV releases (like Castle, Body of Proof, etc.), one for the latest season of Army Wives, and one for ABC TV merchandise. These are a nice bonus for fans of the ABC brand.
The first disc has a number of forced trailers that are skippable by using the forward button on your remote. These lead into some similarly nice menus, which include video clips. You have a "play all" option for episodes, but no scene selection or episode summaries at the menus.
Accessibility-wise, there is nothing beyond an English audio track, but a variety of subtitles including English, English SDH, French, Spanish and Portuguese.
The presentation of the episodes themselves is a solid one - widescreen with plenty of vibrant color. There are a few scenes that seem a bit dark, but that's a minor flaw, all things considered. I had no problem with the video or sound across multiple platforms. I would liken it to HD broadcast, so those of you who have the season on your DVR should feel comfortable picking up this DVD set.
The Special Features
There's a decent arrangement of special arrangements here. Here's the spread:
Audio Commentaries: One on "Cold Turkey" (disc 3) with the production coordinator and two producers. The same people do commentary for "Wouldn't It Be Nice" (disc 4). They're not bad commentaries, but I don't think I'd give them more than one listen; as is the rub with most commentaries nowadays, it's disappointing that the cast isn't represented.

Featurettes: There are two featurettes on the set. First is "Gilles Marini: Uncovered" (6:06), which involves cast members' thoughts on Marini and him giving a brief tour around the Disney Studios lot and various sets. Second is "Writing For The Walkers" (10:00), which focuses on the stories of the season, with the input of various writers and the cast. It is obviously spoilery if you haven't seen the whole season. I found the latter more enjoyable because I come from a writing background, but both are nice pieces.

Deleted Scenes: The usual assortment of cut scenes. Nothing special here.

Bloopers & Outtakes: A 2:20 gag reel. Also pretty standard stuff.
The Bottom Line
This is a good show with a decent amount of special features. Fans will obviously want this to complete their collection, and casual fans should give it a look. Newcomers, for the obvious reason, should start at the beginning.