TV on DVD: 'Archer: The Complete Season One'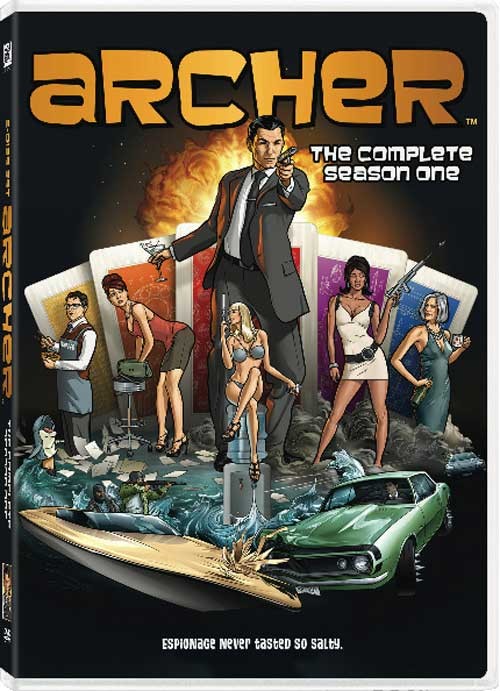 Burn Notice is over, Nikita's in reruns - where do you get your spy fix? Don't worry, FOX Home Entertainment has you covered. On Tuesday, they released the complete first season of the hilarious FX animated spy series Archer. The wildly inappropriate comedy created by Adam Reed (Home Movies) and featuring the voice talents of H. Jon Benjamin (Family Guy), Aisha Tyler (24), and Jessica Walter (Arrested Development) comes home in a two-disc, ten-episode DVD set.
The Show
I love this show. I'm also convinced I'm going to hell for loving this show.
Archer is hilarious to me, but it's comprised of often adult, almost always inappropriate humor that earned the show a TV-MA rating when it was broadcast. (There's a reason - probably many reasons - that the series airs at 10 PM.) If you like your humor unapologetic, however, you're in the right place. The press release that accompanied this one sums it up perfectly when it comes to the International Secret Intelligence Service (ISIS): "espionage and global crises are merely opportunities for its highly trained employees to confuse, undermine, betray and royally screw each other."
The title character is secret agent Sterling Archer (voiced by Benjamin), who is as clueless as he is arrogant, and somehow manages to screw up or at least complicate everything he does. He also enjoys needling his ex-girlfriend and colleague Lana Kane (Tyler), who's not afraid to shoot him. Lana has started dating comptroller Cyril Figgis (Chris Parnell), who might be more down-to-earth than Archer but isn't necessarily bright either. The cast is rounded out by the affection-starved secretary Cheryl (Judy Greer), HR director Pam (Amber Nash), and a downright brilliant performance by Walter as Archer's domineering mother and boss, Malory Archer. All the characters are dysfunctional in some way, leading to constant mayhem.
There isn't an episode in the season that didn't have me laughing out loud at something (and sometimes regretting that I was laughing at it at the same time). My favorite has to be "Diversity Hire," partly for a purely selfish reason: Coby Bell (Burn Notice) voices new ISIS agent Conway Stern. Aside from that, though, it's just a consistently hysterical episode as the ISIS team isn't particularly accepting of a new team member. I cried laughing and quoted it for days afterward. There's plenty of laughs to go around, though, including recurring gags about Archer's horrible treatment of his butler Woodhouse and the real identity of his father (to which he is also oblivious).
This is one of the funniest shows I've seen in a long time. I wholeheartedly recommend watching it, just not with your church group or any of your particularly uptight friends.
The DVDs
FOX has put together a simple but neat set here: it's pretty minimal as far as aesthetics but what does exist is fine by me. The package art is a great example of this. On the inside front cover, it's a very simple list of episodes and special features, and that's it. No booklet, nothing else of note in the box. It's uncluttered and functional, and that's the important part. Likewise, the menus (which have both video and sound) are the same way.
Technically, this is a solid set: widescreen presentation, English Dolby Digital 5.1 audio, and English, Spanish and French subtitles. The animation of Archer has always been pretty vibrant with color, and that comes through in the transfer; it looks  comparable to its HD broadcast version.
There's  a forced trailer for FX when you start up the disc, but I was able to bypass this by hitting the menu button on my remote.
The Special Features
There's not a lot of special features here, but like the show, what there is...is interesting. In a weird way.
On disc one, there's the "unaired pilot" for Archer. Now, the words "unaired pilot" with a regular show make you think of recast actors, right? Well, that's what we have here. Imagine Sterling Archer if he were a dinosaur. Yes, you heard me. I don't mean that it's a couple of minute joke either. I didn't watch the entire thing but it seriously appears to be the entire pilot with a dinosaur in it. This is funny for awhile, but eventually you get the idea. Still it's a feature that is so Archer.
Disc two comes with the more conventional stuff. There's a network promo and deleted scenes, plus a "making of" featurette. If you enjoy animated series like Family Guy or The Simpsons, check this out. It's a real eye-opener as to just how much work goes into producing a half-hour animated show all around. Of course, a lot of this is technical stuff, but I found it pretty interesting and it gave me a newfound respect for the crew behind all those animated series we enjoy.
There are also bonus pilot episodes for FX series The League (disc one) and Louie (disc two).
The Bottom Line
This is one of the funniest shows I've seen in a long time, and right now, Amazon has it for $19.99. It's hilarious and cheap. What are you waiting for? Check this out (and then tune in when Archer returns January 27).
For more TV on DVD, check out the TV on DVD column at my blog, DigitalAirwaves.net. Don't forget to tune back in here when Archer returns in January for complete show coverage!