TV On DVD: '24: Season Eight'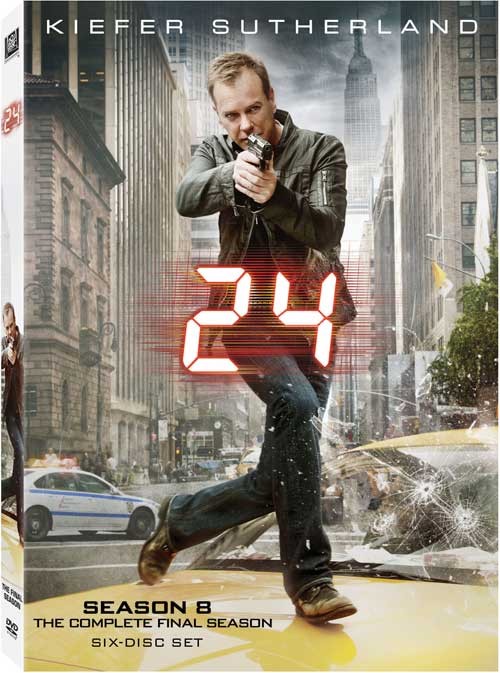 Yesterday, FOX Home Entertainment released the final season of 24 on DVD and Blu-Ray (as well as a DVD-only Complete Series set). I'm lucky enough to have my hands on the six-disc DVD volume to give you the ins and outs of Jack Bauer's final bad day, and the inside scoop to tell you if the Complete Series is worth the double dip.
The Show
I love 24. From the pilot, I was hooked, and I've been a huge fan of the show ever since; even in seasons where other people said it wasn't up to par, I was enjoying myself. That's why it pains me to say this: the eighth season is without question the show's worst. By season's end, I'd lost my love for it and was simply watching it to say that I'd stayed with the show to the end - and all of my friends, likewise longtime fans, echoed those sentiments.
There's not enough space for me to detail everything that went wrong with season eight, and why; there are just too many missteps. There's the introduction of Dana Walsh (a badly written character poorly acted by Battlestar Galactica's Katee Sackhoff), whose subplot was the only time in 24 history where I found myself mentally tuning out. There's the destruction of once-interesting characters like President Allison Taylor (Cherry Jones) and now-former FBI agent Renee Walker (Annie Wersching), who went from people I liked in season seven to people I was happy to see go away in season eight. There's Chloe (Mary Lynn Rajskub) becoming acting head of CTU. As for Jack (Kiefer Sutherland), he spends a large part of the season basically going off the deep end. The ending? Been there, done that before.
I'll always love 24, and the great stories, people and opportunities that it brought into my life, not to mention the influence it had on television as I know it. Unfortunately, season eight just shows that it was time for the show to end.
The DVDs
I'm really disappointed in how these DVDs were put together. The box and disc art is really great (although poor Chris Diamantopolous is good enough to put on the back of the box but not in the box's list of series stars), but looks aren't everything. There's no booklet, just a list of which episodes are on which disc - and that's obstructed by the first disc, which is sitting on the inside front panel. There's no mention of the special features at all, not in the box or on any of the discs. The lack of information is really a letdown, especially if you're like me, have seen the entire season already, and just want to jump into the special features. I just want to know what it is and where to find it, rather than have to hunt for something.
Packaging-wise, you get an amaray layout, with the first and sixth discs attached to the panels of the plastic case. There's a cardboard slipcover that goes over the case, but isn't necessary as it doesn't look any different than what's on the case - so it's up to you if you want to leave it on or not. At least it seems to come off and slide back on fairly easily.
If there's one thing this set gets right, it's the presentation. 24 has always been one of the most beautifully shot series; it was like watching half of a feature film every week. It still looks and sounds great on DVD. I had no complaints with either the video or audio transfer, and the shots I admired in the HD broadcast still impress me on DVD. If nothing else, at least you get a reliable transfer with this release.
Here are your technical specs: 1:78:1 widescreen video, English 5.1 Dolby Digital audio, with Spanish and French subtitles and English SDH captioning. No foreign-language audio tracks are listed.
The Special Features
Compared to the previous seasons, this season of 24 is also a letdown in the special features department. Even season one had more to offer than season eight does.
There's one thing I'm really upset about not having here, and that's commentaries. Every season set before has come with at least a handful of commentaries, and good ones that involve key cast and crew members from the episode in question. Half the fun of a 24 release was sitting around listening to Jeffrey Nordling jokeabout being killed off, or Carlos Bernard poking fun at stuff, or Jon Cassar teaching us things we didn't know about the show's production. Unfortunately, season eight doesn't have a single commentary track. Not even one on the series finale. I find it hard to believe they couldn't have found someone among the cast and crew to record tracks, so I wonder what happened.
What is on the collection isn't particularly remarkable either. Those advertised deleted scenes? There are only six of them, as opposed to the multiple screens of them on other seasons. The "scenemakers" on 21 episodes are neat examinations, but they're not very long either (they're just long enough to make me wish some of those same people had sat down and done a commentary track). The box advertises "extended episodes," but I wasn't about to watch every single one to find out which and for how long.
You only get two featurettes: "The Ultimate CTU" and "Virtually New York." As you might expect, these discuss the new CTU set, and how the producers created virtual sets to stand in for New York locales. These are the kind of things that film geeks like myself love, but that might not be enough for the fan who'd rather hear more from the cast or about the plot. There's no retrospective on the final season of the great show - that was held over for the Complete Series set.
The Complete Series set came out at the same time as this season set. If you're like me and own all the previous releases, don't bother dropping money on the new set; all you're really gaining is the season eight wrap party and the show's last Comic-Con panel, according to my FHE sources. There are two other special features - a post-series thing called "Chloe's Arrest" and a retrospective - but I've been told they're both brief, and just four new additions doesn't seem like enough to drop $140-200. On one hand, I'm disappointed, but on the other, at least I don't have to go out and buy a whole new set. (Especially since there's already talk of remastering the earlier seasons on Blu-Ray.)
The Bottom Line
It's not a quality season, and the special features are poorer than usual. I can only recommend this to die-hard 24 fans who have to have the entire series, and even then, I can't see you pulling this one off the shelf too often.
Want more TV on DVD? Check out my full TV on DVD column at my blog, DigitalAirwaves.net.