TV Land Celebrates 30th Anniversary of 'Three's Company' with 24-Hour Marathon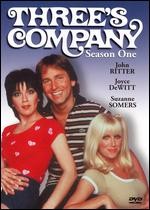 TV Land celebrates the comedic misadventures of the zaniest roommates on television -- Jack, Janet and Chrissy -- with a 24-hour marathon saluting the 30th Anniversary of the Emmy Award-winning series
Three's Company
beginning Saturday, March 17, at 8:00pm (all times ET/PT).
Tune in to relive some of television's most hilarious and madcap episodes including a retrospective show hosted by
Lucille Ball
, the pilot episode recounting how it all started and the series finale. TV Land will also showcase episodes from the hit series' spin-off, "The Ropers" and "Three's a Crowd."
Fans can log on to tvland.com beginning Friday, March 9 through Friday, March 30 to register to win a Three's Company DVD box set containing all the episodes from season eight, as well as "bloopers" and "featurettes:" "The Best of Jack, Janet, Terri, Larry and Furley," "
John Ritter
: Working with the Master" and "Usted Habla Three's Company?"