TV Honorees That Should Get Their First Shot At Emmy Nominations

Yesterday, we went over the
Emmy nominees who have overstayed their welcome
. Those perennial TV honorees that simply don't deserve the recognition they once did or, in some cases, never did at all.
So if they're out, who's in? Surely, there can't be too many nominees waiting in the wings. After all, television professionals choose these awards; they can't possibly leave out any substantial number of qualified candidates in favor of perennial duds.
Unfortunately, that's the way it is. Voters simply don't like to change their ways with regards to voting. It almost seems that a series has to end in order for any fresh blood to find its way onto the Emmy ballot meaning deserving performers and series must languish for years before recognition and newcomers have no shot at breaking through except in the rarest (see "
Mad Men
") of circumstances.
It's time for that to change. Emmy voters take note. Before you hand in your ballots on June 26th, consider casting your first vote for the following deserving candidates. You won't regret it.
Best Actress in a Comedy Series
Toni Collette
for "
The United States of Tara
"
This will probably happen, but the stubbornness of Emmy voters could rob the most deserving newcomer of the year her right to Emmy glory. Collette delivered one of the most eye-popping performances of the year; gracefully transitioning between her "alters", essentially playing five different characters concurrently.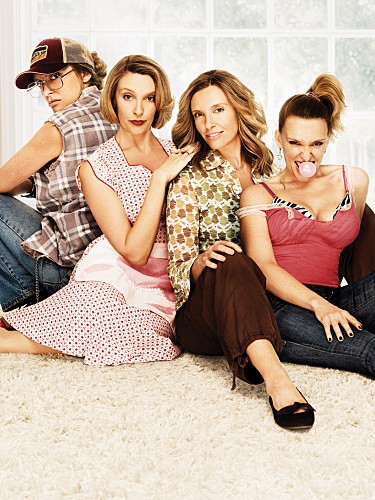 Image © CBS Broadcasting
Unlike
Eliza Dushku
on "
Dollhouse
", Collette made the viewer believe that each of her multiple creations really were different people rather than just somebody pretending to play a bunch of different parts. This was a startlingly good performance by Collette and one that the stodgy Emmy voters would be derelict to ignore.

Best Supporting Actress in a Comedy Series
Portia De Rossi
for "
Better Off Ted
"
She never received a nomination for "
Arrested Development
" so here's hoping the voters were waiting for her next series and followed her to this little-seen show. It's not likely, but it should be a no-brainer. De Rossi played the role of a rigidly efficient workaholic with the precision and control of a brilliant machine. There wasn't a single line, action, or eye twitch not made funnier by this gifted comedienne who really deserves to be known as more than Ellen's Girlfriend. An Emmy nomination could go a long way towards that goal.

Best Actress in a Dramatic Series
Anna Paquin
for "
True Blood
"
She may have won the Golden Globe but that is no guarantee that voters will notice this Oscar-winning Actress's brilliant turn on HBO's new blood-drenched treat. Paquin's Sookie is a character of both extreme naiveté and great wisdom - a balancing act effortlessly played by the gifted actress. It's a huge task to carry such an extremely chaotic and fractured show, but Paquin was more than up for carrying that burden, creating a character as deeply layered as the strange world she inhabits.
Jeanne Tripplehorn
for "
Big Love
"
This year, Barb Henrickson faced ex-communication from her church, a possible new sister wife, and further conflict with her lifestyle. A lot to handle for an actress, especially when trying to convey behavior and situations unfamiliar to most viewers in a way to which they could relate. Such a task requires the full breadth of an actor's skills as she had to search inside for the natural reactions to problems she'd never even come close to facing. And she did it. Tremendous.

Best Sp
Amanda Seyfried
for "
Big Love
"
The wives get all the attention for this show, and they're certainly deserving, but it's Seyfried that consistently delivers the best performance on the series. She's given a daunting task by the show's writers - she is essentially the sole link to the world outside polygamy thus becoming the character whom it is easiest for the audience to relate. Seyfriend must play this role to perfection for the series to really work: Without that place to rest (Seyfried's character) it's impossible to bring people into this strange world with any empathy. A monumental task for this young actress, and one she's always up to.
Anika Noni Rose
for "
The No. 1 Ladies' Detective Agency
"
Every actress who thinks that the only way to pull off a funny and compelling character is to play over-the-top and with extreme emotion need only look at the brilliantly restrained performance by Rose to discover the alternative (and better) path to creating an exceptional character. Rose's secretary, fiercely proud of her 97% score at the Secretarial Academy, was the highlight of this charming series. She maintained flawless control over a restrained and reserved character who gave away nothing allowing the actress to demonstrate her full depths. This took remarkable concentration from Rose and the result was one of comedic genius contained within a dramatic series.
Drama Actor
Kyle Chandler
for "Friday Night Lights"
Somehow, Chandler has yet to receive a nomination for this series. It's an inexcusable affront to this brilliant actor who consistently delivered the best performance on television this season. Yes he did. No arguments allowed. What Chandler has done with Coach Eric Taylor is create perhaps the most realistic character ever to grace the small screen. Every thing he does, every action, every reaction seems wholly organic. It's lazy to say, but there simply isn't any acting there. This is a complete performance where an actor inhabits rather than plays a role.

Bill Paxton
for "Big Love"
Another shocking continual omission. How does Paxton keep getting passed over for his remarkable creation of Bill Henrickson - a man of intense faith guiding him through the overwhelming difficulty of his chosen situation? It is through that struggle that Paxton displays his genius, always at the verge of frustration but displaying a calm that only comes through his deep-seated faith. A masterful exercise in control by a very underrated actor.
Drama Supporting Actor
Aaron Paul
for "
Breaking Bad
"
Bryan Cranston receives the lion's share of the buzz and acclaim for this show (and it is richly deserved), but Paul is nearly his equal as the junkie drug pupil Jesse Pinkman. It's a very complex role, as Pinkman is ostensibly just a junkie burnout, but there's always a desire to succeed bubbling underneath his meth-head exterior. Whether it's Pinkman's constant baying towards Mr. White, or the relationship he has with his parents, he isn't just some stoner looking to lie around and eat pizza all day. Paul controls that smoldering fire with virtuoso expertise. Bonus points for showing his range as a Mormon support group leader on "Big Love".
Jimmy Smits
for "
Dexter
"
This may be a bit of a spoiler for those waiting for the DVD, but this will be Smits' only shot at winning the award for this series. This makes it all the more difficult for him to actually walk away with the trophy - why honor somebody for a one-season performance? - but he deserves it just as much as a 10-season mainstay. Given the complex task of balancing the image of a crusading DA with the murderous inklings of a monster, Smits showed us the full range of Miguel Prado in each frame of his short-lived stay on the screen. This is the character Harvey Dent should have been in "
The Dark Knight
".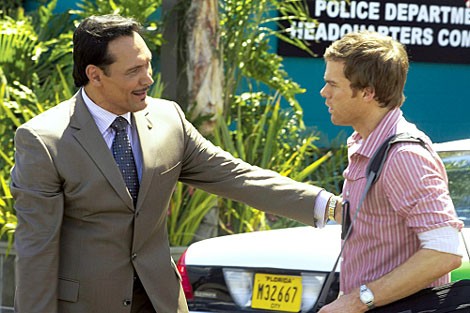 Image © CBS Broadcasting
John Noble
for "
Fringe
"
This series still has some growing to do before it can contend for the Best Drama prize, but Noble has already reached that elite status with his delightfully unbalanced Dr. Walter Kovacs - a mad scientist who is utterly believable. It's a tough tightrope to walk when given the task of playing an insane character. It's very easy to veer into haminess when given the leeway of craziness. Noble never takes the bait as he stays fully in control of Walter while seeming ready to drift away at any moment.

Comedy Actor
Bret McKenzie
and
Jemaine Clement
for "
Flight of the Conchords
"
Is it possible to use one slot for two people? Nominate the band maybe? Either way, one of these two minstrels should receive commendation for their hilarious work on this series. Sure, their acting might not be the greatest, but they sing for crying out loud! Gotta count for something.
Comedy Supporting Actor
Rhys Darby
for "Flight of the Conchords"
There simply isn't a better-controlled and more precise comedic performance on television than Darby's hapless New Zealand Consulate employee and part-time manager, Murray. The most amazing thing about this performance is that nobody ever writes jokes for him. By all rights, Murray shouldn't be funny. Except he is. He's the most hysterical character on one of TV's funniest shows, and all that humor comes from Darby's masterful delivery of each line and the odd way about which his creation relates to the world.
Best Drama Series
"
Big Love
"
Yes, this has never been nominated for Best Drama. In a world where you essentially only need to have your show air on HBO to receive recognition in this category, this polygamist drama remains unrewarded through three seasons. This despite its being the most thoughtful and well-written drama on television. Where else will you see grand questions of faith, family, and love challenged on nightly basis without any preaching or heavy-handedness. What creators Will Scheffer and Mark V. Olsen do each week is simply tell a story, and through that the audience confronts the issues. And what a great story it is.

"
Breaking Bad
"
The Emmy voters get a pass for skipping this one in its first season only because they actually gave
Bryan Cranston
an award for the best single-season performance in the history of the small screen despite his being a rookie to the role. That was fine for last year, but as the series expanded its scope this season, answering tough questions about whether we do things for others or to satiate our own narcissism, failing to nominate it would nearly be inexcusable.
"
Friday Night Lights
"
Based on the endless critical praise and buzz surrounding this show it's hard to believe that it's yet to notch a nomination for Best Drama, but those are the facts. Luckily, it just had its best season with a revolutionary revenue split between DirecTV and NBC keeping it on the air. In fact, it had the best season of any drama series on television. The Emmy voters can't possibly ignore it again. Can they?
Best Comedy Series
"Flight of the Conchords"
It's hard to think of a funnier bit of nonsense than this Kiwi gem rocking out on HBO. The songs, the New Zealand posters, Mel, it all comes together in a delicious hodgepodge of smoothly outrageous humor. Perhaps it's a bit much for Emmy voters, but isn't the point of a comedy show simply to be funny?

"
How I Met Your Mother
"
It's true; this show has never received an Emmy nomination in this category. There's not a clear reason why. It does well in the ratings, critics love it, and buzz for it is everywhere. Hell,
Jason Segel
is the fourth lead on the show and he's opened two successful comedies at the movies in the last couple years. Plus, it's probably the second-funniest show on television next to "
30 Rock
". What does this show have to do to get some respect? Have both female stars get pregnant? Oh wait, it did that too!
So there ya go, Emmy voters. Your guide to what you've been missing. Next year, maybe try to watch some TV.
Story by
Andrew Payne
Starpulse contributing writer