TV Election Personalities: Giving Fresh Faces To This Election

It's nearing the end of October; do you know whom you're voting for? Most likely, yes, you've known for a while. And, depending on whom you're voting for and whether you watch political news programs, you probably fall into one of a few categories. If you're a die hard McCainiac, you might spend your evenings listening to
Bill O'Reilly
tell his guests to shut up. If you're an Obama mama, you may tune into
Keith Olbermann's
incessant barking. If you're for either but want a seemingly nonaffiliated program that maintains some entertainment value,
Anderson Cooper
might be what you're looking for. If you want just the facts, Jim Lehrer and PBS are for you. If you're a political junkie, CSPAN runs 24 hours in your home. Of course, these are not the only options you have for keeping up with this year's election. But, they are a sampling of the most common. But this is not a common election. Politics has spilled from the newsrooms of CNN and Fox News into such politically soft programs as
The View
and
The Today Show
. Even
The Daily Show
with
Jon Stewart
, which has become known for its searing, political satire, has ramped up its coverage giving a fresh face to this election. Like the election, it's still unclear who is the most trustworthy option, but it's damn refreshing to have so many options. Here's a few of the newer ones: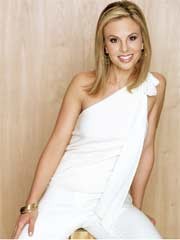 Elizabeth Hasselbeck:
America's most dangerous conservative is not campaigning in Ohio, picking up the red phone in the Oval Office nor proselytizing on Fox News. America's most dangerous conservative is sipping out of a cute, ceramic mug beside a comedian and a journalist on
The View
. America's most dangerous conservative is Elizabeth Hasselbeck. With a daily, predominantly female, viewership of more than three million, The View provides Hasselbeck a lofty podium from which to earnestly cultivate her Republican values in everyday Americans. At least so the Democrats contest. Young, gorgeous and disarmingly authentic Hasselbeck rejuvenates the face of the Grand Old Party from that of a frowning old fart into a young, smiling beauty.
Wyatt Cenac:
On his first Daily Show appearance, Wyatt Cenac bemoaned in an apathetic deadpan how this year's primary season failed to compete with the likes of
Lost
for his interest. Expect more of the ironic, jaded perspective commonly associated with today's youth from Cenac as the election season progresses. Perhaps next he will compare
John McCain
to
William Shatner's
character on
Boston Legal
or somehow liken
Barack Obama's
charisma to
Rachael Ray
. He may even envisage the winner declared in an American Idol-style results show. Regardless, Cenac will surely be an entertaining commentator through the election. Like John Madden.

Joe Scarborough:
Joe Scarborough was once a Republican congressman during the party's congressional heyday. From this he does not shy away. But he also does not shy away from condemning the party he once served. It is this ability to credibly criticize the Republican's missteps that offsets any bias the Democrats may lament. Whether it be McCain's gas-tax holiday or Obama's celebrity, Scarborough ridicules each candidate equally, even though he may at times offer better defenses for the GOP. Although he is by no means an objective voice, in an election so divided, he may be the least subjective one.

Henry Rollins:
Henry Rollins is the liberal pitbull allowed to roam free and uncensored on
IFC's Henry Rollins Show
. With tirades barking that America is under attack and vicious letters to Ann Coulter, Rollins proves ever-ready to growl at political incompetence. Throughout this election, Rollins's hairs will surely bristle at every flip-flop and false promise. Look to him to rant about McCain's yellow teeth or pen a letter to McCain's wife, Cindy, begging her to be his sugarmama. Despite his outlandish invectives that constantly hold the conservatives in contempt, for the liberals Rollins is always reliable to say what the rest are thinking.
Luke Russert:
Most recent college graduates spend their summer frolicking in the sun, banishing books under beds and leaving politics for their parents. Not Luke Russert. Unfortunately, Luke's father, Tim, renowned host of NBC's Meet the Press, passed away shortly after graduation. In his wake, Luke has stepped firmly in his father's shoes, honoring his father on the
Today show
and
Larry King
. Now, Luke will honor his father further as a correspondent for NBC. He will cover both elections for the network and, like Cenac and Hasselbeck, will bring to the forefront issues that matter to today's youth.
So, before you ever enter the booth and pull the lever, you have a choice. This year's candidates may not be the traditional ones, and they may not feel as comfortable. But, they are likeable, and they do have their convictions. Whether it be Cenac with his comedy, Hasselbeck with her values, Scarborough with his experience, Rollins with his passion, Russert with his youth, or any of the other talking heads, you have a buffet of choices to vote for.
Story by
Tim Peterson
Starpulse contributing writer