TV Book Club: 'Supernatural: The Official Companion, Season 7' Reviewed
Titan Books is back with another volume in the publisher's Supernatural guide series. Supernatural: The Official Companion, Season 7 is almost everything you should expect from a book devoted to a TV show.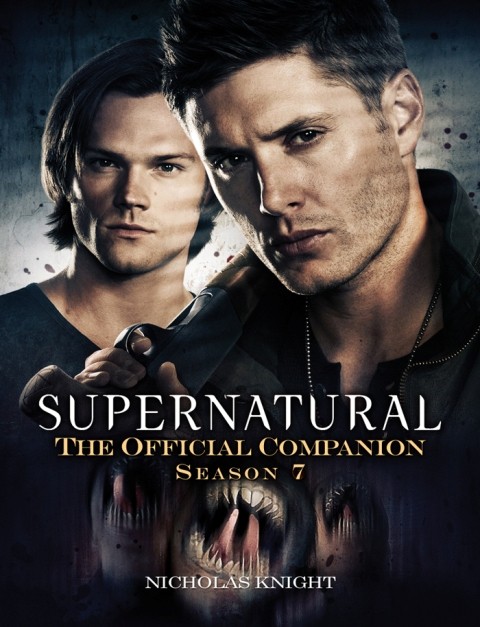 Titan has long been a staple when it comes to putting out guidebooks for cult TV. They've previously done guides for a number of shows including 24 and Bones that are solid references for fans of each series, and the Supernatural line is no exception. Written once again by Nicholas Knight, who has penned all the companions so far, Season 7 gives the basic information about each episode, including cast, writer and director credits, a brief synopsis, and - although you'll have to look in the margins to find it - which songs were included. If you thought a character looked familiar, now it's easy for you to find the name of the actor in question.
Along the way, the book provides comments from a variety of individuals about the production, from interviews with stars Jensen Ackles and Jared Padalecki (basically a requirement for any non-fiction Supernatural book) to a few guest stars and words from various members of the crew. Some of these quotes are informative, such as Ackles talking about scenes that were filmed for 'The Girl Next Door' but didn't make it to air, while others are more opinions or useless facts, like writers' assistant Jenny Klein mentioning that she was "horrible" at ballet in the pages for 'Out with the Old,' an episode which involves cursed ballet slippers. The quote does tie into a part of the episode, but it's not something that a reader would really need or want to know.
Amongst all this are also segments taking a closer look at some of the monsters the Winchester brothers see in this season. There's definitely a fair amount of information here, even if some of it isn't memorable, and the book comes in at almost 160 pages, which isn't bad for a title currently on Amazon for just over $10.
The guide isn't perfect, however. There are a few little nitpicks to be had, especially if you know anything about other genre shows. For example, in the entry for the episode 'Time After Time,' Knight curiously makes reference to guest star Nicholas Lea's time on The X-Files but doesn't refer to the program by name, instead calling it 'a cult sci-fi series'. The entry for 'Shut Up, Dr. Phil' feels disappointing without any words from that episode's two huge guests, Charisma Carpenter and James Marsters. In fact, the only reference to them is in a small sidebar from the episode's writer, who's noted as a Buffy The Vampire Slayer fan. Another episode features a character named 'Amy Pond,' but is that a Doctor Who reference? The guide doesn't say. These aren't crippling omissions, but they're obvious absences that would have made the book even better.
In addition, while there's a section of color photos, most of the ones included are in black and white. And the final section, entitled 'Supernatural Reaction,' is mostly just an extended plug for Titan's series of tie-in novels.
As far as guidebooks go, Season 7 covers all the fundamental bases, and fans of Supernatural should learn a few things that they didn't know before. It's worth reading for that and also just to have a reference on your shelf for the occasional trivia question - but just as on the show, there's still some things left to be uncovered.
Supernatural: The Official Companion, Season 7 is available now at all major retailers. You can purchase your copy by clicking this link. An all-new episode of Supernatural airs tonight on The CW.
For more from Brittany Frederick, visit Digital Airwaves and follow me on Twitter (@tvbrittanyf).
(c)2012 Brittany Frederick/Digital Airwaves. Appears at Starpulse with permission. All rights reserved. No reproduction permitted.