TV Book Club Q&A: Howard Gordon's 'Hard Target'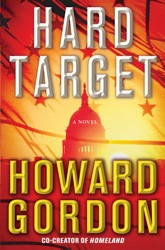 Hard Target is Howard Gordon's second novel and the sequel to last year's Gideon's War. Firstly, it's impressive that we're even discussing this book since its predecessor was published in January 2011. Most writers can take years between projects, and most writers aren't also juggling two high-profile television projects at the same time they're trying to finish their next novel, either. Gordon deserves a gold star for just getting this one into our hands as quickly as he did.
Given those circumstances, it's understandable that readers might be leery of a rush job. Rest assured that Hard Target is not a cheap sequel. This is a proper continuation that would have been worth waiting another year or two for.
I'll be light on details so as not to spoil those who haven't yet read the first book, but it sees former mediator turned academic Gideon Davis (the title character of Gideon's War) planning his wedding and trying to live a quiet life, which is pretty much an invitation for something drastic to happen. When it does, Gideon teams up with his ex-CIA operative brother Tillman and ex-girlfriend Nancy Clement to stop a massive conspiracy and save the American government.
If you've seen any of Gordon's recent work, you know that's right in his ballpark. It's something that Jack Bauer or Carrie Mathison might tackle. This is both a pro and a con, but largely a good thing. As a longtime fan of Gordon's work on TV, I feel like I know his repertoire pretty well, so as with Gideon's War, there were some things that were easy for me to decipher. Yet on the other hand, because I know his work so well, it was also a comfort. I knew he was writing about a subject with which he is deeply familiar and that he would turn out quality work, so even when I knew what was coming, I still wanted to see how it would all play out.
I doubt this will be a concern for most readers, as I don't think you gave a college lecture on Jack Bauer and the development of modern dramatic television, but I mention it because it proves that the experience of Gordon's writing is still a joy no matter how much you know (or think you know).
And on that note, I can say from experience that his ability to find an audience in both mediums is to be commended. There are different styles and different concerns, and just because you can turn out a 45-page script doesn't mean you can do a 300-page novel. So for Gordon to be able to do both, and do both well, is something that has obviously taken a considerable amount of hard work, and something I have a deep respect for.
Hard Target feels like a different book than Gideon's War. It's not just more of the same. Gordon slows the pace down and digs into his characters a bit more, which is appreciated. We have a chance to really sink into the world and into the heads of those involved, whereas in the first book it was more about plot and action. This novel serves as a reminder that Gordon can write both hardcore action and intriguing characterization, and that he's moving forward as a novelist, changing the tone rather than taking the easy way out by just repeating what worked the first time.
It's 78 pages shorter than Gideon's War, but given everything else he had going on at the time, that's completely understandable.
Whether we see a third Gideon Davis novel or something new, and whether it's next year or five years from now, I want to see what Howard Gordon does next. He talked to me about being on a learning curve as a novelist, and Hard Target demonstrates some serious advancement on that curve. His TV work lends the book a different touch that helps to bring it to life in the mind of the reader. I can only imagine that the more Gordon keeps writing novels, we're going to see him progress even further, and I believe he could have just as many successful novels as he's had television series.
Kudos to Gordon for another job impeccably well done.
View the Hard Target trailer below and order your copy today or at your local retailer.
(c)2012 Brittany Frederick/Digital Airwaves. Appears at Starpulse with permission. All rights reserved. No reproduction permitted.