TV Book Club Q&A: Howard Gordon's 'Hard Target'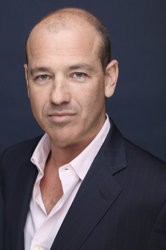 Howard Gordon, the TV writer-producer who's been a part of so many fabulous shows, has hit the bulls-eye again with his second novel, Hard Target.
There's no doubt that Gordon is in the top class of TV scribes. His credits include sci-fi staple The X-Files, the underappreciated The Inside, the phenomenon that was 24, and last TV season's clear number one drama Homeland - plus, I give him bonus points for trying to bring my favorite British series Ultraviolet to American television. But being a great TV writer doesn't necessarily make a great novelist: while it's the same general trade, it's two vastly different mediums.
Gordon has succeeded in both disciplines. His first novel, Gideon's War, was a satisfying, well-written escape for adrenaline junkies and those familiar with his TV resume. (You can read my review of it here.)
In just over a year - a year in which he launched a hugely successful TV series and is waiting for a second to hit the airwaves, mind you - he's completed the sequel. Hard Target returns to the story of Gideon Davis and his brother Tillman, but is almost a different type of book altogether.
Howard cleared some time out of his tremendously busy schedule to chat with me about Hard Target and what it represents for his emerging second career.
It was just a little more than a year ago that I was interviewing you about your first novel. How did a sequel come together so quickly?

It was not an easy task. Much like the first one, I really found the time early in the morning, late at night, on weekends. I sort of had an idea of what I wanted to do as I was doing the first book. I was very motivated by a deadline. I still have the scars to show for it. (laughs)

Did you find the second book harder or easier than the first?

I felt less terrified and more terrified at the same time. I remember telling myself, "I'll be happy if I can get through the first book." I wanted this one to be better. I feel like I'm new at this medium and that I have a learning curve. I found myself with what I thought was some experience that I gained [and] I was very conscious about wanting to move up the curve.
Was there anything specific you learned from writing the first novel that helped you in the second?

I definitely learned some things. The first book was pulpier and I wanted to expand the time frame a little bit. The first book has a pretty pedal to the metal kind of pace to it. I wanted to slow it down a little bit. I was concerned that this book felt more inert.

You enjoyed great success with Homeland over this past season. Did working on the show help you with the novel or vice versa?

Absolutely. My head's definitely in this sort of space and whatever research I do, it all seems to apply. I'm sure there was some confluence and convergence of details, but also of narrative sweeps. Some people even point that out, that there is some overlap between Homeland and Hard Target.

You've shown great ability whether it's in TV or with these novels. You've always got a clear idea of what you want to do. What makes you so successful at building these projects?

More often than not, I've latched on to shows that I didn't create. Homeland is an exception to the rule. Whether I've created it or whether I've run it, it's always been very strong characters and a very strong premise. I have to really be interested in the story. Once that happens, it's a lot easier.
Once Kyle [Killen] created [his new NBC series] Awake, I read the script and I read it with envy. I was interested in its invention and its originality.

A lot of people might not know that you're a novelist. Is there anything else you've done in your career that you think got overlooked?

I've been lucky in that a lot of my stuff has at least gotten out there. I have a few busted pilots that I don't think anyone can find them. I've been luckier than most writers.
Like that busted pilot for Ultraviolet that I still want to see.
That was actually the biggest missed opportunity.

Speaking of failure, or at least the perception of it, we know that some actors can't watch themselves on TV. Can you read your own novels without nitpicking?

No. I cringe every time I read it. Occasionally, I'm like "Oh, that's pretty good," but more often than not, I'm wanting to redo it. I wish I'd had more time but I wish that about everything I do.
Homeland got as much time as a series could get. We really had a good length of time to do a couple drafts of it. More often than not it helps the process.

Are we looking at the potential for an ongoing series now, or do you think you'll stop with two novels?

For now, it might be it. We kind of have to see how it sells and frankly, if there's an idea for a third one. The first two were sort of conceived as a single contract and I think we'll see how it sells. I'm not sure what the economics of it all are.

Having been associated with so many cult hits over your TV career, have people started to recognize you more?

I mostly get [that] like if I'm introduced. Not really. I'm a fairly anonymous guy. I've been mistaken for another Howard Gordon who owns the Cheesecake Factory.
At least you've raised your profile with your Twitter account.
I've been Twitter delinquent. I have to admit I'm still trying to find my way through it. I barely got used to Facebook. I'm the opposite of an early adopter, I'm a late adopter. But I love those people who are good at it. There are some people that are really good at it like Damon Lindelof.

Since we're talking about books, what's the last good book you read?

I really liked Maile Meloy's The Apothecary.
My thanks to Howard Gordon for another fantastic interview. Read on for my review of Hard Target...