TV Book Club: Elmore Leonard's 'Raylan'
It's fitting that day-and-date with his TV reprise, U.S. Marshal Raylan Givens made a triumphant return to print.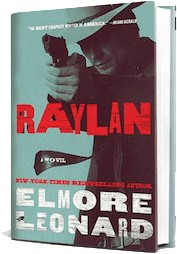 Devoted fans of FX's Justified will know that the show's unique hero (so pitch-perfectly played by Timothy Olyphant) has his roots in a short story and a pair of novels. Ironically, it's the TV show we have to thank for Elmore Leonard's new novel Raylan, according to Justified showrunner Graham Yost.
At the recent Television Critics Association press tour, Yost (below left, with Leonard and Olyphant) told reporters, "It started when [Leonard] was visiting the set in the first season and Tim said to him, 'Hey, why don't you write another Raylan short story?' He started on one and kept going. And wrote a second one and tied it into the first one. Things work better in threes, so he came up with a third story that tied into the first two. And now he has a novel."
We Raylan fans owe Olyphant a debt of gratitude, then, because Raylan is stunning. It accomplishes something I wasn't sure could be done: it does justice to both novel and TV canon.
If you've read any of his past literary adventures, you know that the Raylan Givens who appears in the books is different from the one we've come to embrace on the small screen. To cite just one example, while the season two finale of Justified saw Raylan expecting his first child, the print Raylan is a father of two. The television show has its significant deviations, something which usually turns out to be a mixed bag of pros and cons (ask the folks at Dexter about that).
I don't feel that way about Raylan. While I admit I'll probably always be a bit partial to the TV version (ostensibly due to my deep admiration of Olyphant), in reading the novel, I felt like the heart was still the same. There were differences, but I still felt like I knew Raylan Givens, and his whole cast of fellow characters. I still got the same thrill out of it that I do watching Justified.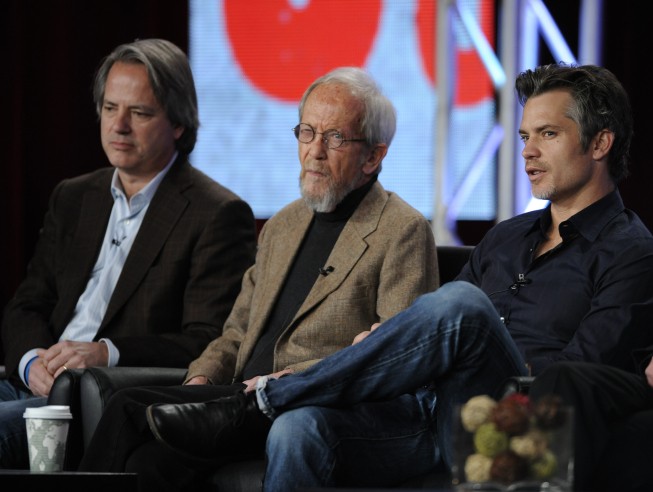 On many an occasion, I could picture Olyphant in the role, and hear his voice delivering the lines. (Sadly, he doesn't read the audiobook version.) It's clear that while Leonard's fingerprints are all over Justified, the show has given him a little something back, which is fantastic. It's a beautiful synergy. It should please fans of both the books and the series.
Fans of the TV series will see characters and plots that they recognize, like Dewey Crowe. Some parts of Raylan were borrowed for last season. Others will be put to use this season. But according to Leonard, fans should feel free to read without fear of spoilers.
If you think I'm being tight-lipped about specifics, you're right, and here's why: I'm doing my damnedest to encourage every fan of Justified to crack this book open, because it will give you an even richer appreciation for Raylan Givens and the world in which he exists. The TV show is the best piece of scripted television currently on the air, but if you're a fan of the show, you should grasp its origins and experience Leonard's legendary talent for yourself.
Leonard is a master at creating not just a compelling piece of fiction, but an entire world that lives and breathes and feels tangible to you. He achieves what the entire point of reading a good book is in the first place: he transports you to a completely other place. That's something that has to be experienced, and I don't want to give a single thing away to ruin it for anyone.
What I can say is that while I was reading, in this world of Twitter and Facebook and phone calls and deadlines, I wasn't distracted once. It was more than just being unable to put the book down; I got lost in it. And when I was done with it, I was legitimately saddened that it was over, because I so enjoyed the experience.
I'm a hardcore fan of crime novels, particularly those with a real sense of place and complexity of character. I'm always looking for that unique voice that doesn't just entertain me, but leaves an impression on me. For all those reasons, this isn't just a novel I enjoyed, but I would rank it as one of my favorites ever read. Raylan has reminded us that Elmore Leonard is a master of his craft.
You can purchase your own copy of Raylan by using this link. Also check out my interview with Elmore Leonard and don't miss a new episode of Justified tonight at 10 PM on FX.
(c)2012 Brittany Frederick/Digital Airwaves. Appears at Starpulse with permission. All rights reserved. No reproduction permitted.