TV Book Club: '24' Producer Brings 'Gideon's War'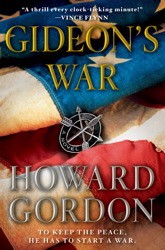 Gideon's War is the debut novel of TV producer Howard Gordon (24), and it is not a vanity project. In a sea of personalities who think they can turn out a novel, or who hand most of the writing off to co-authors, here's a celebrity who did the heavy lifting himself and did it pretty well. I can say from my experiences and those of many others that writing for television does not mean you can write a several-hundred-page book, so this is an accomplishment I hold in high regard. It's a bonus that the finished product isn't just a good novel, but better than most. No doubt fans of Gordon's TV work will be curious, but those looking for a Vince Flynn-like thriller should also check it out.
The novel focuses on Gideon Davis, a successful mediator who's being feted at the United Nations as the book opens. He's made a living brokering peaceful resolutions to troubled situations around the world. He's asked by his father figure, Earl Parker, to reach out to his estranged brother Tillman - who has turned out to be the infamous terrorist Abu Nasir. Tillman only wants to meet with one person, and that's Gideon, who has to enter hostile territory to find him while trying to grasp the idea of what his brother has become. If you're a 24 fan, it's impossible not to draw parallels between what unfolds on the page and what we saw for eight years - including the part where some of it works and some of it doesn't.
There are a few moments where Gordon telegraphs his proverbial punches. Early on, there's the reveal of that 24 staple - a mole - and it is exactly who you think it is. When a female protagonist is introduced, it's no surprise that she becomes a love interest even though she was a complete stranger mere hours before. Yet the rest of the novel reads like a season of 24, with all that entails. Everything's there: plenty of action, a torture sequence that's part of a fair amount of gore, a decently sized body count mostly comprised of people we don't get to know before they die (but then there's the one demise of someone you actually like), and even some politics for measure. Gordon's obviously writing what he knows, and it's because he knows it that the novel comes off so well. The plot keeps you interested even if it doesn't always surprise. Being a hardcore 24 fan, it felt familiar but that didn't stop me from reading through it in just over two hours. There's something to be said for the tried and true.
At 336 pages, Gideon's War is long enough to feel like a good investment while being short enough for those readers who don't have long attention spans. The chapters are fairly short, too, making it a good selection for those who might not have large blocks of free time in their schedule. Gordon's prose flows well, with writing that's easily digestable, not getting bogged down in technical details or overly flowery words. Anyone who likes a good action novel, or anyone who misses Jack Bauer, should enjoy meeting Gideon Davis.
Check out my interview with Howard Gordon about writing his first novel and his TV pedigree.