Turning Twenty: A Look Back At 1988's 'Beetlejuice'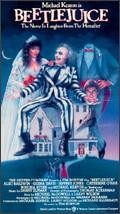 Half "Bloody Mary" and half decomposing sleezeball,
Beetlejuice
is the titular anti-hero that helped put
Tim Burton
into the who's who of Hollywood. Now at its 20th anniversary, let's take a look back at a sparkling example of dark comedy that stands as a precursor to Burton's magical films.
The Movie
Reading the cast list will illicit at least one "oh yeah, he/she was in this" reaction. The ensemble would also make a 1990s romantic comedy cast director salivate:
Michael Keaton
,
Alec Baldwin
,
Geena Davis
,
Winona Ryder
,
Catherine O'Hara
, an appearance by the late
Robert Goulet
, and the unfortunate
Jeffrey Jones
. They all contribute in one fantastical manner, whether it is Baldwin and Davis' meek attempts at trying to scare the haughty new landowners, O'Hara and Jones' portrayal of all that is wrong in the New York art community, or Ryder's dead-on portrayal of a young woman a little too interested in death and the occult. It's worth mentioning what Winona's character, Lydia, bears a striking resemblance to Tim Burton's fiancée
Helena Bonham Carter
.
Now we know where she got her inspiration!
Beetlejuice starts off as a breezy romantic film: The Maitlands (Davis and Baldwin) are departing their Connecticut home for a much-needed vacation, when suddenly they swerve to avoid a dog and crash their car. Everything seems fine when they return to their home – that is, until they find a new book titled
The Handbook for the Recently Deceased
. And oh yeah, every time they try to leave the house, the outdoors turn into an endless desert infested with
Dune
-like worms.
Things get worse when the counter-culture Deetz family from New York (O'Hara, Jones, and Ryder) move in, and suddenly the deceased pair has to deal with Catherine O'Hara's ghastly taste in décor and art. Finding the afterlife hilariously over-bureaucratic and their attempts to haunt the house ineffective, the Maitlands turn to a ghoul-for-hire that will get rid of the house's inhabitants once and for all.
Beetlejuice (a fine performance by Michael Keaton), of course, lives up to his disgusting name. He gets the job done, but manages to broker a deal to marry Lydia. To save Lydia from unholy matrimony, the Maitlands lure one of the giant sandworms just in time for it to much down on Beetlejuice. With him gone, the Maitlands and Deetz families learn to live together in harmony.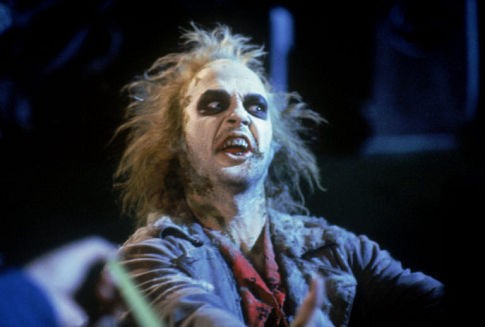 After Beetlejuice
The rousing success of Beetlejuice (it banked $73 million in the U.S., compared to its $11 million budget), added with the fantastic
Pee-wee's Big Adventure
, shot
Tim Burton
up into the stratosphere of most-wanted directors. Still, the eccentric Burton continues to live by his own rules, picking on the finest, darkest movies to helm:
Edward Scissorhands
,
The Nightmare Before Christmas
,
Ed Wood
,
Big Fish
,
Corpse Bride
, and the recent
Sweeney Todd
– to name a few.
One of those films by Burton was
Batman
. Shelved because no one saw Burton as a bankable director, Warner Bros. immediately changed their mind thanks to Beetlejuice. Of course, they clashed with Burton soon after when the director demanded to have Michael Keaton play the Dark Knight. We all know how the franchise turned out when Burton was cut loose after
Batman Returns
(see
Batman Forever
,
Batman & Robin
).

Michael Keaton
got to star in Burton's two Batman movies, and then faded into oblivion after accepting some cheesy roles like
Speechless
,
Multiplicity
, and
Jack Frost
.

Beetlejuice was the first time
Alec Baldwin
played a starring role, and has since gone onto huge success with roles - even though he expressed his disgust with Beetlejuice right after it was released. But for every
The Hunt for Red October
and
Alice
in his career, there seems to be a
Pearl Harbor
and
Pluto Nash
to knock him back down. His divorce in 2000 with
Kim Basinger
is still considered "messy," and last year
an angry voice mail he left to his daughter
was leaked to press.

Geena Davis
won an Academy Award in the same year for supporting actress in
The Accidental Tourist
. After starring in
Thelma and Louise
and
A League of Their Own
, she laid low until a brief stint as our president in
Commander in Chief
.
Winona Ryder
went on to work with Burton only one more time, in Edward Scissorhands. After being nominated for best supporting actress twice (
The Age of Innocence
and
Little Women
), she has since been in flops like
Alien: Resurrection
,
S1m0ne
, and
Mr. Deeds
. She was famously
caught shoplifting
in 2001.
Katherine O'Hara
has continued to work hard in Hollywood, breaking the preconception of
being Macaulay Culkin's mom
and becoming an installation in every
Christopher Guest
mockumentary since
Waiting for Guffman
.
Jeffrey Jones
starred in two more Burton films: Edward Scissorhands and
Sleepy Hollow
. However, he is infamously-known for his child porn arrest in 2002, which makes
Ferris Bueller's Day Off
unintentionally-hilarious.
And so we say, "one year until you can legally drink in the States, Beetlejuice!"
While Beetlejuice itself is certainly not considered one of the best films of all-time, it leaves a lasting impression on any viewer as a refreshing take on death and the afterlife. Of course, it also featured this iconic scene that you were clamoring for ever since you started reading this article:
Written by
Casey "Squints" Johnson
Starpulse.com Staff Writer