Tupac Shakur's Hologram Going On Tour?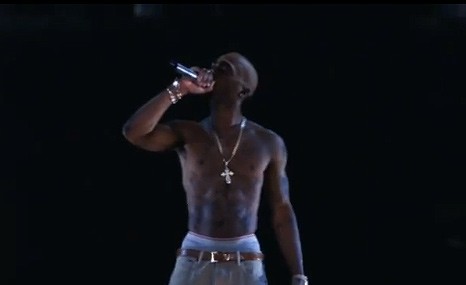 Tupac Shakur made headlines on Monday after making his first performance in 15 years, and now it sounds as though he might go out on tour.

Of course, Tupac has been dead for the last decade-and-a-half, but thanks to the technical wizardry of special effects house Digital Domain the late rapper was brought back to life at this year's Coachella Valley Music & Arts Festival in Indio, Calif. on Sunday night - as a hologram.
 
Rappers Snoop Dogg and Dr. Dre worked with Digital Domain; which created effects and brought the hologram to life; and San Diego-based AV Concepts; which projected the image onto a mylar screen on stage; and now the Wall Street Journal reports that a source has revealed that Snoop and Dre are looking into the logistics of bringing Tupac on tour with them.

"This is just the beginning," Digital Domain's chief creative officer Ed Ulbrich tells the Journal. "Dre has a massive vision for this."

The hologram (which technically wasn't a hologram because it was only two-dimensional) was a computer rendering of the late rapper and wasn't created with existing footage of Tupac.

"This is not found footage," Ulbrich says. "This is not archival footage. This is an illusion."

"To create a completely synthetic human being is the most complicated thing that can be done," he says.

AV Concepts president Nick Smith told MTV News on Monday that Dr. Dre is the one to thank for making Tupac's virtual performance happen.

"We worked with Dr. Dre on this, and it was Dre's vision to bring this back to life," he says. "It was his idea from the very beginning and we worked with him and his camp to utilize the technology to make it come to life."

After a tribute performance of Tupac's "California Love" the late rapper was projected onto a mylar screen on the stage and performed his single "Hail Mary". He was then joined by Snoop for "2 of Amerikaz Most Wanted".