'Tupac: Assassination' DVD In Stores Tuesday, Oct. 23; Includes New Info About His Murder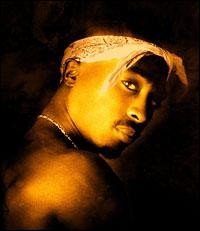 Los Angeles, CA--Thursday, August, 16, 2007--
Tupac Shakur
is the best selling Hip Hop artist of all time (
his postmortem career continues with new releases and platinum CDs
). Fiery and multi-talented on a scale rarely seen, this poet, souljah and actor's untimely death on September 13, 1996, continues to befuddle his many fans with unanswered questions and conspiracy theories. The new documentary film
Tupac: Assassination
a Bond-Age Films and Step-N-Up Enterprises production distributed by Eyecon/Fontana, a division of Universal Music Group Distribution, lays out the entire murder conspiracy plot surrounding the tragic murder of Tupac Shakur. The film was written and directed by RJ Bond and Executive Produced by Bond and Frank "Big Frank" Alexander, Tupac's former bodyguard.
Tupac: Assassination
unfolds as a compelling whodunit that reveals what actually happened the night Tupac was shot and most importantly, why this happened as well as the events leading up to that fateful night and the ensuing investigation. Two perspectives are explored in the film. First, how the shooting happened, what may have led to it and the disconnect between those facts and what the public has been told, and secondly, the testimony of Tupac bodyguards, whose provocative comments provide the answer to why Tupac was shot and killed. These men were never questioned by the police. This film allows them to finally go on the record with what they know. This eye-opening documentary points out all of the failures of law enforcement officials to fully investigate, follow up on leads and interview key parties involved. By the time this DVD ends, the smoke and confusion caused by unsubstantiated rumors, myopic myths and urban legends will dissipate and a clear picture will appear. Alexander and Bond have done something that the Hip Hop community has long awaited. They have provided the facts that may finally bring justice for Tupac and his mother Afeni Shakur - 11 years later. Is there enough evidence in this DVD to spark a Grand Jury inquiry? You will be the judge after you see this powerful film.
"
Tupac: Revelation
was the working title of this film and although the trailer received over 100,000 views on You Tube in just three weeks,
Tupac: Assassination
is a better fit because it definitely drives attention to the point of our movie. This is not a movie about Tupac's art, this is not a movie about Tupac's life, this is a movie about Tupac's death and what happened to cause it," says the film's director RJ Bond.
"Unlike the last film that I did,
Tupac Shakur: Before I Wake
, which was more of a personal saga about the relationship between Pac and I, this is a film concerning things that happened the night Pac was shot and even months and weeks earlier that the police didn't bother to question some of Pac's bodyguards about. So this film is more of a news piece rather than a personal story coming from me," says former Tupac bodyguard Big Frank.
Tupacassassination.com
is the official website of the film. The DVD will be in stores on Tuesday, October 25. A special limited edition, pre-order
Tupac: Assassination
DVD signed by Big Frank with a bonus gift of a Tupac poster can be ordered from the website until September 25.