A best friend forever (BFF) is a person whom you know really well and regard with affection and trust. In Hollywood, a best friend is often a famous pal whom you party with so you can gain popularity and get more press. In most cases, people go to clubs together just to be seen and to create hype.
Britney Spears
,
Paris Hilton
and
Lindsay Lohan
probably did not have heart-to-heart talks on Sunday nights while drinking wine and watching
Desperate Housewives
. But there are a few cases in which people really do like each other and hang out because they are in fact best friends!
Matt Damon & Ben Affleck
Matt and Ben grew up as neighbors in Cambridge, MA. They have been close friends since childhood and have since become collaborators on several films. Together, Matt and Ben developed a screenplay about a young math genius titled
Good Will Hunting
in 1997, which won them Oscars for Best Original Screenplay. The best friends are all grown up and married with children now, but they still find time to bring their families together for vacations. Ben, his wife
Jennifer Garner
and daughter Violet were recently seen in Hawaii relaxing with Matt, his wife Luciana and her daughter, Alexia. More recently the two appeared on the
Jimmy Kimmel
and
Sarah Silverman Program
starring in hilarious skits entitled, "I'm F-ing Matt Damon" and "I'm F-ing Ben Affleck."
Leah Remini & Jennifer Lopez
Leah and Jennifer, both native New Yorkers, have been spotted hanging out together, and the two seem to be best friends. Leah is a spunky loud mouthed Brooklyn girl and diva Jennifer is still Jenny from the block! Denying rumors that Leah was trying to convert Jennifer to Scientology, Leah fired back a comment to
People
magazine: "Two girls can't hang out together? What does that have to do with religion? I just don't understand it. I would never question, Such-and-such is hanging out. Does anybody know her religious beliefs? Because that's why they're probably hanging out together. She's a fabulous girl. I'm fabulous to hang out with. But it's like, what could these two have in common? She must be trying to convert her!"
Nicole Kidman & Naomi Watts
Aussie beauties Nicole and Naomi met at North Sydney Girls High School in Sydney, Australia, where they were classmates, according to Wikipedia. In 1991, Naomi was featured in a supporting role in the acclaimed Australian indie film,
Flirting
, which starred Nicole Kidman. The pair remain close today and have even accompanied each other to various premieres and award shows.
Nicole Richie & Paris Hilton
Nicole Richie's godmother, Nancy Davis, was related by marriage to Paris Hilton. And in 1986, when she started kindergarten at The Buckley School in Sherman Oaks, CA she met Paris, according to People.com. The two seemed destined to be best friends. In 2003, Nicole and Paris starred in season 1 of the reality series,
The Simple Life
, in which they lived for a month with a family in a rural community in Arkansas. After five seasons, the show was canceled in 2007 after speculations that the two had a falling out and were no longer friends. According to E! Online, Paris released a statement saying, "It's no big secret that Nicole and I are no longer friends," and "Nicole knows what she did, and that's all I'm ever going to say about it." There were rumors that Richie had shown Paris' sex tape at a party; though Nicole has denied this and said "There's nothing that really happened, we've just grown apart." Richie and Hilton have since reconciled and now they are dating twins Joel and Benji Madden of
Good Charlotte
. How cute!
Jennifer Aniston & Courteney Cox
Jennifer and Courteney starred together on
Friends
from 1994-2004 and remained real-life best friends after the showed ended. When Jennifer's marriage to
Brad Pitt
ended in 2005, she called upon Courteney for support. In 2007, Jennifer guest starred in an episode of Courteney's series
Dirt
where the two had a kissing scene together. According to Softpedia.com, Jennifer said, "From the first day we met, she just dragged me outside and started telling me about her relationships. She's the all-around friend and the ultimate loyalist. She's comfortable, and that makes you feel comfortable."
Penelope Cruz & Salma Hayek
Penelope Cruz and Salma Hayek starred in the Western comedy,
Bandidas
, together in 2006. It was the first movie that the two have starred in together, and since then they have become best friends. There were even rumors that the two were more than friends. Only in a guy's dreams!
Tobey Maguire & Leonardo DiCaprio
Tobey and Leonardo both grew up in Southern California and met during an audition. The pair struck up a fast friendship and made an informal pact to help each other get parts in their movies/TV shows/other projects. They both auditioned for the same part in the 1990 TV series "Parenthood;" while Leonardo got the part, Tobey later got a guest role. During casting for the 1993 movie
This Boy's Life
Leonardo got the main teen role and Tobey got a part as one of his friends. The two are still best friends and often go to Lakers games together.
Cameron Diaz & Drew Barrymore
Cameron and Drew co-starred in
Charlie's Angels
in 2000 and have remained close pals since. They seem to have a lot in common. Both are California girls (Cameron is from San Diego and Drew is from LA) and both have big personalities and contagious laughs. Cameron was just on the
Oprah Winfrey
show gushing about her best friend Drew's love life with
Justin Long
.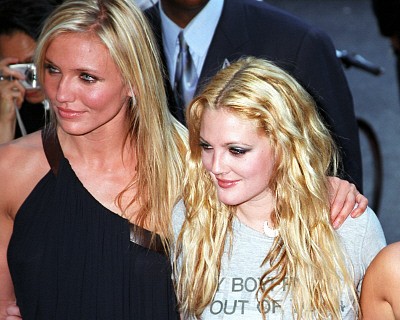 Proof that real friends do exist outside the big screen! Best friends are attainable in Hollywood and they may even be sitting next to you at an audition!
Story by
Erin Demchak
Starpulse contributing writer