'True Detective' Creator Accused Of Plagiarism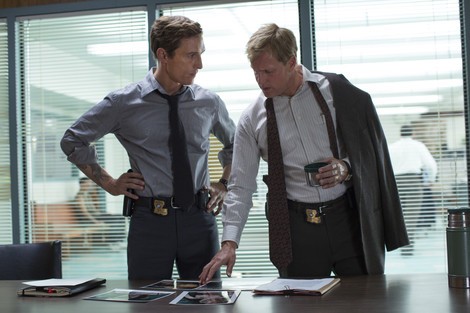 "True Detective" creator Nic Pizzolatto has defended himself against allegations that he plagiarized dialogue used by Matthew McConaughey's detective Rust Cohle on the hit HBO series.
Jon Padgett, founder of the fan website for Thomas Ligotti Online, has accused Pizzolatto of using phrases and ideas from Ligotti's "The Conspiracy Against the Human Race: A Contrivance of Horror" as well as parts of other philosophers' works.
Padgett told The Lovecraft eZine, "It became obvious to me that Pizzolatto had plagiarized Thomas Ligotti and others - in some places using exact quotes, and in others changing a word here and there, paraphrasing in much the same way that a high school student will cheat on an essay by copying someone else's work and substituting a few words of their own."
Pizzolatto says the character's philosophical ideas are based on many authors.
He said in a statement to E! News: "The philosophical thoughts expressed by Rust Cohle do not represent any thought or idea unique to any one author; rather these are the philosophical tenets of a pessimistic, anti-natalist philosophy with an historic tradition including Arthur Schopenauer, Friedrich Nietzche, E.M. Cioran, and various other philosophers, all of whom express these ideas. As an autodidact pessimist, Cohle speaks toward that philosophy with erudition and in his own words. The ideas within this philosophy are certainly not exclusive to any writer."
 
HBO executives support Pizzolatto and said in a statement: "True Detective is a work of exceptional originality and the story, plot, characters and dialogue are that of Nic Pizzolatto. Philosophical concepts are free for anyone to use, including writers of fiction, and there have been many such examples in the past. Exploring and engaging with ideas and themes that philosophers and novelists have wrestled with over time is one of the show's many strengths - we stand by the show, its writing and Nic Pizzolatto entirely."
The second season of "True Detective" will feature a brand-new cast. According to The Wrap, Vince Vaughn is in talks to play an antagonistic role, and "Mad Men" star Elisabeth Moss may play an investigator. Colin Farrell and Taylor Kitsch are also reportedly joining the new season.
The show has been nominated for several Emmy awards, which take place on Aug. 25 on NBC.