'True Detective': Best And Worst Of The HBO Premiere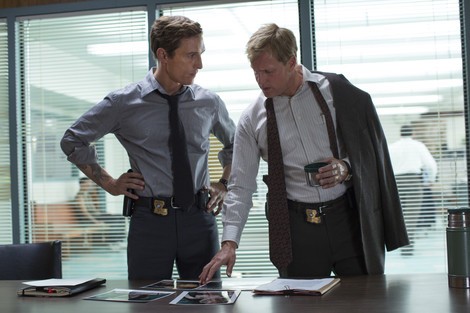 Detectives on television aren't anything new. Procedural TV often follows one case of murder per episode, showing the same police officers week after week solve a crime in the span of 42 minutes. The dark detective genre, however, is a newer phenomenon, only recently popping up frequently on the edgier networks. NBC has Hannibal, AMC tried it with The Killing, and FX aired The Bridge last year. While you can definitely see a show about gruesome murders on CBS, it's far less likely to see one where the detectives and their own grim lives are the focus.
Criminal Minds and Law and Order SVU type shows have flourished, probably because people are more willing to stick around with a case for an hour before giving up on it. Hannibal, while getting rave reviews, rabid fans, and a renewal notice, didn't do so well in the ratings. The Killing was even cancelled twice. It makes a show like HBO's new True Detective a tougher bet. Will, despite the fantastic reviews that have been rolling in, audiences stick around episode after episode without the promise of resolution until the final episode?
It probably helps that True Detective has promised to follow one case and one set of detectives over the course of a season, before picking up in a new setting with new characters. It's like a longer version of a movie, which is how many of the best television shows treat their season arcs anyway. The Killing famously didn't solve their murder at the end of season one, jerking audiences in a way they could never recover from.
The only question is whether True Detective will last long enough prove that the anthology way of television (much like FX's American Horror Story) can gain a loyal audience.
Thoughts on the Episode:
Best: Rustin Cohle
Matthew McConaughey's Rustin Cohle is a pitiable kind of man, but also extremely likeable and fascinating. He has the sort of puzzling air about him that can make his partner interested in finding out more about him, but he's also the sort of guy who says and does things so strange as to put off people in a moment. He has a cross in his home, but isn't at all religious. We find out so much about Cohle in the course of one episode (he has a drinking problem, his daughter died, his marriage fell apart, he doesn't have much in his apartment, and he's a loner) but he still seems mysterious. I look forward to finding out what sort of person says things like "I lack the constitution for suicide" in the most matter-of-fact way.
Worst: Not Many Other Characters
While the two main characters are very well designed for a first episode, there isn't anyone else that gets much screen time. It'd be nice to see more of the other detectives in the office and the locals worth knowing. By getting to know the people of this town, we'd get a better sense of setting and even how the mayhem of a serial killer on the loose affects them. Hopefully the world will expand over the course of the season.
Best: Everything Martin Hart Says
"Rus would pick a fight with the sky if he didn't like the shade of blue," Woody Harrelson's Martin Hart first says of his partner.
When Cohle has finished assessing the crime scene, Hart asks, "You got a chapter in that book of yours about jumping to conclusions."
Later, after getting to know Cohle way more than he expected, Hart says, "Stop saying psycho sh!t." Basically, he's the perfect mouthpiece for the audience and a guy straight out of a noir book.
Worst: The Case
While a serial killer case over the span of 17 years is interesting, it's not so great that the victims are once again young, sexualized women. Do detective show writers have any other material?
Best: The Dinner
These are the types of moments that can make a dark show like True Detective more palatable. There was a bit of humor peppered in with character development. We get a peek into Hart's home life, while getting to see Cohle in a different setting.
Best: Framing Device
I love that we get to peek into the character's future (2012) with the investigation into the handling of this serial killer case. Cohle is looking like a mess, with graying long hair, a pornstache, and the overall glaze of a person who has given up. (Plus, he's lost his battle with alcoholism by a long shot.) Hart is much more put together, looking like the years have been good to everything but his hairline. The framing device also allows the audience a nice bit of foreshadowing on the partnership between Cohle and Hart. Although they worked together for 7 years, their partnership ends badly enough for them to not talk for 10 years. I, for one, can't wait to see what happens.