'True Blood' Series Finale Recap: Fangs For The Memories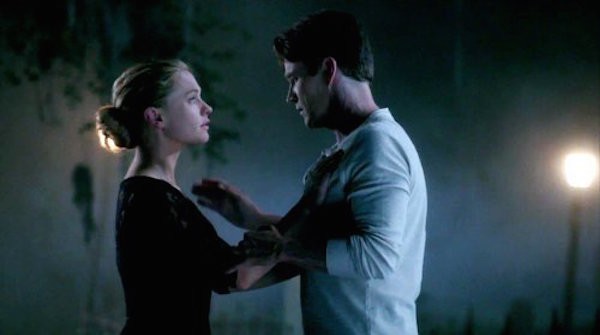 Yep, it's over. HBO's very bloody action/drama/comedy/horror series is finally at rest, and you're free to walk the streets of Bon Temps unafraid once more. That's not actually true seeing as, in the True Blood universe, vampires, werewolves, shifters, witches, maeneads, and incredibly annoying fairies still live in the world. Don't you kinda wish you lived there? 
The final ep was sad but sweet. A little too much focus on Sarah Newlin (uh, Lafayette? Lafayette anybody?), but everything got pretty much handled. It was a happy ending for most. And before anyone asks (who am I kidding, they will anyway), it doesn't matter who Sookie ended up with. That was the point. Bill loved her enough to give her what she always wanted - a normal life. And she allowed herself to live it without sacrificing who she was.
True Blood might have gotten scabby in the eyes of most critics since its premiere in September of 2008. The 1st season verged on perfection for everyone. Well, perfection when it comes to schlocky vampire drama with a heart. As I noted somewhat bitchy-like earlier this summer - they unfortunately slowly succumbed to storytelling Hep-V as the seasons went on.
But what didn't vanish were the finely-etched main characters whose personalities couldn't be bled - Sookie Stackhouse (Anna Paquin), Vampire Bill Compton (Stephen Moyer), Eric Northman (Alexander Skarsgård), Jason Stackhouse (Ryan Kwanten), Jessica Hamby (Deborah Ann Woll), Pamela Swynford De Beaufort (Kristin Bauer van Straten), Lafayette Reynolds (Nelsan Ellis), Tara Thornton (Rutina Wesley), and Sam Merlotte (Sam Trammell).
And they were joined by minor characters who took on lives of their own due to some equally fine performances - Chris Bauer as Sherrif Andy Bellefleur, Carrie Preston as beloved waitress Arlene Fowler, Todd Lowe as war veteran Terry Bellefleur, Lauren Bowles as Wiccan waitress Holly Cleary and Jim Parrack as good guy Hoyt Fortenberry. True Blood also knew how to cast their villains. I'm laughing/cringing with/at you Dennis O'Hare, Michelle Forbes, Michael McMillan, Mariana Klaveno, and Anna Camp. 
It was gratifying to see a show that embraced the different colors of human sexuality as intensely as True Blood did. Vampires were a lot less hung up on sexual preference than humans, and come to think of it, the regular humans in Bon Temps didn't seem to care that much about it, either. In fact, True Blood pretty much locked down their view on homophobia in episode one - you will eat this burger and like it, bitch. And that's that.
On True Blood, sex, no matter who or what was doing who or what, was just HOT (I'm just going to type "Joe Manganiello as Alcide Herveaux" right here). And plentiful. Everybody got it on, with little reference to or care for personal and social responsibility. For a show that dealt heavily in bodily fluids, they didn't introduce an AIDS allegory until the Hep-V plotline this final season. I'm kind of glad they didn't. Maybe it wasn't entirely responsible but isn't escapism what fiction is all about? 
It was a show that appealed to those of us who loved gruesome, and who admired imagination, and wit, and down-home Southern charm (despite filming in Los Angeles). Sure, Sookie could get highly annoying but she was also always the girl who kept her cool and perservered despite the bizarre supernatural goings-on unfolding around her and within her. She was the one who believed in love and acceptance of difference above all things.
It's extremely cheesy to say (and type) but I always figured that this was creator Alan Ball's wish for us all along.
On to the recap!