'Trophy Wife' Review: 'Russ Bradley Morrison' & 'Twas The Night Before Christmas... or Twas It'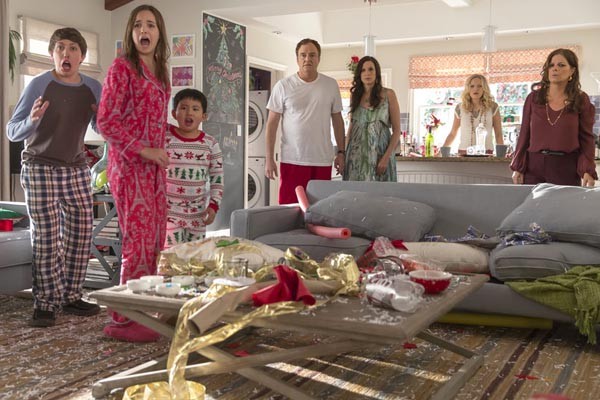 Doubling up on Trophy Wife reviews again. The show is consistently producing amusing and entertaining half-hours and there isn't that much to say in terms of growth or issues, the writers have really hit their stride. "Russ Bradley Morrison" is a fun installment, with an adequate use of the ensemble, though it could have benefited from a bit more cohesiveness. The two main storylines (Kate at the field trip with Diane and Warren and Pete stuck at home with crazy Jackie) worked well, the story with Bert and Hillary felt like an afterthought and filler. And we all know that Bert deserves more than that. Still, it provided us with "Bert-wheels" which is pretty awesome. Bert, I luvya, don't ever change.
But it was the other favorite funny guy who delivered some of the best laughs in the episode. Warren's innocent obliviousness to everything was fantastic. His conversations/moments with Kate were truly great, from his realization of what "get some" actually means ("She needs to get some sex… with another man") to his enthusiasm and then puzzlement of their silly "Bow-chika-bow-wow" celebration. Ryan Lee pulls off that whole clueless teenager thing wonderfully.
The rest of the episode was what we've now come to expect from Trophy Wife, Jackie being wacky as poor, sick Peter tries to escape her wrath (though essentially playing straight man to Michaela Watkins' crazy, Bradley Whitford does get to indulge in playing a debilitating Peter) Diane is stern and bitchy funny and Kate attempts to be a competent parent but gets distracted by a more selfish/fun objective.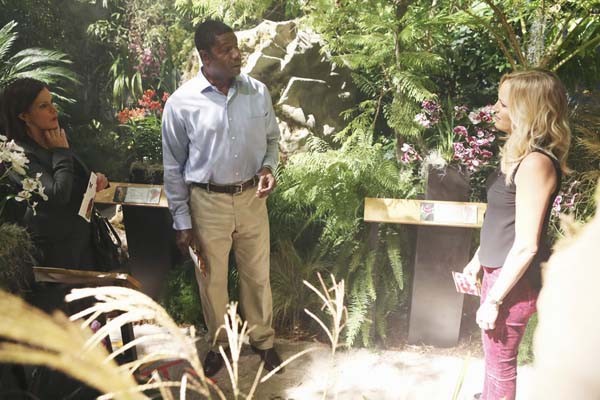 As for this week's holiday-themed episode, "Twas the Night Before Christmas… or Twas It?" was a bit Hangover-lite, but absolutely hilarious and fun. This particular narrative structure has become familiar and slightly overused lately, but it works well in the short thirty-minute span. And it is definitely something new for the show, specifically. The fact that the adults of the show were responsible for most of the zany, outlandish comedy was nice, often we rely on the younger contingent (and Jackie) to bring in the ridiculousness. But get four adults drunk off their asses on absinthe and you've got yourself some hilarious hijinks. Even though it was free of any Bert or Warren hilarity (the two most consistently funny characters) the episode didn't feel like it was missing and managed to produce really genuinely comedic scenarios.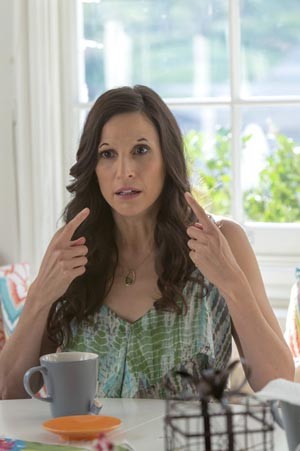 Also, I liked the idea that the only way that all four of them could really enjoy an evening together is if they are all heavily medicated.
Now, I know I've grown partial to Jackie's insanity, but her material in this episode was absolutely hilarious form elf eyebrows (which was the best 'revelation') to three Mary's having a tea party, just great. But really, all players were at their very best, which made this outing one of the most entertaining and humorous episodes in the series' run. I mean, how could you not love the characters reveling in an Ace of Base sing-along?
I also appreciate the writers' almost defiant refusal to make the Christmas episode almost entirely unsentimental. They avoided the expected sitcom, saccharine, overly emotional narrative. Yes, there were sweet moments towards the end, but it never neared the sticky-sweet, clichéd holiday feels that plague many a television show. It was nice to see the family enjoy their time together after their horrendous Christmas day experience, which brought them all closer together, but it was even better that the comedy never dissipated.
Quotes & Observations:
"I don't know, get some chips, a blanket, whatever makes you happy, you know?"
"So here's the deal, cool? This is gonna go in you one whole or another."
"This week is about Jesus' birthday, eight days of oil, the attainment of nirvana, and black people being awesome."
"I never fall, I remember when I learned to walk, it was instant."
Loved to see Mrs. Steinberg in a Santa suit, instant flashbacks to The Office when Phyllis finally was able to dress up as Santa.
Meg makes an appearance! Natalie Morales, funny as always.
"We danced with the green fairy." Watkins' line reading was amazing.
"Shhh you're gonna wake the baby Jesuses. I'm shushing for Jesus."