Triumphant Return For 'Futurama'
After a seven year hiatus, the animated comedy "Futurama" returned with new episodes on Comedy Central Thursday night.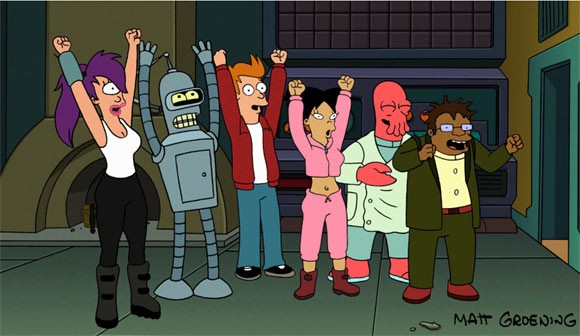 Following the footsteps of "Family Guy," "Futurama" originally aired on Fox, was canceled, and was eventually revived due to increased popularity found after its demise.  Two brand new episodes kicked off the sixth season premiere on Thursday.
The show, introduced by "The Simpsons" creator Matt Groening, follows slacker Fry (Billy West) who is cryogenically frozen in 1999 and thawed out a millennium later in "New" New York City.  He lands a job at an interplanetary delivery company, and must adapt to futuristic living, robots, hovercars and all.
In the first episode, "Rebirth," Leela (Katey Sagal) slips into a coma, a robotic version of her is created, and Fry finally gets his chance to lock lips with his longtime crush (albeit a fake version of her).  But when the real Leela awakens, a maelstrom of jealousy erupts.  In the second, "In-A-Gadda-Da-Leela," Leela is stranded on an Eden-like planet with the pompous, womanizing starship captain, Zapp Brannigan (Billy West; previously, the late Phil Hartman).
The entire cast returned for the series reboot.  There was some doubt at first, however, due to reported salary disputes.
The show was ordered for a 26-episode season.  "Futurama" airs every Thursday at 10 p.m. on Comedy Central.