'Tripping The Rift: The Movie'; The Really Rude Ride Begins March 25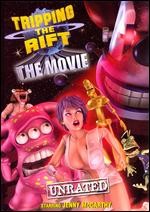 Space is the place as Anchor Bay Entertainment releases the never before seen movie version of the TV show,
Tripping the Rift
. The irreverent Sci-Fi Channel series known for wild cutting-edge CGI animation and a lusty sense of humor becomes even bawdier with an unrated full-length feature (including a special "making of" featurette) that will delight fans of this crude cult hit. With the sexy voice of
Jenny McCarthy
(
Dirty Love
) along for the latest misguided mission, the DVD lands in one hip package on March 25.
Tripping The Rift: The Movie
is the saga of a bunch of derelict mutant misfits who live, work and play on the starship Jupiter 42, which is controlled by a neurotic A.I. known as Spaceship Bob. Bob's neuroses are kept in check by the verbally abusive pilot T'Nuk while the ship's inner workings are tended by Gus, the melancholy robotic chief engineer. No one's really sure what job is performed by teen slacker Whip, but everyone has a definite idea of sexy android Six's specialties. Captain Chode, a walking purple blob of rancor, hates his crew and they hate him right back.
As Chode and the crew work on their latest money making scheme in the space Princess protection business they are unaware that a cyborg killing machine, know as the "Exterminator," has been sent back in time by the evil Bobo to eliminate their copulating captain, a mission that isn't as easy as it might seem.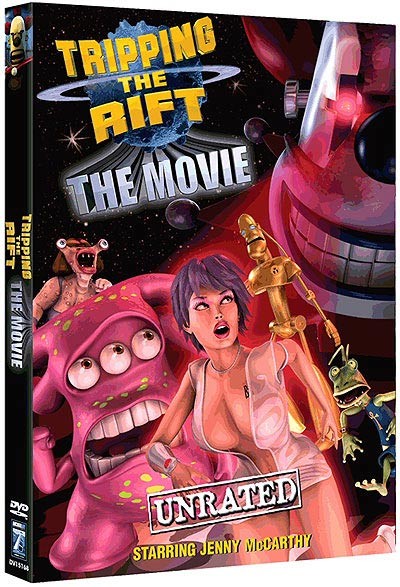 With the voice work of McCarthy,
Stephen Root
(
Office Space
), John Melendez ("Tonight Show"), and the extraordinary mimic Maurice LaMarche ("
Pinky and the Brain
") this is easily the most star powered starship in the universe!
About Anchor Bay Entertainment: Anchor Bay Entertainment is a division of Starz Media. Starz Media is a programming production and distribution company operating worldwide. It includes Film Roman and Anchor Bay Entertainment as well as the Manga Entertainment brands. Its units create animated and live-action programming - including theatrical films - and programming created under contract for other media companies. It distributes that programming, and programming acquired from outside producers, through home video retailers, theaters, broadcasters, ad supported and premium television channels, and Internet and wireless video distributors in the US and internationally. Starz Media is a wholly owned subsidiary of Starz, LLC which in turn is a wholly owned subsidiary of Liberty Media Corp. and which is attributed to Liberty Capital Group, www.starzmedia.com.