Triple Threat: Nina Agdal, Lily Aldridge & Chrissy Teigen Land Cheeky SI Swimsuit Cover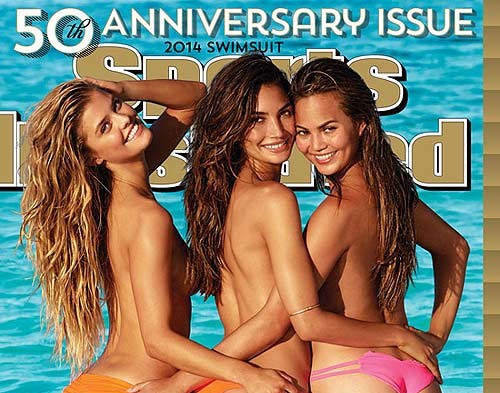 The 50th anniversary Sports Illustrated Swimsuit Issue made its official debut on Jimmy Kimmel Live! Thursday night, revealing a trio of models on this year's cover.

Kimmel's sidekick Guillermo had a metal briefcase handcuffed to his arm with a remote control inside and waited with a crowd outside the studio for Kimmel's command. When he pushed the button on the remote a billboard-sized image of the cover was unveiled, revealing that this year's cover features three models -- Nina Agdal, Lily Aldridge and Chrissy Teigen.
All three are topless and facing away from the camera, revealing some very sexy derrieres!


"That's not one cover model, that is three cover models. For the first time ever there are three models on the cover of the Sports Illustrated Swimsuit edition," Kimmel said after the unveiling. "Nina Agdal, Lily Aldridge and our pal Chrissy is on [it] -- all three of them will be on our show on Monday."
Kimmel was actually incorrect in saying it's the first time ever for three models to be on the same cover. 20 years ago Kathy Ireland, Elle MacPherson and Rachel Hunter were all featured on the cover of the 1994 edition.

Jimmy then asked an offscreen producer if the models would be wearing their swimsuits on the show, but he was told they wouldn't. He then said it would be great if they could recreate the moment on the show.

"Will you make sure that that happens," he told the producer.

The three women will appear on Jimmy Kimmel Live! Monday night and are set to make the rounds together to promte the magazine.

"I cannot wait to spend the new few weeks with the all the fantastic women in this issue. Holy. Moly. Congrats @NinaAgdal and @LilyAldridge!" Teigen tweeted after the big reveal.

James Macari, who photographed the three women, also shared his gratitude on twitter. "Waited 41 years to be part of this club and being with @chrissyteigen @lilyaldridge @ninaagdal only makes it that much better," he wrote. "Thank you to everyone on my team and all the greats at @si_swimsuit..."
Check out the 1994 cover along with a video of the three cover models of this year's issue getting surprised with the news by SI Swimsuit Editor MJ Day on page 2.