Tribeca: 'The Trotsky' & 'Beware The Gonzo' – A Tale of Two Heroes
As the 2010 Tribeca Film Festival draws to a close, I'm inclined to believe that this year saw an influx of young protagonists gracing the big screens across New York, delighting and riveting audiences alike of all ages. In an earlier episode, I mentioned Dog Pound, a film about juvenile delinquents trying to survive in a youth detention facility. Since then the young heroes I've encountered have been much better (if not always positive) role models.
The Trotsky is a film that you can still find on demand, and a film that recommend to anyone who's a fan of the 80's Brat Pack era. It's the story of Leon Bronstein, a 17-year-old high school senior who believes that he is the reincarnation of Leon Trotsky, the famous Russian Marxist who along with Vladimir Lenin led the October Revolution. That Bronstein is such a communist that he'd sabotage his father's factory on his very first day of work in name of unionization is a testament to how ridiculous the story is at times. I personally ate it up. Played by the out-of-nowhere-funny Jay Baruchel, The Trotsky easily passes as a movie you could own on DVD and give repeated viewings to, a la Napoleon Dynamite. Bronstein/Trotsky's master plan upon entering public high school is to rid the campus of fascists and turn the student union—make that body, we're aiming way too low here—into a bonafide union in the face of adversity and a French Canadian school board is a tall, entertaining order, albeit not nearly as entertaining as his attempts to woo a certain Alexandra that he's just "destined" to marry despite the fact that she's nine years older than him.
Beware the Gonzo turned out to be a local New York favorite, shot locally with a storyline similar to Trotsky but without the Commie soundtrack. Eddie "Gonzo" Gilman (played by Ezra Miller) is a gifted high school reporter who gets flexed out of his senior editor job by an overachieving douche bag named Riley (played convincingly by Jesse McCartney). After Riley censors one of Gonzo's stories, the outcast decides to take matters into his own hands and start his own newspaper. His helpers: a weird little Asian girl, a Jewish nerd who's constantly harassed by the wrestling team, a girl who may or may not be a tramp, and a nerd who's got it bad for ugly chicks (and I mean, real bad). The aim of the paper is to print stories about all of the less-than popular kids at school while dispelling rumors and humiliating the elite in the most hardcore way. Gonzo's paper is such a hit that war inevitable.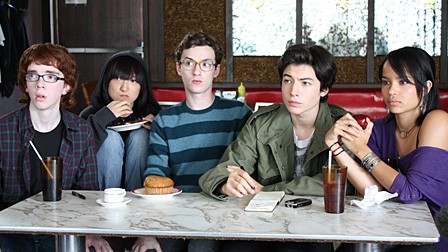 Miller plays Gonzo straight as a teen-angst underdog but my best comedic award goes to newcomer Griffin Newman, who plays "Horny" Rob Becker, for stealing every scene that he was in to the point that I cared more about his Holy Trinity conquest than I did about the fate of the Gonzo paper. His harem grows to include a fat girl (he defends her by saying if she only a few pounds, she'd have the nicest booty in school), an Amazon of a Georgian outcast and a frisky sufferer of scoliosis who's forced to wear the old-school brace to school. That's multiple lines that I just devoted to a character who is supposed to be supplemental but not essential to the plot . . . I don't know if you call that a problem. Beware the Gonzo sort of deals with issues in a cliché sort of way when compared to Trotsky, whose overtly leftist spoof-slant somehow makes its formulaic story feel more new and refreshing because you don't quite know what to expect despite the fact that Bonstein's character is so clear-cut. But the laughs in Gonzo are much bigger when they hit the right way, and as mentioned before some of the supporting characters are just priceless.
Both The Trotsky and Beware the Gonzo capture some of the magic left void since the golden age of John Hughes and Amy Heckerling films some twenty-five years ago, when high school students were smarter than their parents and teachers, and when the good guys always triumphed over evil (or the 1985 equivalent of the douche bag). I have a feeling at least one of these films will be lucky enough to make it into wide-release this year, but if you have the IFC channel, and if you miss the Brat Pack as much as I do, then both of these films will be right up your alley.
Grades:
The Trotsky: B
Beware the Gonzo: B-