Tribeca Showcases Two Must See Music Docs: 'The Union' With Elton John & Leon Russell and Kings of Leon 'Talihina Sky'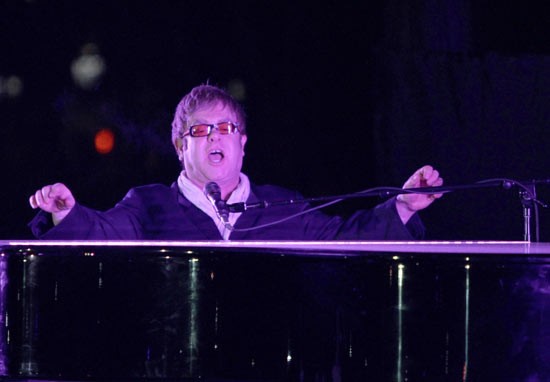 Tribeca opened with back-to-back nights of excellent music documentaries. Wednesday night saw The Union, an incredible film featuring Elton John and music legend Leon Russell as they constructed their album of the same name. What was most fascinating about Union had more to do with Russell; here is a man who was John's biggest idol as he himself was breaking into the music business. Russell, it can be fair to say, was one of the greatest session piano players of all time, sitting in on hits like "Do Run Run" and "Help Me Rhonda"—but most people under 40 have probably never heard of him. Early on into the making of the album he was beset by an apparent brain hemorrhage, landing him in the hospital for 5 hours of surgery. But he returned to the studio 10 days later and, while still very weak and overcome with his illness and pain, managed to hobble into the booth and knock out "Hands of Angels", a powerful ballad that literally sent Elton John to tears.
After the film John himself came out and performed for nearly 40 minutes, steamrolling through hits like "Candle in the Wind" and a 9-minute rendition of "Rocket Man." All in all, a fairly magical evening.
The Kings of Leon doc, "Talihina Sky", was a real surprise. The film loosely centers around the band's homecoming to Talihina and focuses as much on the brothers' family members (Uncle Cleo—so happily redneck that at times you can barely understand a word he's saying—is just one of the characters) as the band itself. Sure, there's some How We Became a Band moments, and the film is sporadically broken up by a few live montages of some of their better, older, when they were a Better Band songs, but the best parts of Sky are easily when the family members back home are interacting with each other.
Raised in a well-documented, super religious family, we get to see first-hand the brothers Followill's mother as she blasts them on camera for making inappropriate jokes, or one of the uncles just before a main event game of horseshoes at a family reunion as he stresses how yelling out curse words will get you thrown out of the games (guitarist Matthew Followill then decides to spew off every curse word in the book). Because this is a family reunion of sorts, the film is shot in a similar way, like a glorified home video that manages to leave all of the boring parts on the cutting room floor. But it's quite staggering to see just how backwoods Tennessee everything is. When the filmmakers venture into town, it seems like everyone in town is crazy in love with the band, like they were the members of the family who made it (a story that a several people tell of how the band were spotted on the cover of Rolling Stone—on The Price is Right of all places—set off a chain of phone calls immediately through the town is just priceless; yes, there are still towns in America where everyone watches The Price is Right). But there is a genuine love amongst everyone that runs so deep, you almost feel obliged to overlook some of the old-fashioned, borderline bigoted moments. When frontman Caleb votes for Obama, he makes a pun of a joke that quickly gets out of hand; later on he tells the camera in a brutally honest moment that he felt he's lived because he's tried everything—except for gay sex! because he's not interested in sex with men, but he's tried everything else! You can't help but be charmed.
Both The Union and Talihina Sky will be playing throughout the festival.
Grade:
The Union: B
Talihina Sky: A-