Tribeca Review: Will Ferrell Shows Us He Can Do More Than Comedy In 'Everything Must Go'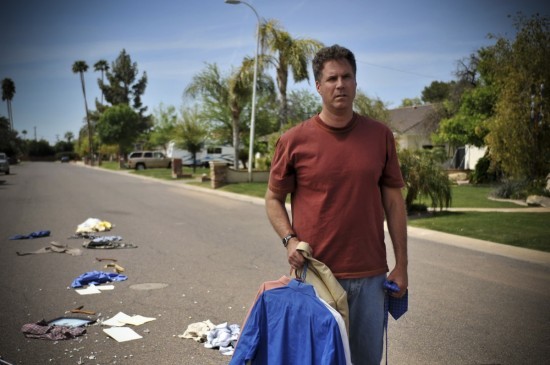 A few years ago, funnyman extraordinaire Will Ferrell gave us Stranger Than Fiction, a serious movie that just happened to be funny. This time he teams up with writer/director Dan Rush for Everything Must Go, a funny movie that just happens to be serious. Ferrell plays Nick Porter, an excellent salesman who gets fired from his cushy job because of a little drinking problem. Well, a big drinking problem. He arrives home to find that his luck hasn't changed—his wife has changed the locks on the doors to the house, and to boot she puts all of his stuff out on the front lawn. (We're talking all of his stuff). His credit cards suddenly don't work and his company car naturally gets repossessed. Porter is forced with a dilemma: He can't get back into his house, and he move his things from the lawn because he has no money or transportation. What's a man to do? Porter decides to live on his front lawn for as long as the law allows. A chubby neighborhood kid (Christopher Jordan Wallace) befriends the reluctant Porter, and together they forge an unlikely partnership and decide to sell everything he owns.
What's interesting is how the film depicts a self-destructive person dealing with the inevitability of a breakup, and it's quite wondrous how Ferrell plays Porter with such subtle tenderness. He is not only a comedic genius; he is an acting genius, a master thespian in every sense of the word. You'll laugh out loud despite there not being a single over-the-top funny moment, proving that the best comedies don't have to try quite so hard.
Grade: B+