Tribeca Review: 'Lotus Eaters' Rocks
There are endless stories out there about underdogs who enter a world of luxury and privilege and suddenly find themselves fighting to be accepted or champion of their new surroundings. We know and understand the score every time: You need someone who's kind of/sort of pretty when dressed down, who can become a knockout when dressed up, someone who has a character that's a little fragile but ultimately resilient, someone you want to root for, someone you subconsciously want to fall in with. Yawn. First-time director Alexandra McGuiness creates the same world sure enough, but introduces instead to someone different: a character who's already loved and accepted, but suddenly finds herself in a paradox of wanting to withdraw from that world she knows. The protagonist is Alice (played by an alarmingly innocent Antonia Campbell-Hughes), and she is the heart of Lotus Eaters.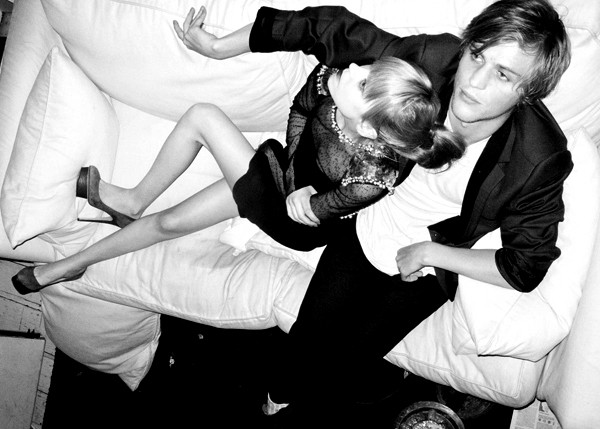 Shot in a beautifully classic black and white on film with rich contrasts in the black, McGuiness and co-screenwriter Brendan Grant tell the story of a group of impossibly gorgeous young people who don't quite realise that the world around them is slowly crumbling. Alice had a deep love for ex Charlie (Johnny Flynn), but his deep love for drugs keep them star-crossed. Felix (Benn Northover) lives with a crazy girlfriend he can't wait to get rid of and would gladly run to Alice, only he doesn't quite have the balls to do what's necessary. Meanwhile, Orna (played by Cynthia Fortune Ryan) comes into the circle as its senior member and looks to blow things up. She wants Alice and Felix to be together, but it's just as possible that she wants Felix for herself. The rest of the group is filled out by your usual suspects: the girl who uses her beauty to get what she wants (in this case, sex), the boy she openly steps on, only he doesn't seem to mind because he's just happy to be there, the resident douchebag and the pair of girls who are mare materialistic on some other level. But the heart and soul of the group are Alice and Charlie, two people who surely need each other if only they knew who they themselves were.
Lotus Eaters is blessed with one of the best indie soundtracks that I've heard in quite some time, featuring performances by bands like O. Children and Josep; halfway through the film, Flynn (who's also a recording artist) plays a wonderful rendition of "Papa was a Rodeo" for Alice on acoustic guitar that had everyone in the press screening raving. While McGuiness doesn't quite achieve the plane that reaches out and emotionally sucks you in and devastates you, the investable, she manages to make everyone fascinating in their own unique way, and you can't help but feel satisfied when several of the characters meet their ultimate (and possibly tragic) fates. At 78 minutes it feels regrettably short, but the complications are easy, and the 60s mod style digests like fancy chocolate. Of the films that I've screened at Tribeca over the years, this is one that I would gladly purchase on Blue-Ray or DVD and play again on rainy Saturday nights. That's about the highest praise that I can give for an indie of this caliber; it's hot.
Grade: A