Travis Milne on 'Rookie Blue' Season 3: 'We've All Been There'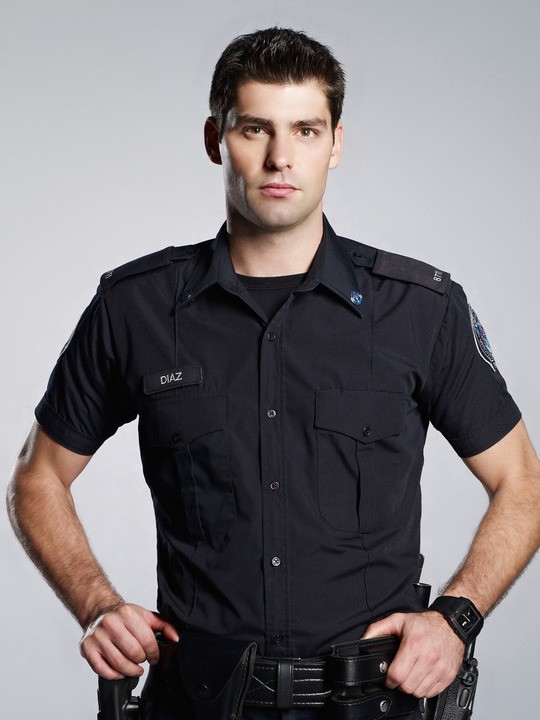 There's not a nicer cast on television than the folks on ABC's ​Rookie Blue​. Take, for example, Travis Milne, who plays rookie cop Chris Diaz. Even though our interview takes place super-early in the morning, he's more than happy to chat about tonight's Diaz-heavy episode and how much he loves his job.
"It was a total joy to shoot [this] episode and I'm so excited for people to see it," he told me. "The minute I read the script I was excited. I still remember memorizing the lines and getting ready to shoot [it]. There were too many highlights to count really. One of the days when we were shooting the climax, I was taking a look around and I was like, 'This shot that we're doing right now costs so much money!' I felt like spoiled, I felt honored. And it looks really, really great and it really turned out well."
As much fun as it was for Milne to shoot, the episode is another rough one for his character, who has a gun pulled on him by a prisoner while the senior officers are away, and ends up the subject of an Internal Affairs inquiry.
The third season hasn't been kind to Diaz, who's also had to endure the arrival of new rookie Nick Collins (Peter Mooney), who has a romantic past with Diaz's ex-girlfriend Gail Peck (Charlotte Sullivan). If you've been wanting to hug Diaz this season, you're not alone; Milne is right there with you.
"Sometimes, when you're down, you get kicked," he said. "I feel like it's going to be one of those days for him where it's just going to be bad stacked on top of bad. He's going to have to find something within him to help him get through the hardships. But we've all been there. We've all gone through the wringer." With a laugh, he added, "As an actor, great to play, but as a character, is it tough!"
Yet this is the kind of development Milne has been ​ working on since we first met Diaz​. "This is something I wanted to do from the beginning," he explained. "Originally Chris was supposed to be like a younger, taller, more angry [Sam] Swarek, like a mini-me version of Swarek that's bigger and just more intense. We were cut from the same cloth. But I said, 'We've already got one of those characters on this show.'
"We [he and executive producer Tassie Cameron] sort of came up with Chris. And I was like, how fun would it be to make a character that everybody just likes? You can't help but love him. He's the guy in high school that was just nice to everyone, worked hard, did all his homework, the whole nine yards...and then through the show, starts this transition. He starts finding out who he is, seeing a couple things, starts gaining an edge. The further I go with this character, it's just more and more fun to play, and I'm hoping more and more fun to watch."
Speaking of fun, he adds that playing a cop on TV as just as much fun as you think it is. "It's amazing," he gushed with an infectious enthusiasm. "It's like a guy's dream come true. The next best thing to this would be like doing a Bourne movie, where you're jumping off buildings and stuff. I get to speed in cop cars in downtown Toronto. I shoot Glocks, I do target practice, I get to look at all these really wicked guns. But I don't get shot at. It's all the pluses and none of the minuses!"
He's also quick to praise the talented ensemble he works with, which also includes Missy Peregrym, Ben Bass, Enuka Okuma, Sullivan, Mooney and Gregory Smith. "I can't think of another show that would have this many people that are so giving and so kind and not about themselves and all about the project," he said. "The ego gets checked at the door and that is the main component to this show's success." Did I mention how nice these folks are yet?
​Rookie Blue​ continues its third season tonight at 8 PM ET/PT on ABC; the show has been renewed for season four.
You can follow Travis Milne on Twitter (@TravisMilne). For more from Brittany Frederick, visit my Starpulse writer page and follow me on Twitter (@tvbrittanyf).
(c)2012 Brittany Frederick/Digital Airwaves. Appears at Starpulse with permission. All rights reserved. No reproduction permitted.