Train To Be Honored For Their Charity Work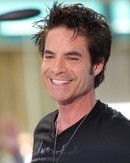 Rockers Train are set to be honored for their charitable work at a special event in New York next month.

The Grammy Award-winning trio will be the guests of honor at the T.J. Martell Foundation's annual Family Day at the Roseland Ballroom, and they'll perform a live acoustic set for the crowd.

The organization supports innovative research for leukemia, cancer and AIDS, and Train singer Pat Monahan is delighted to be supporting the charity.

He says, "Train is honored to be part of T.J. Martell's Family Day. The T.J. Martell Foundation has been doing incredible work in the medical community and we are inspired by their dedication. We hope to make this the best Family Day ever."

The event will take place on April 22nd.