Trailer Talk - This Week In Movies: 'Zombieland,' 'Whip It' & More

I've been going over my zombie survival plan and acquiring a variety of weapons in preparation for the arrival of "Zombieland" in theaters this week. Actually, I haven't been acquiring weapons since purchasing a gun is a lengthy process in Massachusetts, but I have been foaming at the mouth to see this zombie comedy since I watched the initial trailer several months ago.
Jesse Eisenberg
and
Woody Harrelson
look like the perfect odd couple paired together in the hopes of survival. Eisenberg oozes the fraidy cat vibe in every clip I've seen of the movie, while Harrelson does his best macho redneck impression.
Other than this horror/comedy, Michael Moore annoys corporate America with a new documentary, while the Coen brothers present us with another dark comedy. Premiering this week are "Capitalism: A Love Story," "A Serious Man," "Zombieland," "Whip It," "The Invention of Lying," and "More Than A Game."
In a world where zombies have taken over the planet, the notorious scaredy cat Columbus (Jesse Eisenberg) musters the courage to lead a group of survivors on a cross-country roadtrip to an amusement park where they hope establish a stronghold.
With miscellaneous behind the scenes experience, Ruben Fleisher steps into a more prominent position to direct his first Hollywood film. Frequent collaborators Rhett Reese and Paul Wernick are responsible for the movie's screenplay. Actors featured in the horror/comedy include Jesse Eisenberg, Woody Harrelson,
Emma Stone
,
Abigail Breslin
,
Amber Heard
, and
Bill Murray
playing himself.
WHO SHOULD SEE IT:
Zombie aficionados, who crave the blood, gore, and gunfire of post-apocalyptic survival like me will fight off hordes of undead to see this movie. If you like horror movies that make you laugh, definitely find a way to catch this horror/comedy.
Trapped in Bodeen, Texas, the geeky misfit Bliss Cavendar (
Ellen Page
) finds a way of coping with her small town boredom after she finds a roller derby league in nearby Austin.
Known primarily for an extensive acting resume dating back to her childhood,
Drew Barrymore
finally gets a chance behind the camera for a change, directing this movie about Girl Power. Based on her book Derby Girl, the author Shauna Cross also adapts this story for the screen.
WHO SHOULD SEE IT:
Viewers that fell in love with Ellen Page after seeing "
Juno
" should be clamoring to see her play an alternative girl again. If you're a woman who enjoys films with strong female characters or just a man who likes strong women, "Whip It" shouldn't disappoint you.
No one has ever told a lie in this fictional world, preferring honesty as the best policy; that is until a writer (
Ricky Gervais
) seizes the opportunity to bend the truth for personal gain.
British funnyman Ricky Gervais, known for creating the hit show "
The Office
," co-writes and directs this comedy with newcomer Matthew Robinson. Starring alongside Gervais is a solid cast of hilarious actors including
Jennifer Garner
,
Jonah Hill
,
Louis C.K.
,
Jeffrey Tambor
,
Tina Fey
, and
Rob Lowe
.
WHO SHOULD SEE IT:
Lovers of Ricky Gervais's dry wit and subtle sense of humor will want to see him take over the world with a series of lies. If you follow Tina Fey's show "
30 Rock
" religiously you won't want to pass up the opportunity see Fey on the big screen.
The infamous documentary filmmaker
Michael Moore
searches for the truth behind our nation's current economic crisis through interviews from Wall Street and government insiders.
A man who quests tirelessly for answers to big questions, Michael Moore brought us controversial documentaries like 2007's "
Sicko
" and 2004's "
Fahrenheit 9/11
." Moore writes, directs, and stars as usual in his latest film.
WHO SHOULD SEE IT:
If you admire Michael Moore's in-your-face attitude and dedication to harassing authority figures for answers you should see his latest work. Americans negatively impacted by the current state of the economy will be able to sympathize with the themes of the film and will want to see the results of Moore's search for the truth.
Set in 1967, this black comedy focuses on Larry Gopnik (Michael Stuhlbarg), a Midwestern professor whose life starts to unravel when his wife prepares to leave him because his inept brother (
Richard Kind
) won't move out of their home.
Siblings
Ethan
and
Joel Coen
, the men that brought audiences 2008's "
Burn After Reading
" and 2007's "
No Country For Old Men
," co-write and direct this dark comedy.
WHO SHOULD SEE IT:
Audiences that appreciate the Coens' twisted sense of humor and quirky storytelling should have no problem with this movie. If you find the trailer's music made from the beat of Larry Gopnik's head being slammed against the wall entertaining, then you should check out "A Serious Man."
Follow basketball star LeBron James and four of his teammates on their journey through the trials and tribulations of high school sports in Ohio, and learn about James's rise to stardom in the NBA.
Kristopher Belman makes his directorial debut with this sports themed documentary. Belman collaborates with Brad Hogan to write the film. This movie marks the first credit for both of these men.
WHO SHOULD SEE IT:
Since this film is a limited release only try to seek it out if you're a diehard basketball fan. Those who get wrapped up in sports documentaries will also want to find this one in theaters.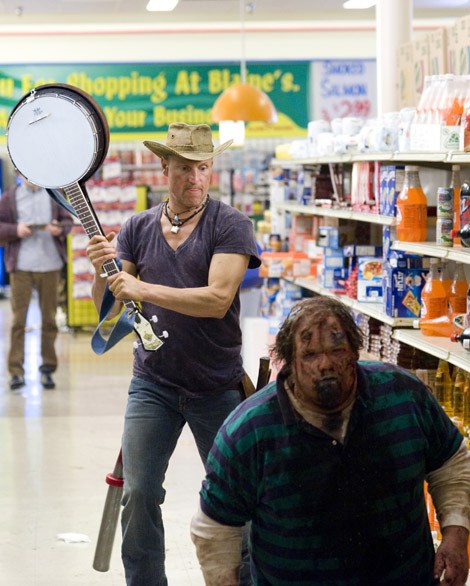 Image © Columbia Tristar Marketing Group, Inc. All rights reserved.
Story by Starpulse contributing writer
Evan Crean
, a movie trivia guru and trailer addict with a practically photographic memory of actors and directors. Get a first look at the movies premiering each week, which which ones will be worth your $10, which ones you should wait to rent and which ones aren't worth your time.