Trailer Talk: This Week In Movies - 'Your Highness,' 'Hanna,' & More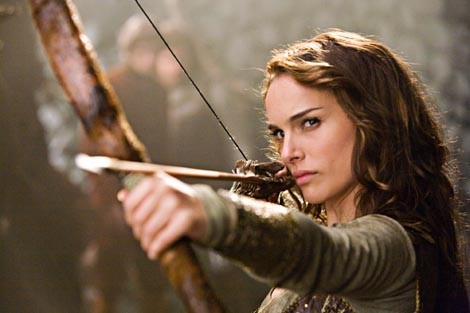 Last week I didn't have the opportunity to see any new films, but I plan to make up for it by watching two movies coming out this week.  I'll be attending screenings of "Arthur," the Russell Brand remake of Dudley Moore classic, and "Your Highness," the fantasy comedy directed by David Gordon Green.    
In addition to these goofy pictures, you'll have the chance to catch the action thriller "Hanna," the nature documentary "Born to Be Wild," the inspirational tale "Soul Surfer," the gritty Western "Meek's Cutoff," and the romantic comedy "Ceremony." 
When his bride is kidnapped by an evil sorcerer, Prince Fabious (James Franco) sets out on a quest to rescue her, reluctantly accompanied by his lazy brother Thadeous (Danny McBride). 
David Gordon Green, the director of "Pineapple Express," helms this stoner comedy, which is set in a world of legendary creatures and magic.  Danny McBride writes the screenplay with the aid of Ben Best, a fellow creator of the television show "Eastbound and Down."  Starring alongside Franco and McBride are Zooey Deschanel, Justin Theroux, and Natalie Portman.      
WHO SHOULD SEE IT:  Viewers who laughed at the silly antics of Franco and McBride's characters in "Pineapple Express" should see this similar comedy.  If you follow Natalie Portman and you're anxious to see her in something silly, then you should watch "Your Highness."     
Hanna (Saoirse Ronan) is no ordinary 16-year-old girl.  Raised by her father (Eric Bana) to be a flawless assassin, she is dispatched on an assignment, which will take her across Europe.  Her journey becomes even more dangerous though, when she realizes a ruthless CIA agent (Cate Blanchett) and her team of operatives are out to get her.      
After working with actress Saoirse Ronan on the 2007 film "Atonement," Joe Wright reunites with her to direct this action thriller.  Seth Lochhead and David Farr team up for the first time to pen the screenplay. 
WHO SHOULD SEE IT:  Action junkies that enjoy tough female heroines like Evelyn Salt are the type of people who should dig this movie.  If you appreciate director Joe Wright's most recent efforts "The Soloist" and "Atonement," then you should view "Hanna." 
An immature playboy (Russell Brand) is threatened with the loss of his inheritance when he attempts to pursue a relationship with a woman his family is against.       
Jason Winer directs this remake of a 1981 Dudley Moore picture by the same name.  Peter Baynham, a writer for both "Bruno" and "Borat," adapts Steve Gordon's original comedy.  This rendition of the tale replaces Arthur's butler with an uptight nanny played by Helen Mirren.    
WHO SHOULD SEE IT: Audiences that love Russell Brand's antics in films like "Forgetting Sarah Marshall" and "Get Him to the Greek," should see this movie.  If you believe that Brand and Mirren playing off one another will create a hilarious dynamic, then you should see "Arthur."    
This documentary follows people who rescue orphaned orangutans and elephants, raising them in captivity until they can be safely returned to the wild. 
Nature documentarian David Lickley directs this film which is written and produced by Drew Fellman.  Veteran actor Morgan Freeman narrates Fellman's script with his soothing voice.            
WHO SHOULD SEE IT: Nature fans looking for a heartwarming documentary about rescuing animals from the wild should see this.  If you enjoy Discovery programs like "Planet Earth" and "Life," then you should check out "Born to be Wild."              
A young surfer, Bethany Hamilton (AnnaSophia Robb) struggles to regain the courage to return to the ocean after losing an arm in a shark attack.    
Sean McNamara writes and directs this drama based on an incredible true story.  McNamara pens the screenplay with the assistance of Michael Berk, Deborah Schwartz, and Douglas Schwartz.  They base their screenplay on a book by Bethany Hamilton, Sheryl Berk, and Rick Bundschuh.  Helen Hunt and Dennis Quaid co-star as Bethany's parents in the film.             
WHO SHOULD SEE IT:  Sports fans seeking inspirational stories about athletes overcoming insurmountable odds to succeed are the ones that should see this.  If you read Hamilton's book and you enjoyed it, then you should catch "Soul Surfer." 
Settlers journeying through the Oregon desert in 1845 realize that they are lost in harsh conditions; however they grapple with whether their guide has intentionally led them astray.
Indie filmmaker Kelly Reichardt directs this western drama starring Michelle Williams, Paul Dano, and Bruce Greenwood.  Reichardt's frequent collaborator Jonathan Raymond pens the film's screenplay.
WHO SHOULD SEE IT: Those who played the computer game Oregon Trail will probably appreciate this dusty Western that showcases the real dangers wandering settlers faced.  If you liked Reichardt's 2008 collaboration with Michelle Williams "Wendy and Lucy," then you should seek out "Meek's Cutoff."   
Sam Davis (Michael Angarano) convinces his estranged pal to spend a weekend with him in a beachside town, but his true goal is to prevent his crush Zoe (Uma Thurman) from marrying a documentary filmmaker (Lee Pace). 
Henry Winkler's son, Max Winkler, writes and directs his first feature length film with this romantic comedy. 
WHO SHOULD SEE IT: People who usually root for the underdog in romantic comedies should see this movie.  If you like stories about young men trying to pursue relationships with older women then you should see "Ceremony."