Trailer Talk: This Week In Movies - 'X-Men:First Class,' 'Beginners,' & More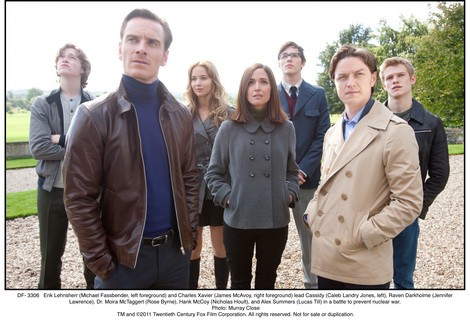 Last week I had the opportunity to see "The Hangover Part II," the sequel to the wildly successful 2009 hit comedy.  Director Todd Philips does not really change the formula for the film or the format in which he tells the story, but there are still plenty of laughs to be found.  Check out my review if you haven't already.    
This week you'll have the chance to see what Professor X and Magneto used to be like in the prequel "X-Men: First Class," you could follow along with Ewan McGregor as he deals with his father's coming out in "Beginners," you can laugh as the teenager Oliver Tate attempts to lose his virginity and breakup his mother's relationship in "Submarine," or you might sympathize with Michael Sheen and Maria Bello, a couple struggling to deal with grief in "Beautiful Boy." 
Before Charles Xavier (James McAvoy) and Erik Lensherr (Michael Fassbender) took the names Professor X and Magneto, they were two friends discovering their powers for the first time.  Working together with other mutants, they were able to stop a serious threat to world safety.  This operation created a rift between them though, which led to the eventual formation of Magneto's Brotherhood and Professor X's X-Men, two factions that would be perpetually at war over the fate of mutantkind.   
"Kick Ass" director Matthew Vaughn helms this Marvel prequel.  Vaughn pens the screenplay with fellow "Kick Ass" scribe Jane Goldman, with assistance from "Thor" writers Ashley Miller and Zack Stentz.  In addition to McAvoy and Fassbender, other actors lending their talent to this picture include Kevin Bacon, Rose Byrne, and Jennifer Lawrence.      
WHO SHOULD SEE IT:  X-Men fanatics, who can't get enough of the legendary Marvel comic team, should be first in line to see this film.  If you're excited to see talented actors like James McAvoy and Michael Fassbender together on screen, then you should watch "X-Men: First Class."       
At the age of 75, Hal (Christopher Plummer) shocks his son Oliver (Ewan McGregor) when he reveals that he is a gay man with a young lover, and that he is dying of terminal cancer.  These two discoveries challenge Oliver's relationship with Hal, but allow him to gain greater insight into his own love life as he gets to know Anna (Mélanie Laurent).     
Indie filmmaker Mike Mills, known best for his 2005 movie "Thumbsucker" writes and directs this father-son drama. 
WHO SHOULD SEE IT:  Viewers who loved Mills' "Thumbsucker" should definitely check this film out.  If you think Christopher Plummer and Ewan McGregor are talented actors and you're intrigued by how their relationship will play out as father and son, then you should catch "Beginners."            
15-year-old Oliver Tate (Craig Roberts) has two goals in life: to lose his virginity before his next birthday and to breakup his mother (Sally Hawkins) and her ex-lover (Paddy Considine), who has resurfaced in her life. 
Actor Richard Ayoade, who plays Moss on the British series "The IT Crowd," writes and directs this dramedy produced by Ben Stiller.  Ayoade bases his screenplay on a novel bearing the same name by Joe Dunthorne. 
WHO SHOULD SEE IT: Independent film fans with a preference for British humor should see this picture.  If you loved Richard Ayoade's television show "Garth Marenghi's Darkplace," then you should seek out "Submarine."    
A married couple on the cusp of separation (Michael Sheen and Maria Bello) must comfort one another in the wake of a shocking act of violence committed by their 18-year-old son, Sam (Kyle Gallner). 
Relative newcomer Shawn Ku, writes and directs his first feature length film with this weighty drama.  Ku receives assistance on the screenplay from Michael Armbruster.
WHO SHOULD SEE IT: Audiences, which like stories about relationships tested by grief like last year's "Rabbit Hole," should see this film.  If you are interested in the emotional struggle of the parents whose children commit acts of violence, then you should catch "Beautiful Boy."