Trailer Talk: This Week In Movies - 'Wrath Of The Titans,' 'Mirror Mirror' & More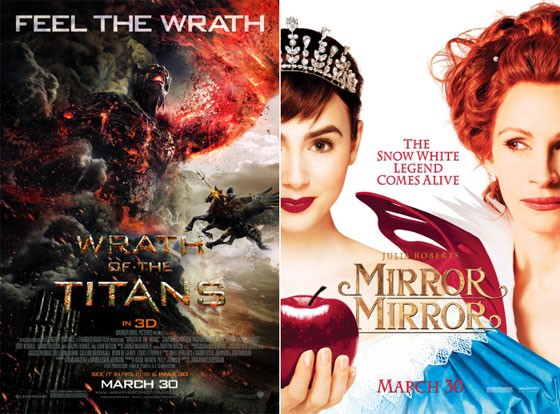 Last week I was lucky enough to see an advanced screening of the Drew Goddard/Joss Whedon horror flick "The Cabin in the Woods," which took SXSW by storm.  I won't comment on it just yet, but I will say that I'm excited to be interviewing two of its stars, Kristen Connolly and Fran Kranz, in the coming days.  Keep your eyes peeled for my write up. 
Big budget franchise season arrived last week with the premiere of "The Hunger Games," and continues this week with the release of the Greek action sequel "Wrath of the Titans."  Also coming out this week are the light-hearted Snow White picture "Mirror Mirror," the hockey enforcer comedy "Goon," the boogeyman style thriller "Intruders," the controversial documentary "Bully," and the tropical documentary "The Island President." 
MY PICK FOR THE WEEK: Goon
Perseus (Sam Worthington) travels to the treacherous underworld in order to rescue his father Zeus (Liam Neeson) from his brothers Ares (Édgar Ramírez) and Hades (Ralph Fiennes), who have unleashed the ancient Titans upon the world. 
Director: Jonathan Liebesman ("Battle Los Angeles," "The Killing Room")
Co-Writers: Newcomer Dan Mazeau and David Johnson ("Orphan," "Red Riding Hood")
Based On: A story by Dan Mazeau, David Johnson, and Greg Berlanti ("Green Lantern")
Notable Supporting Actors: Rosamund Pike, Bill Nighy
ORIGINALITY RATING: Low.  As the sequel to a remake, it's hard to find any originality with "Wrath of the Titans."  After watching the trailer, all I see is more of the same: Perseus fighting against mythical creatures sent to destroy humanity, because his half-human/half-god lineage makes him the only one capable of winning.  Not even the aggressive cover of "Sweet Dreams" playing in the background during the action is enough to get me excited for this movie.  Probably the most alarming aspect of this film is their insistence on releasing it in 3D after the headache inducing effect that "Clash of the Titans" had on me.  I seem to recall "Clash" as a primary reason for many to argue that Hollywood had gone off the deep end with 3D.                    
WHO SHOULD SEE IT: Viewers who appreciate epic battle flicks featuring fantastic monsters from Greek mythology.  If you enjoyed this movie's predecessor, the 2010 remake "Clash of the Titans," and you want more 3D action, then you should watch "Wrath of the Titans."              
WHEN TO SEE IT: Wait a week, so you don't have to fight the crowds.