Trailer Talk: This Week in Movies - 'Water For Elephants,' 'Madea's Big Happy Family' & More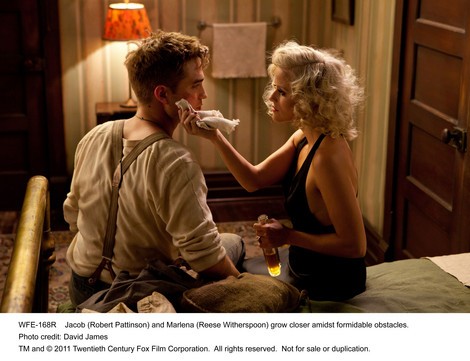 This weekend I was finally able to see the Duncan Jones sci-fi/thriller "Source Code," starring Jake Gyllenhaal.  After viewing it though, I'm fairly certain that Hollywood is attempting to compensate for mindless action flicks, by making ludicrously complex and confusing sci-fi movies like "Source Code."
While the premise of a lone soldier being forced to travel back in time for 8 minutes at a clip sounds promising, the way that the tale is told, does not allow you to get emotionally invested in the characters. 
As he did with his debut film "Moon," Jones adeptly handles themes of isolation, and makes the technology in his world believable.  However the story written by Ben Ripley, makes you think more about how time travel works, than why Gyllenhaal's character is so obsessed with trying to set things right.  This is because the explanation for time travel is murky at best, leaving room for plenty of questions. 
Where "Source Code" ultimately fails, is that it overly relies on its confusing nature as a device to propel the plot, instead of using characters to get you interested in the scientific elements involved.  Perhaps the filmmakers should have been less concerned about confusing us with questions, and more focused on making us invested in the leading man himself.  My Grade: C
Arriving in theaters this week are the Robert Pattinson period piece drama "Water for Elephants," the African American comedy "Madea's Big Happy Family," and the Morgan Spurlock documentary "The Greatest Movie Ever Sold." 
During the Great Depression, a veterinary student Jacob Jankowski (Robert Pattinson) leaves his studies, following the death of his parents.  After joining a traveling circus, his bond with a troubled animal helps to turn the show around, although his sentiments for the star performer (Reese Witherspoon) become dangerous, since she is the wife of the abusive ringmaster (Christoph Waltz). 
The director of "I am Legend," Francis Lawrence, helms this romantic drama set during the 1930s.  "P.S. I Love You" scribe Richard LaGravenese, pens the screenplay for the film, adapting it from a novel which bears the same name, by Sara Gruen.       
WHO SHOULD SEE IT:  Period piece lovers, who favor stories set in the 1930s, should see this movie.  If you prefer Robert Pattinson's work outside of the "Twilight" series and you believe Reese Witherspoon will have chemistry with him, then you should check out "Water for Elephants."         
Madea (Tyler Perry) aids her niece Shirley (Loretta Devine) with assembling her five preoccupied children so that they can hear the latest news about their mother's health.      
African American filmmaker and playwright Tyler Perry, writes and directs this dramedy, which features his popular character Madea.    
WHO SHOULD SEE IT:  Tyler Perry aficionados should be the first in line to see this movie.  If you are excited to see the sassy character Madea back in action, then you should watch "Madea's Big Happy Family."      
Morgan Spurlock focuses on the process of product placement in the entertainment industry, by creating a documentary completely financed by brands, advertising, and product placement. 
Documentarian Morgan Spurlock, known best for his 2004 glimpse into fast food "Super Size Me," directs this lighthearted film which concentrates on the advertising.  Spurlock co-writes it with the assistance of Jeremy Chilnick, a collaborator on "Where in the World is Osama Bin Laden?"          
WHO SHOULD SEE IT: Viewers that appreciate humorous documentaries should see this movie.  If you dig Spurlock's previous work, then you should definitely catch "The Greatest Movie Ever Sold."