Trailer Talk: This Week In Movies - 'Wanderlust,' 'Good Deeds,' & More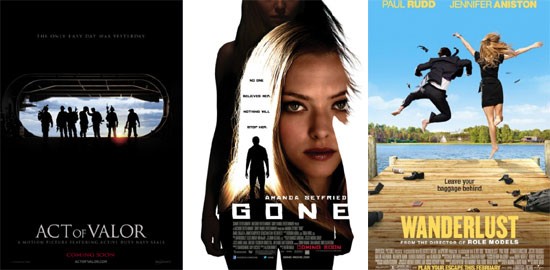 Leading into the Academy Awards this upcoming Sunday, I'm trying to catch up on all the Best Picture nominees which I missed in 2011.  Last night I watched the Alexander Payne drama "The Descendants" starring George Clooney, which I liked immensely.  I found its Best Picture and Best Actor nods much deserved, though I felt it was a bit too heavy on the narration and the Hawaiian music for my taste.  My Grade: A-   
Dropping in at the box office this week are the David Wain comedy "Wanderlust," the Tyler Perry inspirational story "Good Deeds," Amanda Seyfried crime thriller "Gone," the military action hybrid "Act of Valor," the Albanian familial drama "The Forgivness of Blood," the quirky French romance "The Fairy," and the Australian teenage war flick "Tomorrow, When the War Began." 
MY PICK FOR THE WEEK: Act of Valor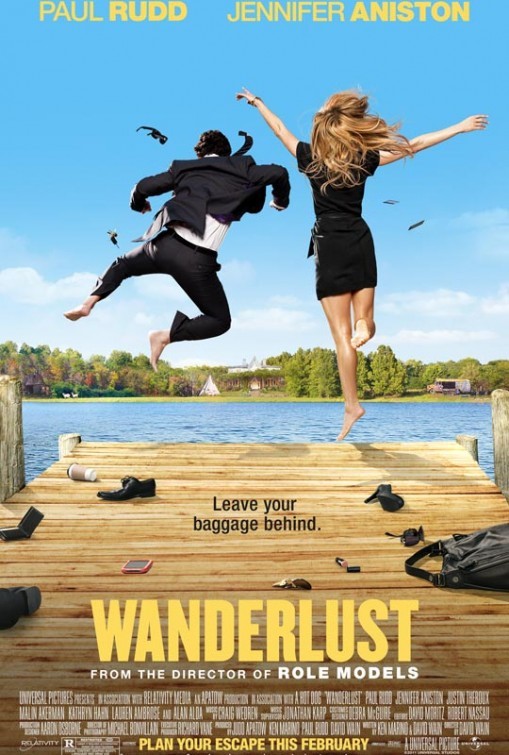 Thrust into sudden unemployment, a Manhattan couple (Jennifer Aniston and Paul Rudd) consider new living arrangements, which include a rural commune where the residents let it all hang out.               
Director/Writer: David Wain ("Role Models," "We Hot American Summer")
Co-Writer: Actor Ken Marino ("Children's Hospital," "Party Down")
Notable Supporting Actors: Justin Theroux, Alan Alda, Malin Akerman, Todd Barry
ORIGINALITY RATING: Low.  Fish out of water comedies are a dime a dozen, and are just as cliché as that expression.  I love Paul Rudd, Jennifer Aniston, and director David Wain's "Wet Hot American Summer" but I'm just having a hard time getting on board with this comedy.  I didn't care for his more recent film "Role Models," and if the trailer doesn't even really make me laugh, that's not a good sign, since usually trailers feature the best lines in the film.    
WHO SHOULD SEE IT: Audiences who love actor Paul Rudd in every comedy he's in.  If you like director David Wain's "Role Models" and "Wet Hot American Summer" then you should give "Wanderlust" a chance.        
WHEN TO SEE IT: Wait for DVD.