Trailer Talk: This Week in Movies - 'Wall Street: Money Never Sleeps,' 'You Again,' & More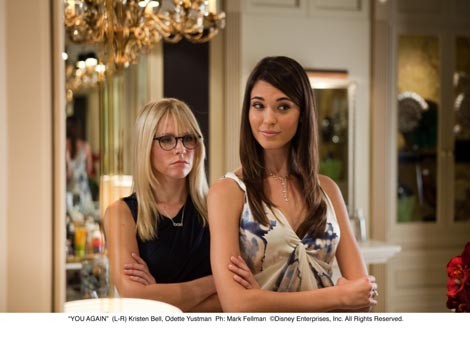 Last Thursday I went to see "Easy A" starring Emma Stone, who has come into the mainstream with roles in "Superbad" and "Zombieland."  Stone plays Olive, a teenager that discovers the danger of rumors in high school the hard way.  Olive unintentionally starts a rumor that she had sex and pretty soon it spreads to the entire school.  She establishes a certain reputation among her peers for it, which at first she relishes.  Over time though, it seriously alienates her from her friends, and she is forced to confront her choices.
Probably the most interesting aspect of the movie is Olive's narration which is done as part of webcam broadcasts that she tapes in order to tell her account of the events.  Stone proves that she is talented enough to carry a lead role; however the film's writers paint her as too self-aware.  Her brutal honesty and sarcasm work in many instances, but there are a few times where Olive breaks the fourth wall without it adding much humor.  Honorable mention goes to her parents played by Stanley Tucci and Patricia Clarkson, because they are hilarious in their delivery and in their sincerity.  My Grade: B   
Over twenty years after the original "Wall Street" hit the silver screen, Oliver Stone shows us a new generation of greed this week with "Wall Street: Money Never Sleeps."  In addition to Stone's tale of economic hardship, arriving at the box office this week are the Kristen Bell comedy "You Again," the animated fantasy "The Legend of the Guardians: The Owls of Ga'hoole," the intense thriller "Buried," the documentary "Waiting for Superman," the indie drama "Enter the Void," and finally the Woody Allen romance "You Will Meet a Tall Dark Stranger." 
WALL STREET: MONEY NEVER SLEEPS
Fallen stockbroker Gordon Gekko (Michael Douglas) attempts to make a comeback, while desperately trying to get his daughter (Carey Mulligan) to forgive him for his past sins.  He secretly joins forces with her fiancé a young trader (Shia LaBeouf) who has recently lost his mentor.  The two men stumble onto a major conspiracy and hope to warn the public about an economic meltdown before it's too late.    
Oliver Stone, the director of the original "Wall Street," returns to helm this sequel.  Allan Loeb, the scribe for this year's "The Switch," teams up with writer Stephen Schiff to pen the screenplay for this film.              
WHO SHOULD SEE IT:  Fans of the first "Wall Street" movie should be the first in line to see what Gordon Gekko is like after his stint behind bars.  If you believe Carey Mulligan and Shia LaBeouf are among the finest young actors out there, you should see "Wall Street: Money Never Sleeps."   
YOU AGAIN
When Marni (Kristen Bell) learns her brother is about to marry her high school nemesis (Odette Yustman), she embarks on a mission to expose the fiancee's true character.  
Andy Fickman, the man behind films with Dwayne Johnson like "The Game Plan" and "Race to Witch Mountain," directs this comedy written by newcomer Moe Jelline.  Other seasoned actresses that appear in the film include Jamie Lee Curtis, Sigourney Weaver, and Betty White.
WHO SHOULD SEE IT:  Viewers that enjoy wedding themed comedies should see this movie.  If you're excited to see Jamie Lee Curtis and Sigourney Weaver together on screen for the first time, then you should definitely see "You Again."     
THE LEGEND OF THE GUARDIANS: THE OWLS OF GA'HOOLE
Soren (voiced by Jim Sturgess) is a young Barn Owl living in the peaceful forest of Tyto.  He is kidnapped and brought to the ominous St. Aegolius Academy for Orphaned Owls.  At the Academy, Soren faces challenges like taking his first flight and pursuing a dangerous quest that leads to the mythical Great Ga'Hoole Tree, where he and his friends Gylfie, Twilight, and Digge hope to fight an evil force. 
Zack Snyder steps away from more adult films like "300" and "Watchmen," to direct this computer animated adventure.    Writers John Orloff and Emil Stern collaborate to adapt Kathryn Lasky's book series Guardians of Ga'Hoole for the big screen. 
WHO SHOULD SEE IT:  Followers of Lasky's fantasy novels will be the most interested to see their cinematic adaptation.  If you are curious to see Zack Snyder delve into a different genre of filmmaking, then you should watch "The Legend of the Guardians: The Owls of Ga'Hoole." 
BURIED
Paul (Ryan Reynolds) is a U.S. contractor working in Iraq.  After being attacked by Iraqi soldiers, he wakes up to find he is buried inside a coffin.  With only a lighter and a cell phone, he races against time to escape this death trap. 
Spanish filmmaker Rodrigo Cortés directs this frantic thriller penned by Chris Sparling. 
WHO SHOULD SEE IT: Those who appreciate films that use tight spaces to establish tension should see this film.  If you think that Ryan Reynolds does not do enough serious roles then you should catch "Buried." 
WAITING FOR SUPERMAN
This documentary focuses on the state of public education in America.  It follows a specific group of promising students through a system that inhibits rather than encourages their academic growth, dissecting public education in order to expose its problems.      
Documentarian Davis Guggenheim, who made 2008's "It Might Get Loud," directs this thought provoking chronicle of American school systems.  Guggenheim writes the script for this documentary with "The Simpsons" scribe Billy Kimball.         
WHO SHOULD SEE IT: Parents with children enrolled in the public school system should see this documentary where it is available.  If you believe American schools are in dire need of reform, you should see "Waiting for Superman."      
ENTER THE VOID
After the young drug dealer Oscar (Nathaniel Brown) is killed in a police raid, he returns as a ghost to watch over his sister Linda (Paz de la Huerta) who is living in Tokyo. 
Gaspar Noé writes and directs this independent drama.  He receives assistance on the screenplay from Lucile Hadzihalilovic who has worked with him on previous projects like "I Stand Alone." 
WHO SHOULD SEE IT: Independent film aficionados should catch this movie which is distributed by IFC Films.  If you are enticed by the supernatural elements of this film then you should see "Enter the Void."     
YOU WILL MEET A TALL DARK STRANGER
The passions, goals, and worries of two married couples Alfie (Anthony Hopkins) and Helena (Gemma Jones) and their daughter Sally (Naomi Watts) and her husband Roy (Josh Brolin) lead the lovers into difficulty and out of their minds.
Veteran filmmaker Woody Allen writes and directs this romantic comedy in trademark fashion. 
WHO SHOULD SEE IT: Audiences that love Woody Allen should see this movie.  If you are curious to see how Allen directs a cast of actors that includes Anthony Hopkins, Gemma Jones, Naomi Watts, and Josh Brolin, then you should check out "You Will Meet a Tall Dark Stranger."