Trailer Talk: This Week In Movies - 'Unstoppable,' 'Morning Glory,' & More
I thoroughly enjoyed the premiere of AMC's new series "The Walking Dead" last Sunday.  I'm excited to see the next episode and I am hopeful that the series will continue to sustain the dramatic tension and strong human focus present in the first episode. 
On the movie front, I had the opportunity to see the Todd Philips comedy "Due Date starring Robert Downey Jr. and Zach Galifianakis.  While the plot itself is formulaic, the film is quite funny due to the performances by Downey Jr. and Galifianakis.  Check out my review here, if you have not already. 
This week at the box office you'll have the chance to see the Tony Scott thriller "Unstoppable," the news anchor comedy "Morning Glory," the alien invasion film "Skyline," the documentary "Client 9: The Rise and Fall of Eliot Spitzer," the investigation of global warming "Cool It," and the quirky indie "Tiny Furniture."  I have already seen "Unstoppable" and I will be attending a screening of "Morning Glory" so stay tuned for reviews later this week.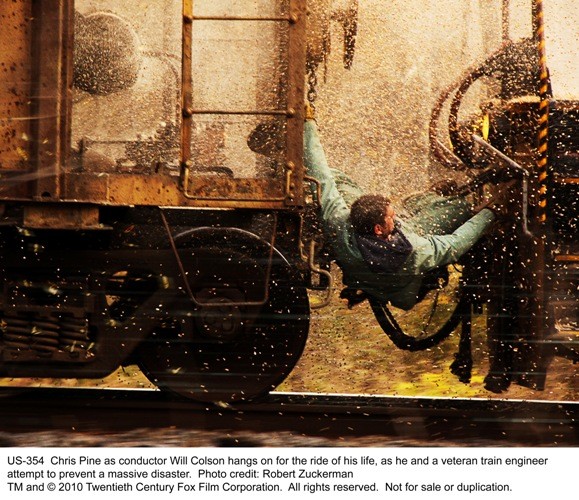 UNSTOPPABLE
A veteran engineer (Denzel Washington) and a fresh-faced conductor (Chris Pine) race against time to prevent a major catastrophe, as an unmanned freight train filled with hazardous chemicals barrels toward a densely populated city. 
Tony Scott, the director of other Denzel Washington films like "The Taking of Pelham 1 2 3" and "Déjà Vu," collaborates with Washington for a fifth time on this movie.  Mark Bomback, the scribe for the action movie "Live Free or Die Hard," pens the screenplay for this thriller.     
WHO SHOULD SEE IT:  Viewers that enjoy high speed chases where heroes brave seemingly impossible odds are the type that should see this movie.  If you like the combination of Tony Scott in the director's chair and Denzel Washington as the lead actor, then you should see "Unstoppable."
MORNING GLORY
A young television producer (Rachel McAdams) bites off more than she can chew when she accepts the project of reviving a struggling morning show that features warring co-hosts (Diane Keaton and Harrison Ford).   
South African filmmaker Roger Michell, known best for his movies "Notting Hill" and "Changing Lanes," directs this news anchor comedy.  Aline Brosh McKenna, the woman behind "The Devil Wears Prada" and "27 Dresses," writes the screenplay for this movie.     
WHO SHOULD SEE IT:  Romantic comedy fans should this film.  If you think that veteran actors Diane Keaton and Harrison Ford will work together well as foils for one another, then you should see "Morning Glory."       
SKYLINE
Evil extraterrestrial beings descend upon Los Angeles, using their strange lights to suck people into their deadly plans.   
Brothers Colin and Greg Strause, the team behind "AVPR: Aliens versus Predator- Requiem," bring their 10 plus years of visual effects experience to the table directing this alien invasion film.  Fellow visual effects specialists Joshua Cordes and Liam O'Donnell collaborate on the screenplay for the movie.  Notable actors appearing in this film include Donald Faison, of "Scrubs" fame and David Zayas, who plays Angel Batista on Showtime's "Dexter."   
WHO SHOULD SEE IT:  Disaster movie junkies should be the first ones in line for this film.  If like stories where humans are forced to fight off angry alien invaders then you should catch "Skyline."     
CLIENT 9: THE RISE AND FALL OF ELIOT SPITZER
This documentary provides a thorough look into the rise and fall of New York Governor Eliot Spitzer, including interviews with the former politician himself.
Famous documentarian Alex Gibney, known recently for his work on "Freakonomics" and "Casino Jack and the United States of Money," helms this investigation of Eliot Spitzer.  Gibney writes the script for the documentary as well.     
WHO SHOULD SEE IT: Americans intrigued by the scandal surrounding former governor Spitzer will get more of their gossip fix by seeing this film.  If you want to see interviews and commentary from Spitzer himself to hear his side of the story then you should watch "Client 9: The Rise and Fall of Eliot Spitzer."     
COOL IT
Environmental writer Bjorn Lomborg goes against the mainstream commentary on global warming and drafts a proposed plan for addressing a number of problems around the world. 
Award winning documentary filmmaker Ondi Timoner directs this investigation on the global climate crisis.  Timoner collaborates with Terry Botwick and Sarah Gibson to adapt Lomborg's book into a documentary.    
WHO SHOULD SEE IT: People fed up with the traditional method of fear mongering to instill greener behavior should see this movie.  If you are more interested in seeing practical plans for changing the path of global warming then you should check out "Cool It."     
TINY FURNITURE
Recent college graduate Aura (Lena Dunham) moves back into her mother's Tribecca loft.  Under her mom's roof she hopes to figure out who she is and what she wants next in life.
Lena Dunham writers, directs, and stars in this independent coming of age comedy.  Her real life mother Laurie Simmons and sister Grace portray her mother and sister in the movie. 
WHO SHOULD SEE IT: Independent film aficionados should check this out where they can find it playing.  If you appreciate quirky coming of age comedies then you should see "Tiny Furniture."