Trailer Talk: This Week in Movies - 'Underworld: Awakening,' 'Haywire,' & More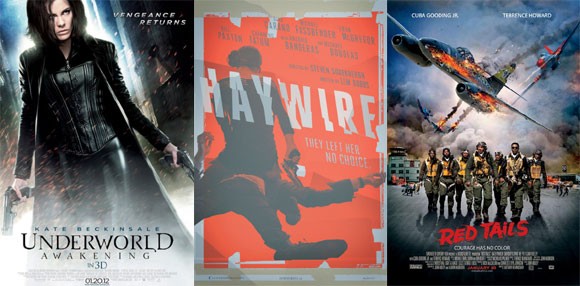 I felt incredibly silly last week when I was supposed to see Mark Wahlberg's "Contraband."  I showed up at the wrong theater, and ended up missing my screening.  From what I've heard from my colleagues though, I didn't miss anything fantastic.  One of them compared it in quality to last year's remake "The Mechanic," better than expected, but nothing special.    
Hitting the box office this week: the Kate Beckinsale vampire action flick "Underworld: Awakening," the Steven Soderbergh spy thriller "Haywire," the Ralph Fiennes helmed Shakespeare adaptation "Coriolanus," the World War II fighter pilot film "Red Tails," the Chinese historical drama "The Flowers of War," and the Mexican crime picture "Miss Bala." 
I'll be attending a screening of "Haywire" on Tuesday, so look out for a review later this week.
MY PICK FOR THE WEEK: Haywire