Trailer Talk: This Week In Movies - 'Tron: Legacy,' 'Yogi Bear,' & More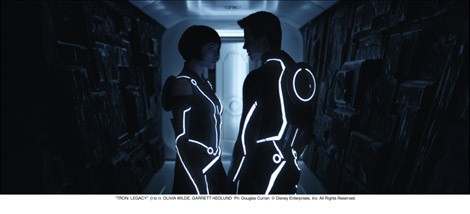 Last Thursday I saw "I Love You Philip Morris" starring Jim Carrey and Ewan McGregor.  This film, which is written and directed by Glenn Ficarra and Jon Requa, the team behind "Bad Santa," advertises itself as a funny movie; however it leans more dramatic than expected.  Most of the hilarious lines are spoiled by the trailer, so when you get a chance to see the whole product, you'll find yourself a bit let down.
Both Jim Carrey and Ewan McGregor are incredibly convincing as a gay couple from the manner of their speaking down to the body language that they use.  Their story is one that pulls on your heartstrings, especially because Carrey's Steven, a conman, is perpetually thrown into prison for his antics and tossed back after his numerous escape attempts.  Ultimately "I Love You Philip Morris" is a decent movie, but its false advertising as comedy really makes it hard to fully appreciate it as a drama.  My Grade: B-      
At the box office this week you will find the special effects extravaganza "Tron: Legacy," the silly comedy "Yogi Bear," the James L. Brooks romcom "How Do You Know," the emotional drama "Rabbit Hole" and the Jack Abramoff biopic "Casino Jack." 
While investigating a signal sent from his father's old arcade, Sam (Garrett Hedlund) is pulled into the digital world where his dad, Kevin Flynn (Jeff Bridges) has been trapped for 20 years.  Now that Sam and Kevin are reunited, they join forces with the warrior Quorra (Olivia Wilde) on a mission to regain control of the cyber world Kevin created. 
Newcomer Joseph Kosinski directs this sequel set 20 years after the original "Tron" film.  "Lost" scribes Edward Kitsis and Adam Horowitz pen the screenplay based on a story they developed with Brian Klugman and Lee Sternthal.      
WHO SHOULD SEE IT:  Cult followers of the 1982 Disney movie "Tron," who want to see another tale set in this universe, should see this sequel.  If you appreciate groundbreaking special effects that get you to truly suspend your disbelief, then you should watch "Tron: Legacy."    
A documentary filmmaker (Anna Faris) travels to Jellystone Park on a new project, which is soon disrupted by Yogi Bear (voiced by Dan Aykroyd) and his partner in crime Boo-Boo (voiced by Justin Timberlake).   
Eric Brevig, the special effects guru behind 2008's "Journey to the Center of the Earth," directs this blend of computer animation and live action comedy.  Frequent collaborators Jeffrey Ventimilia and Joshua Sternin team up with "Arrested Development" scribe Brad Copeland to craft the screenplay for this movie.           
WHO SHOULD SEE IT:  Parents, who enjoyed watching the cartoon "Yogi Bear" during their childhood, will definitely want to share Yogi's silly antics with their kids.  If you think actor Dan Aykroyd will do the character justice then you should check out "Yogi Bear."                
As she reaches a crossroads in her late 20s, former athlete Lisa Jorgenson (Reese Witherspoon) debates which man she'd rather have in her life: a corporate guy in crisis (Paul Rudd), or her current boyfriend who is a baseball player (Owen Wilson).     
Veteran filmmaker James L. Brooks, who charmed us with Jack Nicholson films like "As Good as It Gets" and "Terms of Endearment," directs and writes this romantic comedy.  Not surprisingly Jack Nicholson appears in the movie as the father of Paul Rudd's character.           
WHO SHOULD SEE IT:  Romantic comedy fans who like Paul Rudd as leading man should see this film.  If you truly enjoy the works of James L. Brooks as a writer/director then you should catch "How Do You Know."                   
Life spins out of control for Becca and Howie Corbett (Nicole Kidman and Aaron Eckhart) after their son dies in a car accident.  They struggle to deal with his loss as they attempt to piece their lives back together.    
John Cameron Mitchell, who directed 2006's "Shortbus" and 2001's "Hedwig and the Angry Inch," helms this emotional drama.  Pulitzer Prize winning playwright David Lindsay-Abaire adapts his own play for the screen.             
WHO SHOULD SEE IT: Audiences looking for a tender drama about dealing with loss should see this.  If you have read or seen the play on which this movie is based, then you should watch "Rabbit Hole."               
Infamous lobbyist Jack Abramoff (Kevin Spacey) and his business partner Michael Scanlon (Barry Pepper) construct an empire by scheming with politicians, until a plot involving a mob-connected man (Jon Lovitz) brings scandal, bad press, and a prison sentence. 
"Casino Jack" is directed by the late documentarian George Hickenlooper.  Television writer Norman Snider pens the screenplay for this movie which is based on a true story.
WHO SHOULD SEE IT: Those fascinated by the tale behind lobbyist Jack Abramoff's rise to power should see this movie.  If you think that Kevin Spacey is a talented actor then you should see him in "Casino Jack."