Trailer Talk: This Week In Movies - 'Toy Story 3,' 'Jonah Hex,' & More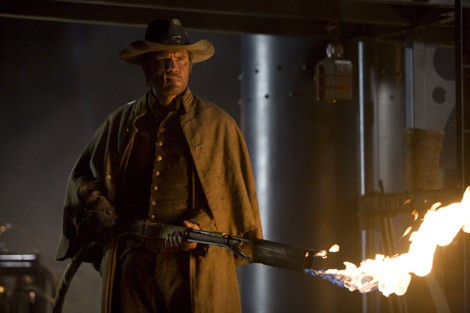 The remake of "The Karate Kid" starring Jackie Chan and Jaden Smith, does not live up to the original, but it does effectively adapt the model of the story to a new setting.  Jaden Smith's character Dre, character is a bit more obnoxious and impatient than Ralph Macchio's Daniel, mainly because he is younger though.  As Mr. Han, Dre's instructor, Jackie Chan gives a deep and nuanced performance, showing that he is a brilliant teacher despite his tragic past.
Action sequences in the movie are fast-paced and exciting, however in many ways this version sensationalizes the violence in a way that almost feels inappropriate, given the message it tries to teach about martial arts as a form of self defense.  The film also falls short because it seems to be scored and cut for an audience with a lesser attention span.  Music jumps quickly from track to track, and some sequences feel like jump cuts with few establishing shots.  My Grade: C+
Parents and children will be excited for the release of "Toy Story 3" this week, which is joined by the action packed "Jonah Hex," the drama starring Tilda Swinton "I am Love," and the romantic comedy "Cyrus."    
TOY STORY 3
Buzz (Tim Allen), Woody (Tom Hanks), and all the other toys are abandoned in a day-care center after their owner Andy leaves for college.  Determined not to stay in this strange world, the toys concoct a plan to find Andy again.
Known best for his work on "Finding Nemo" and "Monster's Inc.," Pixar member Lee Unkrich helms this animated sequel.  Unkrich aids fellow Pixar collaborators John Lasseter and Andrew Stanton in penning the screenplay.
WHO SHOULD SEE IT:  "Toy Story" fans of all ages will be ecstatic to see another animated adventure starring the characters they know and love.  If you appreciate Pixar's ability to craft a film that is both funny and poignant then you should see "Toy Story 3."
JONAH HEX
Bounty hunter Jonah Hex (Josh Brolin) is given an offer he can't resist from the U.S. military: they will lift the price on his head, if he can take down the same terrorist (John Malkovich) who scarred him and left him for dead.      
With a background in animation, specifically animating several popular Pixar films, Jimmy Hayward makes his first foray into the action genre directing this film.  Mark Neveldine and Brian Taylor, the madmen behind the frantic action of the"Crank" movies, write the screenplay for this comic book adaptation.          
WHO SHOULD SEE IT:  Followers of the comic book hero Jonah Hex should be the first in line to see this big screen rendering of the gunslinger.  If you like action movies that combine an old western setting with science fiction weapons and technology then you should watch "Jonah Hex."
I AM LOVE
Set in 1930s Milan, the Recchi family's way of life is forever changed when Emma (Tilda Swinton), decides to have an affair with Antonio (Edoardo Gabbriellini), her brother-in-law's friend and business partner.
Italian filmmaker Luca Guadagnino directs and writes this romantic drama.  Guadagnino has assistance with the film's screenplay from Barbara Alberti, Ivan Cotroneo, and Walter Fasano. 
WHO SHOULD SEE IT:  Viewers interested in period piece drama should definitely see this film.  If you enjoy actress Tilda Swinton in every role she plays then you should see "I am Love."
CYRUS
The lonely divorcee John (John C. Reilly) quickly finds romance with Molly (Marisa Tomei), however he soon becomes engaged in a war for her attention with her kooky son Cyrus (Jonah Hill). 
Brothers Jay and Mark Duplass co-direct and co-write this charming romantic comedy. 
WHO SHOULD SEE IT: Independent film aficionados searching for a movie with strong humor and plot should try to find this wherever it is playing.  If you recognize John C. Reilly's amazing comedic talents and you think he will play off Jonah Hill well, then you should see "Cyrus."
*On a personal note I saw this film back in April at the Independent Film Festival Boston, and it was one of my favorites of the week.  I dare say it's one of the best romantic comedies that I have seen in a long time.