Trailer Talk: This Week In Movies - 'The Twilight Saga: Eclipse,' 'The Last Airbender,' & More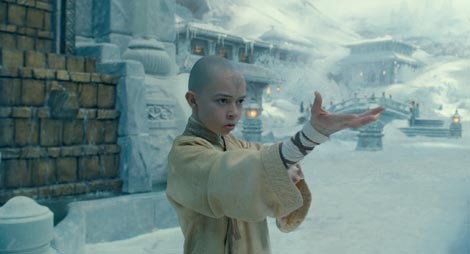 Adam Sandler's "Grown Ups" proved to be utterly disappointing from a comedic perspective.  This largely unfunny film has me worried that some of my favorite former cast members of "Saturday Night Live" have fallen into the Eddie Murphy syndrome of making bad family comedies.  Juvenile humor that lacks imagination and unenthusiastic performances from the actors make "Grown Ups" seem like it was just another paycheck for them.  My Grade: C-  
In "Knight and Day," Tom Cruise makes his zany real life personality work for him on screen, as rogue secret agent Roy Miller.  Miller is a suave spy who can shoot his way out of most situations without flinching, but what's so interesting about him is his cool calm, that you can't help loving.  As June, Cameron Diaz, irritates you with her whiny gender stereotyped performance.  Despite a few decent scenes of action, this movie falls pretty flat.  My Grade: C+
Arriving at the box office this week we have two big screen adaptations of popular book and television series, as well as one film based on a true story.  You'll have the chance to catch "The Twilight Saga: Eclipse," "The Last Airbender," and "Love Ranch." 
THE TWILIGHT SAGA: ECLIPSE
Bella Swan (Kristen Stewart) struggles over which man to choose: the vampire Edward Cullen (Robert Pattinson) who wants her hand in marriage or the werewolf Jacob Black (Taylor Lautner) who has just declared his love for her.  In the midst of this conflict the Cullens and the Quileute werewolves join forces to stop an army of powerful vampires from seeking their revenge on Bella.      
David Slade first sank his teeth into vampire films with 2007's "30 Days of Night," and this year he returns to the genre, by directing this movie based on the popular book series "Twilight."  Scribe Melissa Rosenberg, who penned the previous two installments in the series, revisits familiar territory to write the third.     
WHO SHOULD SEE IT:  Teenagers and adults captivated by this saga involving werewolves and vampires will be delighted to see these characters on the big screen again.  If you appreciate teen angst and love triangles then you should see "The Twilight Saga: Eclipse."   
THE LAST AIRBENDER
Aang (Noah Ringer), a successor in a long line of Avatars, discovers that he has the power to take on the Fire Nation, and to hopefully end their war against the Water, Earth, and Air nations.  
Filmmaker M. Night Shyamalan enters new territory with this film that blends action, adventure, and fantasy.  This story, written and directed by Shyamalan, is adapted from a Nickelodeon animated series called "Avatar: The Last Airbender."     
WHO SHOULD SEE IT:  Audiences searching for a summer movie that has strong special effects should catch this one.  If you enjoy M. Night Shyamalan's work, and you think he will do justice to this big screen adaptation, then you should watch "The Last Airbender."
LOVE RANCH
This drama focuses on Charlie and Grace Bontempo (Joe Pesci and Helen Mirren), the managers of the first legal brothel in Reno, Nevada. 
The man behind 2004's biographical film "Ray," Taylor Hackford, directs this drama starring his wife Helen Mirren.  Mark Jacobson, known best for penning 2007's "American Gangster," writes the screenplay. 
WHO SHOULD SEE IT:  Period piece aficionados who enjoy films set in the 1970s should see this heavy drama.  If you like Joe Pesci as an actor and you feel that he does not work enough anymore you should catch "Love Ranch."