Trailer Talk: This Week in Movies - 'The Town,' 'Easy A,' & More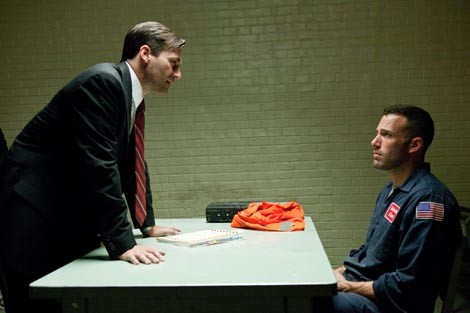 I still have not seen George Clooney's latest film "The American," however it is high on my list right now.  My new neighborhood has a theater where it is playing, so hopefully I can catch it soon.  I'm interested to see Ben Affleck's second directorial effort "The Town," a Beantown crime drama premiering this week, which has received excellent buzz so far.   
In addition to Affleck's Boston-based thriller "The Town," at the theaters this week you will have the opportunity to see the Emma Stone teen comedy "Easy A," the elevator horror movie "Devil," the drama "Never Let Me Go," the romance "Jack Goes Boating," the bizarre documentary/thriller "Catfish," and the animated adventure "Alpha and Omega." 
THE TOWN
A career thief by trade, Doug MacRay (Ben Affleck) enters dangerous territory when he decides to pursue a relationship with Claire (Rebecca Hall), a bank teller traumatized by a recent robbery that he and his crew were behind.  Meanwhile, a cop (Jon Hamm) close to uncovering Doug's secret life also wrestles with his own feelings for Claire. 
Boston area native Ben Affleck writes and directs this action thriller.  Affleck receives assistance on the screenplay from Peter Craig and Aaron Stockard.  In 2007, Stockard previously collaborated with Affleck to pen the screenplay for his directorial debut "Gone Baby Gone."            
WHO SHOULD SEE IT:  Moviegoers that appreciate movies set in Boston should catch this crime drama.  If you enjoyed Ben Affleck's directing in "Gone Baby Gone" then you should watch "The Town."         
EASY A
While studying The Scarlet Letter in high school, Olive Penderghast (Emma Stone) notices parallels in her life to the novel, and begins to use the school's rumor mill to elevate her social and financial status.   
Will Gluck, the director of 2009's "Fired Up," helms this teen comedy written by newcomer Bert V. Royal.  The film co-stars Amanda Bynes, Stanley Tucci, Thomas Hayden Church, Lisa Kudrow, and Patricia Clarkson. 
WHO SHOULD SEE IT:  Viewers that value teen comedies with sarcastic female protagonists should see this movie.  If you liked actress Emma Stone in "Superbad" and "Zombieland," then you should definitely see "Easy A."       
DEVIL
A group of terrified elevator passengers realize that they are trapped inside this small metal enclosure with the devil among them.   
Brothers Drew Dowdle and John Erick Dowdle, the team responsible for 2008's "Quarantine," co-direct this horror film.  Brian Nelson, the scribe for 2007's "30 Days of Night," pens the screenplay for this movie, which was developed from a story by M. Night Shyamalan. 
WHO SHOULD SEE IT:  Fans of M. Night Shyamalan might be interested to see this film which came from a story he originally wrote.  If you find the concept of being trapped in an elevator with the devil terrifying then you should see "Devil."     
NEVER LET ME GO
Set in a dystopian Britain, boarding school students Ruth (Keira Knightly), Kathy (Carey Mulligan), and Tommy (Andrew Garfield) deal with the grave reality that awaits them as they grow into adults. 
The director of 2002's "One Hour Photo," Mark Romanek, helms this drama.  Alex Garland, the writer of "Sunshine" and "28 Days Later," adapts the screenplay for the movie from a novel by Kazuo Ishiguro."      
WHO SHOULD SEE IT: Those who enjoyed the novel Never Let Me Go will be most interested in seeing its big screen adaptation.  If you are a fan of Keira Knightly and Carey Mulligan's work then you should catch "Never Let Me Go."     
JACK GOES BOATING
A limo driver's blind date ignites a tale of love, betrayal, and friendship centered around two couples in New York City.   
Actor Philip Seymour Hoffman stars in the lead role as Jack, while also making his directorial debut with this romance.  Bob Glaudini writes the screenplay for the adaptation of his own play.     
WHO SHOULD SEE IT: People who like plays adapted for the big screen should see this film.  If you are curious to see Philip Seymour Hoffman's first chance at directing a motion picture then you should watch "Jack Goes Boating." 
CATFISH
Curious events cause New York City photographer Nev to head to Michigan to meet Abby, the girl he befriended on Facebook.
Ariel Schulman, the brother of the subject Nev Schulman, co-directs this documentary/thriller with Henry Joost.      
WHO SHOULD SEE IT: Audiences searching for a documentary on bizarre real life events should see this film.  If you are enticed by the mystery alluded to in the documentary's trailer then you should check out "Catfish."    
ALPHA AND OMEGA
After being relocated to Idaho by park rangers, a female wolf (Hayden Panettiere) and a male wolf (Justin Long), brave a dangerous trip across unfamiliar territory to find their way home to Canada.
Anthony Bell and Ben Gluck collaborate for the first time, to co-direct this computer animated adventure.  Chris Denk and Steve Moore also team up for the first time to co-write the film's screenplay. 
WHO SHOULD SEE IT: Parents searching for a lighthearted animated film to see in 3-D should look no further than this movie.  If you want something that is family friendly to take your children to, then you should go see "Alpha and Omega."