Trailer Talk: This Week In Movies - 'The Three Musketeers,' 'Paranormal Activity 3' & More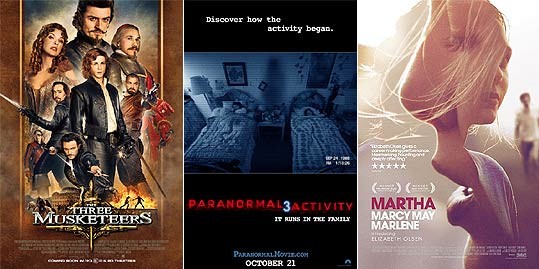 I was thoroughly disappointed last week by The Thing a supposed prequel to John Carpenter's 1982 sci-fi/horror classic. The reason I say "supposed" is that you'd be hard-pressed to know you were watching a different film.
Everything about movie, even right down to the layout of the set seems like a carbon copy. It doesn't contribute anything to the lore or bring anything new to the story. That would be okay if it was a decent retelling of similar events. Unfortunately doesn't even accomplish that, removing all of the human connection and creepy special effects which made Carpenter's version worth watching. My Grade: C-
Arriving in theaters this week are action epic The Three Musketeers; reality-horror sequelParanormal Activity 3; Wall Street thriller Margin Call; the complex independent tale Martha Marcy May Marlene; the comedy Johnny English Reborn; and the artistic drama Glitch in the Grid.
MY PICK FOR THE WEEK: Martha Marcy May Marlene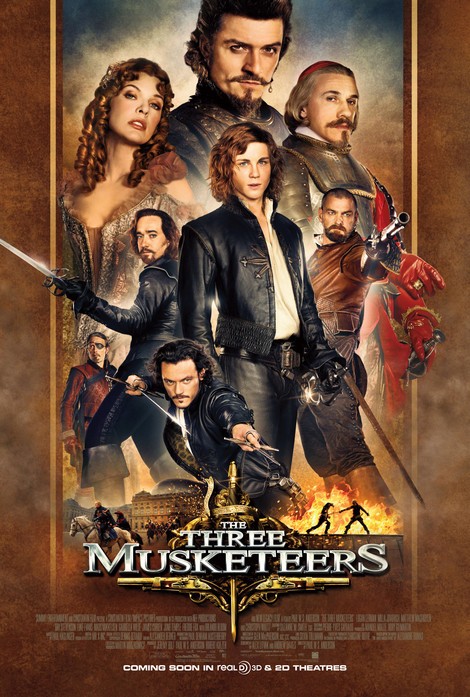 The headstrong D'Artagnan (Logan Lerman) convinces the three once great, but now down on their luck Musketeers (Matthew MacFadyen, Luke Evans, and Ray Stevenson) to join forces with him in order to defeat a group of villains bent on seizing the French throne.
Paul W.S. Anderson, the man behind Death Race and Resident Evil: Afterlife, helms this epic action adventure. "Predators" writer Alex Litvak teams up with Andrew Davies, to base the screenplay on the popular Alexandre Dumas novel Les Trois Mousquetaires.
ORIGINALITY RATING: Low. The story of The Three Musketeers has been adapted countless times, so this film seems to be relying on the strength of its cast, which includes Christoph Waltz, Orlando Bloom, and Milla Jovovich as villains, as well as an abundance of stunts and swordfights. Steam punk-esque technology and gadgets also seem like they will play a decent role in distinguishing this movie from other adaptations.
WHO SHOULD SEE IT: Audiences that love swashbuckling tales generous with swordplay. If enjoy the classic novel by Alexandre Dumas, and you never grow tired of the story's retelling, then you should watch "The Three Musketeers."
WHEN TO SEE IT: Opening night.
WHERE TO SEE IT: Your local multiplex.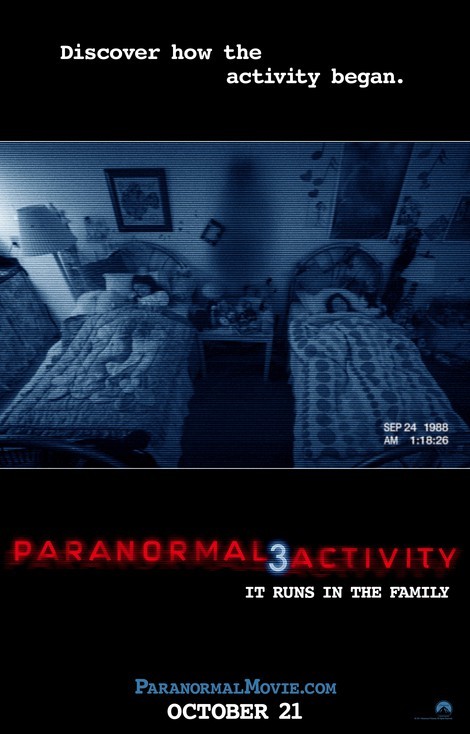 This prequel set in the year 1988, focuses on the young sisters Katie and Kristi, who befriend a spirit entity residing in their home. Frightened at this turn of events, their father attempts to train his video camera on the house in order to capture proof of this being's existence.
"Catfish" directors Henry Joost and Ariel Schulman jump in to direct the third entry in the horror franchise. Christopher Landon, the scribe for "Paranormal Activity 2" returns to pen the screenplay.
ORIGINALITY RATING: Medium. The first "Paranormal Activity" was rather groundbreaking in the horror genre, but this series might be starting to wear out its welcome with audiences. It seems like in past films, the majority of the "activity" would take place at night, though in this entry, there's plenty during the day too, which could be even scarier. The fact that children befriend the entity haunting the house could up the creep factor as well.
WHO SHOULD SEE IT: Horror junkies that dig the hidden camera, faux reality style of storytelling pioneered by the last two movies in the series. If you buy into the whole angry spirit/poltergeist premise, and you think some daytime haunting is freaky, then you should give "Paranormal Activity 3" the chance to scare the pants off you.
WHEN TO SEE IT: Opening night, so people don't have a chance to spoil any twists.
WHERE TO SEE IT: Your local multiplex.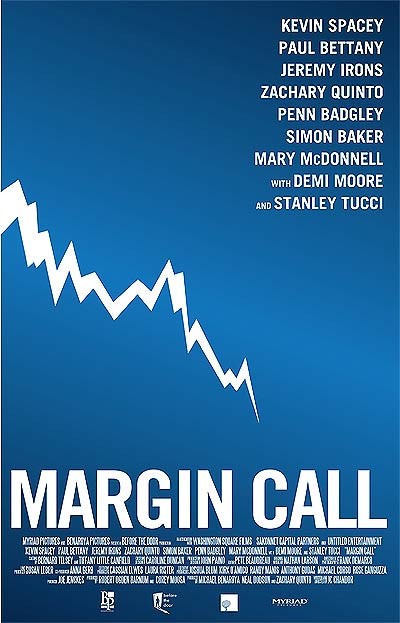 This thriller centers on the key personnel at an investment bank during a 24 hour period in the early part of the American financial collapse.
Newcomer J.C. Chandor both writes and directs this Wall Street thriller. A varied cast lends their talents to the film, including Kevin Spacey, Paul Bettany, Jeremy Irons, Zachary Quinto, Simon Baker, Demi Moore, and Stanley Tucci.
ORIGINALITY RATING: Medium. Though it's not the first to explore the American financial crisis dramatically, "Margin Call" appears to be marketing itself as a fast-paced thriller, namely by its use of the onscreen clock to show how quickly events unfold. The other driving force in the narrative appears to be a human element. The eclectic group of actors is meant to illustrate how the people on Wall Street grappled with ethically difficult decisions, in order to save their own behinds.
WHO SHOULD SEE IT: Politically minded viewers who enjoy thrillers which base their tension on real life issues. If you like stories that expose the seedy side of Wall Street and big business, then you should catch "Margin Call."
WHEN TO SEE IT: Wait a week, so you don't have to fight the crowds.
WHERE TO SEE IT: Your local multiplex or video on demand.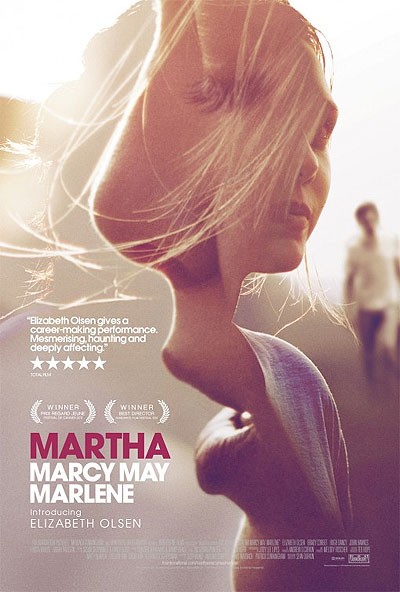 An emotionally damaged young woman (Elizabeth Olsen) tries to rejoin her family after fleeing an abusive cult; however she struggles to overcome her painful memories and her own increasing paranoia.
Independent filmmaker Sean Durkin, both writes and directs this heady drama, which won him the Dramatic Directing Award at this year's Sundance Film Festival. Elizabeth Olsen, younger sister of Mary Kate and Ashley Olsen, stars in the title role, with support from Sarah Paulson and John Hawkes.
ORIGINALITY RATING: High. This indie seems to have a very cerebral quality to it. The trailer raises questions as to what's reality and fantasy, sucking you in with hints at some kind of weird brainwashing or pseudo cult that the young woman is entrapped in.
WHO SHOULD SEE IT: Independent film fans who value strong characters you can get invested in, over a large budget. If you like indie darling John Hawkes and you're interested to see how Elizabeth Olsen's acting abilities stack up to her older sisters' then you should seek out "Martha Marcy May Marlene."
WHEN TO SEE IT: It's limited release so wherever and whenever you can find it.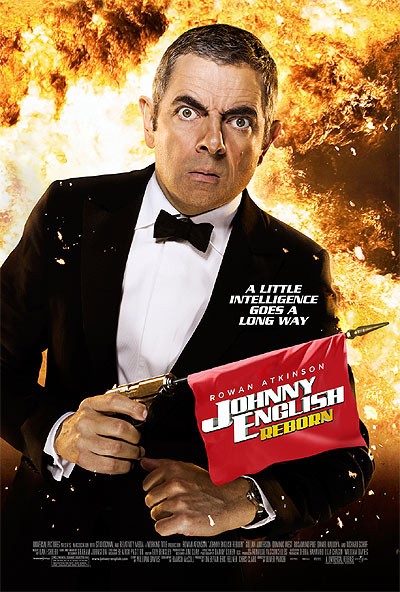 The inept secret agent Johnny English (Rowan Atkinson) is called back into action from seclusion in Asia, to foil an international plot to assassinate the Chinese premier.
Silly British director Oliver Parker, who made the St. Trinian's films, helms this slapstick comedy. Previous Atkinson collaborators William Davies and Hamish McColl pen the screenplay, based on characters created by James Bond scribes Neal Purvis and Robert Wade.
ORIGINALITY RATING: Low. With the relatively recent release of Get Smart, and remake of the Pink Panther, do we really need another bumbling secret agent/investigator? Probably not. It doesn't help that a decent amount of this trailer focuses on his martial arts training with monks, a tired concept for down on their luck heroes.
WHO SHOULD SEE IT: Only die hard Rowan Atkinson followers who can't get enough of his dry wit and slapstick humor. If you're looking for an inoffensive comedy to take your family to though, "Johnny English Reborn" might be your safest bet.
WHEN TO SEE IT: Wait for DVD.
GLITCH IN THE GRID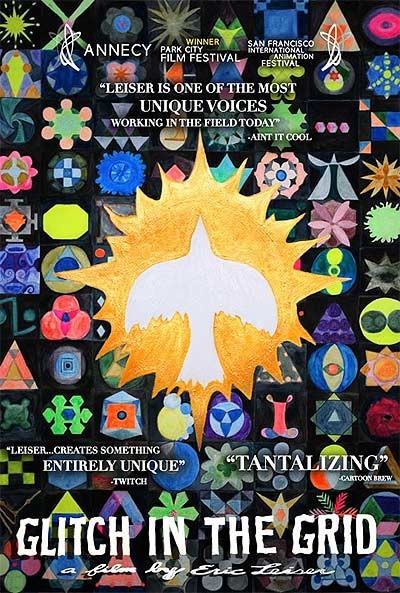 Three artists combat feelings of depression stemming from stifled creativity and the economic recession to find spiritual renewal.
Eric Leiser, the director of 2007's Imagination, helms and writes this existential drama.
ORIGINALITY FACTOR: High. This arty drama looks like it blends documentary style with unique styles of animation and storytelling. There's ample stop motion and time lapse photography that make this heady film look like it's worth watching.
WHO SHOULD SEE IT: Artists who understand the struggles and the difficulty of the creative process. If you are willing to try something a little bit more trippy visually, then you should view "Glitch in the Grid."
WHEN TO SEE IT: Wait a week so you don't have to fight the crowds.
WHERE TO SEE IT: Your local art house theater.
Impact Pictures; Paramount Pictures; Fox Searchlight Pictures; Lionsgate; Albino Fawn Productions