Trailer Talk: This Week in Movies - 'The Thing,' 'Footloose,' 'The Big Year' & More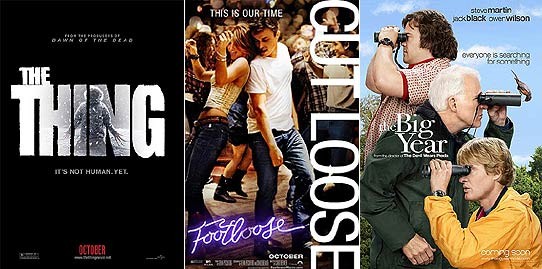 I took a break from the theater last week in favor of watching a few movies at home.  One of those was "American Psycho," which I'm ashamed to say that I finally saw for the first time.  While portions of the film were extremely disturbing, I thought that it perfectly encapsulated the minutia of 80s yuppie greed.  It had a bitchin' soundtrack too, that really helped set its deranged mood. Somewhere near the middle it lost a bit of momentum with its pacing, but overall, I thought it was a solid film.  My Grade: B+
Pixar impressed me yet again with "Ratatouille," which I also watched for the first time.  Their visual styling was top notch, from the tiny details like rat fur, to the excellent perspective they created while traveling through the walls and passageways of Paris.  As always, the lead character followed a meticulously constructed arc, as he grew and developed into a confident chef, certain of his identity.  My Grade: A 
Dropping in at the box office this week are the sci-fi/horror prequel "The Thing," the dance themed remake "Footloose," the bird watching comedy "The Big Year," the Spanish drama "The Skin I Live In," the crime drama "Texas Killing Fields," the hostage thriller "Trespass," and the Kevin Spacey dramedy "Father of Invention."   
MY PICK FOR THE WEEK: The Big Year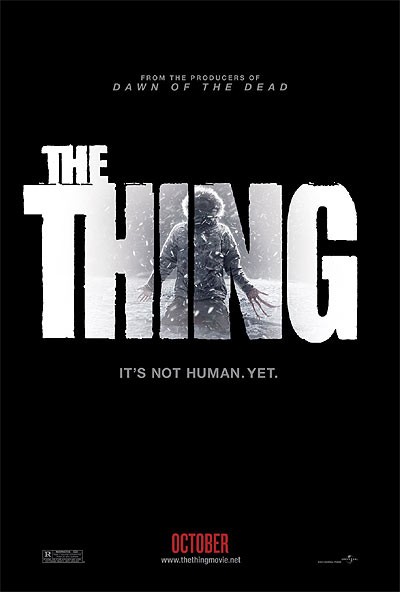 In the snowy wilderness of Antarctica, a group of researchers unwittingly release a shape-shifting alien from its frozen slumber.  Tempers flare though when the team reaches an impasse on how to handle the unwanted visitor. Dr. Sander Halvorson (Ulrich Thomsen) insists on continuing his research, while graduate student Kate Lloyd (Mary Elizabeth Winstead) wants to destroy the monster.    
Matthijs van Heijningen Jr. makes his feature length directing debut with this prequel to John Carpenter's "The Thing."  Eric Heisserer, the scribe for the 2010 reboot "A Nightmare on Elm Street," pens the screenplay, basing it on John W. Campbell Jr.'s short story "Who Goes There?"     
ORIGINALITY RATING: Low.  This movie is essentially a remake (even though it's a prequel) of the 1982 film by the same name, which in turn was a remake of a 1951 movie called "The Thing from Another World."  The events of this story appear almost identical to John Carpenter's version, minus the protagonist being female instead of male.  Mary Elizabeth Winstead proved herself in "Live Free or Die Hard" and "Scott Pilgrim vs. the World" so I'm hoping she can bring some new life to this tale.            
WHO SHOULD SEE IT:  Sci-fi fans who like tension created from isolation and darkness in their alien invader movies.  If you like John Carpenter's 1982 film and you're willing to give this prequel a chance to challenge its place in pop culture, then you should watch "The Thing."              
WHEN TO SEE IT: Wait a week, so you don't have to fight the crowds.
WHERE TO SEE IT: Your local multiplex.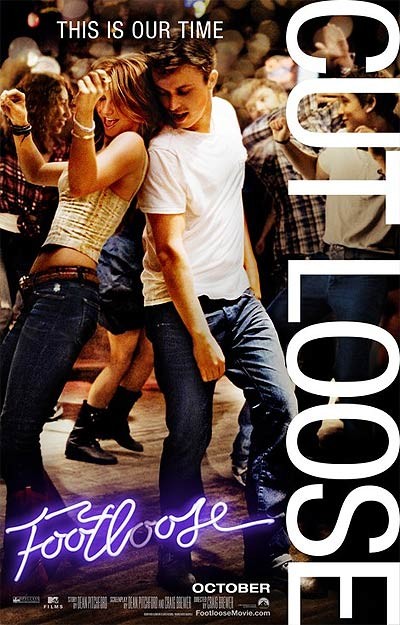 After losing his mother, city kid Ren McCormack moves from Boston to the small town of Bomont, where dancing and rock music have been banned.  Ren rallies his classmates to rebel against the town's leaders and to challenge them to reconsider their decision.
Craig Brewer, the man behind "Black Snake Moan" and "Hustle & Flow," directs this remake of a 80s classic. Brewer assists Dean Pitchford with updating his original 1984 story for a more modern audience.                       
ORIGINALITY RATING: Low.  The story seems almost entirely the same as the original "Footloose" aside from Ren being without a mother and a slightly more hip-hop dance style.  Ren even drives the same car for crying out loud!  Probably my biggest complaint though is that the premise seems even more unlikely in this day and age, that people would be so closed minded as to ban dancing, especially with the internet and news media around to spread word of such a ludicrous law.      
WHO SHOULD SEE IT: Dance movie aficionados who appreciate mixtures of different forms and styles in montages.  If you never cared for Kevin Bacon in the original, but you don't mind giving the premise a second chance, then you should catch "Footloose."     
WHEN TO SEE IT: Wait a week, so you don't have to fight the crowds.
WHERE TO SEE IT: Your local multiplex.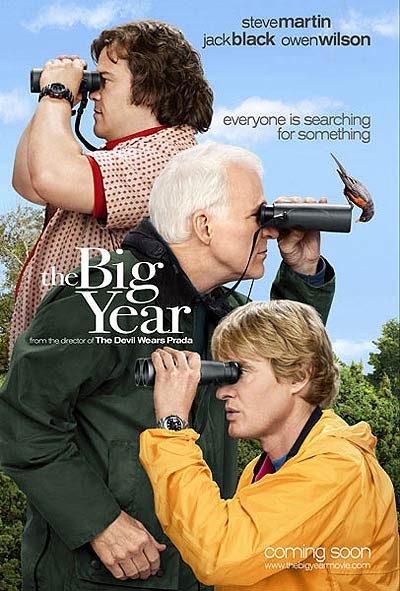 Three serious bird watchers (Steve Martin, Jack Black, and Owen Wilson) battle to find the rarest birds in North America at prominent annual event.    
"Marley and Me" director David Frankel teams up again with actor Owen Wilson to helm this adventure comedy.  Howard Franklin returns from a 10 year writing hiatus to adapt the screenplay from Mark Obmascik's book by the same name.     
ORIGINALITY RATING: Medium.  The dynamic of three guys racing around the world to bird watch kind of reminds of "Rat Race" and "It's a Mad Mad Mad Mad World," but the idea of them taking a trip to regain their mojo, also is reminiscent of "City Slickers."  It definitely has solid comedic potential though with veteran funnymen around like Martin, Black, and Wilson.   
WHO SHOULD SEE IT:  Comedy lovers who think it's hilarious the things friends will do to each other when competing for something.  If you enjoy road trip films and you think Martin, Black, and Wilson are a winning combination of actors, then you should check out "The Big Year." 
WHEN TO SEE IT:  Opening night.
WHERE TO SEE IT: Your local multiplex.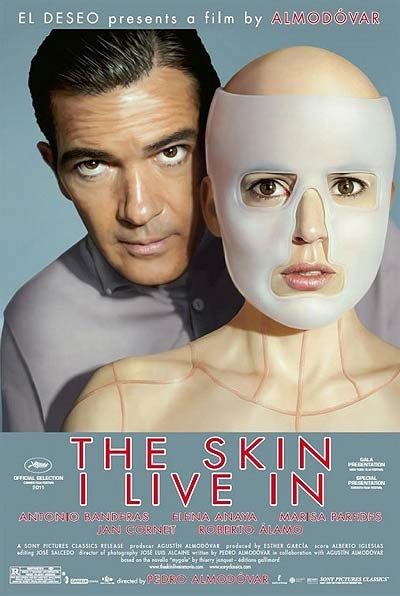 A haunted but brilliant plastic surgeon (Antonio Banderas) develops a synthetic skin meant to withstand any type of damage.  For his guinea pig, he chooses a mysterious and volatile woman, who possesses the key to the doctor's obsession.    
Accomplished Spanish filmmaker Pedro Almodovar writes and directs this bizarre drama, basing it loosely on Thierry Jonquet's novel Tarantula.        
ORIGINALITY RATING: High.  The trailer mostly raises a lot of questions and for once, it doesn't really spoil the plot (thankfully).  It paints this tale as a mysterious thriller, about what seems to be a mad scientist and his experiments on his patients.         
WHO SHOULD SEE IT: Spanish audiences who worship the work of Pedro Almodóvar should be first in line to see this puzzling movie.  If you're okay with reading subtitles, and you feel compelled to learn more about what actually happens in the film, then you should seek out "The Skin I Live In."         
WHEN TO SEE IT:  Opening night.
WHERE TO SET IT: LA\NYC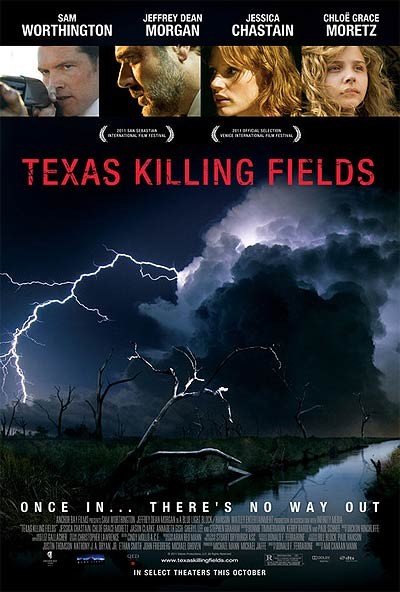 A Texas homicide cop (Sam Worthington) teams up with a New York City police officer (Jeffrey Dean Morgan) to hunt a serial killer dumping his victims in a nearby marsh that the locals refer to as 'The Killing Fields.'  The killer teases the cops with clues at each new crime scene, but things become even more serious after a local girl disappears.  This launches them into a race against time to catch the killer and save the young girl's life. 
Relative newcomer Ami Canaan Mann directs this crime drama set in Texas.  Don Ferrarone breaks onto the writing scene for the first time, penning the screenplay for the film.      
ORIGINALITY RATING: Medium.  This seems like a by-the-numbers thriller about two cops battling tight-lipped townspeople to unravel a conspiracy. What the film does have going for it though are its two very strong leads: Worthington and Morgan.  Perhaps they can bring some personality to what looks like an otherwise bland serial killer chase.           
WHO SHOULD SEE IT: "CSI" and True TV viewers will most likely appreciate this police procedural thriller because of its "inspired by a true story" quote in the trailer.  If you can get past the generic elements of this crime drama, and you're willing to give Worthington and Morgan a shot to impress you, then you should find "Texas Killing Fields" this weekend.          
WHEN TO SEE IT:  Wait for DVD.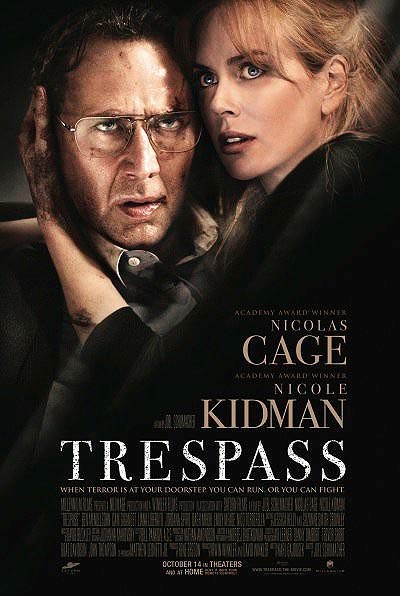 When robbers break into their home and hold them for ransom, a husband (Nicolas Cage) and wife's (Nicole Kidman) dilemma becomes direr after the discovery of treachery and fraud. 
Joel Schumacher, the filmmaker responsible for "Phone Booth" and "Falling Down," directs this hostage thriller.  "Dead Like Me" scribe Karl Gadjusek writes the screenplay.   
ORIGINALITY FACTOR: Low.  We've seen people taken hostage inside their own home countless times on screen, "Hostage" and "Panic Room" being recent examples.  Nothing really sells this film as anything unique though.    
WHO SHOULD SEE IT: People who haven't grown weary of Nicolas Cage's stream of terrible movies.  If for some god awful reason you want to see "Trespass," you should probably turn it into a drinking game to make it more interesting, since it will be available on demand at the same time it receives a limited release in theaters.    
WHEN TO SEE IT: Wait for DVD.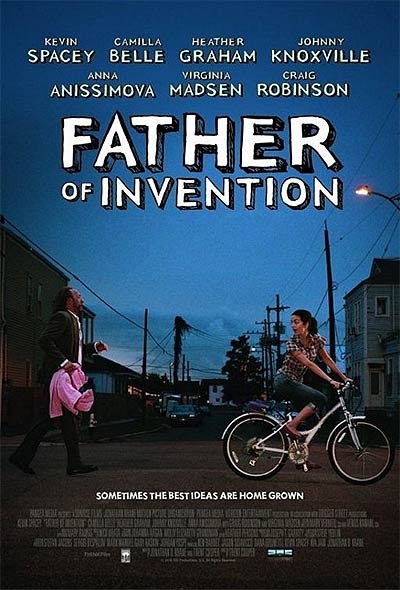 After spending time behind bars for a serious design flaw in one of his creations, Robert Axel (Kevin Spacey) returns home to a life of hardship and misfortune.  To redeem himself and to rebuild his billion dollar empire, Robert sets out to develop the next big idea.
Trent Cooper bounces back from his ill-fated effort "Larry the Cable Guy: Health Inspector," to direct and co-write this dramedy.  Producer Jonathan D. Krane assists Cooper with the screenplay.
ORIGINALITY RATING: Medium.  This story about redemption seems somewhat similar to 2010's "Solitary Man," but it appears to possess a more comedic flare.  Even though the trailer doesn't contain too many laughs, a solid group of actors in the film, which includes Camilla Belle, Heather Graham, Virginia Madsen, John Stamos, and Craig Robinson, makes me hopeful that this could actually be decent.
WHO SHOULD SEE IT:  Viewers who dig a good old fashioned story about second chances.  If you liked Spacey's turn as the pathetic Lester Burnham in "American Beauty" then you'll probably appreciate his more comedic and slightly less sad character in "Father of Invention." 
WHEN TO SEE IT: Wait a week, so you don't have to fight the crowds.
WHERE TO SEE IT: Your local multiplex.