Trailer Talk: This Week In Movies - 'The Sorcerer's Apprentice,' 'Inception,' & More
I saw one of this week's films "The Sorcerer's Apprentice" last Thursday; however as part of my agreement in seeing the advanced screening, I am not allowed to share my opinion on the film until its release on Wednesday.  Keep your eyes peeled for a review later this week though. 
There are only three films opening during the current week: "The Sorcerer's Apprentice," "Inception," and "The Concert."  Personally I'm incredibly excited about seeing "Inception" because I'm a huge fan of both Leonardo DiCaprio and director Christopher Nolan.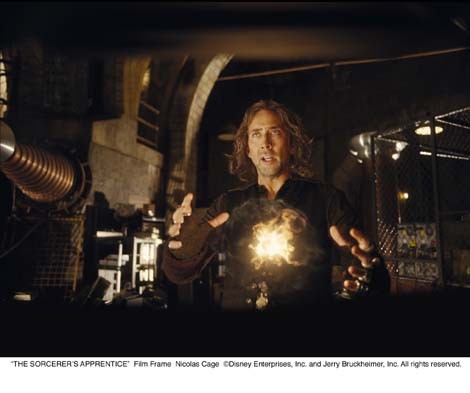 THE SORCERER'S APPRENTICE
The master sorcerer Balthazar Blake (Nicolas Cage) takes a seemingly average guy (Jay Baruchel) as his apprentice.  Balthazar hopes that his new pupil will aid him in defending New York City from his arch-nemesis Maxim Horvath (Alfred Molina). 
"National Treasure" series director Jon Turteltaub helms this Disney fantasy that blends action, adventure, and magic.  Writing team Carlo Bernard and Doug Miro, who worked on Disney's "Prince of Persia," pen the film's screenplay with the assistance of Matt Lopez.    
WHO SHOULD SEE IT:  Audiences that appreciate the Turtletaub/Cage partnership in the "National Treasure" series will probably dig this adventure movie as well.  If you like magic, light-hearted humor, and nifty special effects then you should see "The Sorcerer's Apprentice."    
INCEPTION
The dastardly Dom Cobb (Leonardo DiCaprio) is a crook who specializes in the art of extracting secrets from a target's dreams.  Though his career choice has cost him a great deal and turned him into a fugitive, one last job that involves planting an idea instead of stealing it could be his one chance at redemption.   
British filmmaker Christopher Nolan, who brought us the Batman films "Batman Begins" and "The Dark Knight," both writes and directs this riveting science fiction thriller.  In addition to DiCaprio, a number of high profile actors lend their talent to this movie including Joseph Gordon-Levitt, Ellen Page, Cillian Murphy, Tom Berenger, Marion Cotillard, and Michael Caine.
WHO SHOULD SEE IT:  Viewers that were blown away by the power of 2008's "The Dark Knight" should be the first in line to see this thriller.  If you think Leonardo DiCaprio is a gifted actor and you think Christopher Nolan has a solid track record with his movies then you should check out "Inception."
THE CONCERT
Thirty years ago during the communist era, Andreï Filipov (Aleksei Guskov) was fired as the conductor of Moscow's Bolshoi Orchestra for refusing to get rid of Jewish performers.  Now in his position of janitor at the Bolshoi, Andreï intercepts a fax that stirs him to reassemble his orchestra for a surprise performance at the Pleyel in Paris. 
Radu Mihaileanu writes and directs this musical drama which stars French actress Mélanie Laurent, who played Shoshanna in Quentin Tarantino's "Inglourious Basterds." 
WHO SHOULD SEE IT:  Foreign film aficionados looking for something different at the box office should see this drama.  If you appreciate films about classical musicians and performers then you should watch "The Concert."