Trailer Talk: This Week in Movies - 'The Rum Diary,' 'In Time,' & More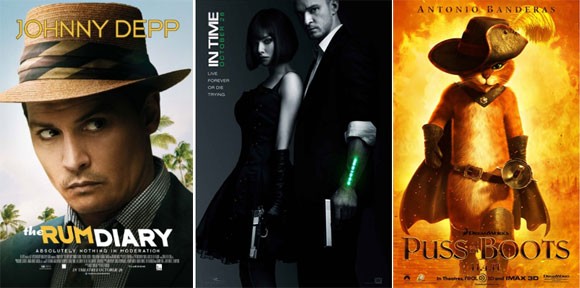 Despite Halloween's rapid approach, there's a surprising lack of horror movies hitting theaters this week.  You'll have the chance to see the wacky Johnny Depp romp "The Rum Diary," the science fiction thriller "In Time," the Shrek spinoff "Puss In Boots," the Roland Emmerich period piece "Anonymous," the romantic drama "Like Crazy," the darkly erotic tale "Sleeping Beauty," and the inspirational story "Janie Jones."       
MY PICK FOR THE WEEK: The Rum Diary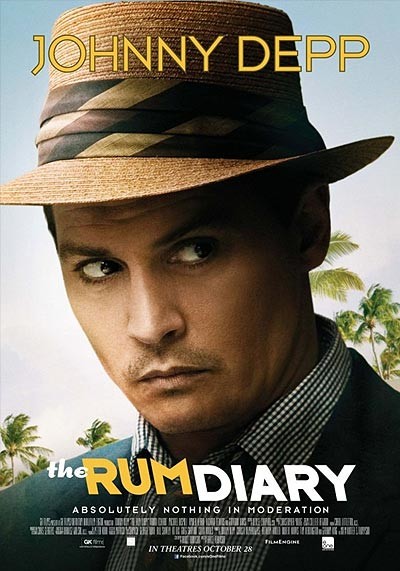 During the 1950s, American journalist Paul Kemp (Johnny Depp) accepts a freelance post in Puerto Rico for a local newspaper, where he fights to achieve a balance between indigenous life and the self-destructive ex-patriots who also reside there.      
English filmmaker Bruce Robinsion, writes and directs this Caribbean adventure, basing his screenplay on Hunter S. Thompson's novel of the same name.  Starring alongside Johnny Depp are Giovanni Ribisi, Aaron Eckhart, Amber Heard, and Richard Jenkins.    
ORIGINALITY RATING: Medium.  Johnny Depp is definitely not new to this character; he has already portrayed a Hunter S. Thompson personality onscreen in "Fear and Loathing in Las Vegas."  Even though Depp seems to employ the same mannerisms, this tale appears to be more thrilling than drug induced, with real corruption and conspiracy.
WHO SHOULD SEE IT:  Hunter S. Thompson fans who love the author's booze soaked antics and his dark sense of humor.  If you thought that Johnny Depp was phenomenal in "Fear and Loathing in Las Vegas," and you're excited to see him in another zany adventure, then you should watch "The Rum Diary."                   
WHEN TO SEE IT: Opening night.
WHERE TO SEE IT: Your local multiplex.